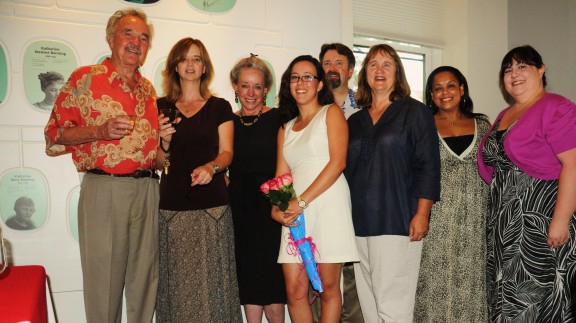 Chapman University history major Lauren Abel '13 didn't know anything about American arts and crafts pottery of the late Victorian era when she was asked to plan and design a museum exhibition on – you guessed it – American arts and crafts pottery of the late Victorian era.
But Abel says she knew how to manage the task, thanks to course work in her major, especially "History 398: The Historian's Craft," taught by Assistant Professor Alexander Bay.
"That's where they really start to introduce you to the techniques of how to approach a topic, how to weed out unnecessary information, how to find resources and put together information in a clear and concise way that attracts readers' attention," Abel says.
All those skills were instrumental to her this summer as a Getty Foundation Multicultural Intern
assigned to the Banning Museum in Wilmington, Calif. The final product of Abel's 10-week paid internship debuted at a special reception Friday, Aug. 17, for the exhibit "The Art that Is Life." The exhibit featured 30 superb examples of American arts and craft pottery from the legendary companies
Roseville, Rookwood, Weller and Owens, all loaned to the museum by one of the museum's patrons.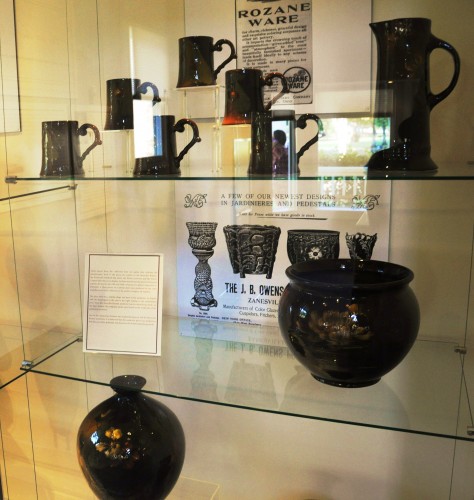 Over the 10-week internship she managed all the planning and design of the project, from writing explanatory display text for each pottery piece to researching earthquake shelving and the sticky museum gel used to stabilize art work. Abel said the experience has made her keen to pursue museum employment following graduation.
And although she was initially unfamiliar with the pottery of that era, the project gave Abel a deep appreciation for the artistic movement that sought to resurrect the craftsman traditions of the pre-industrial era and return artists' "personality" to decorative arts.
"We have some beautiful pieces on display," the Torrance resident says. "It's interesting to see how much work and dedication went into these pieces. And you can see that in the attention to detail in some of these designs."
The Banning Museum is the former residence of Gen. Phineas Banning, known as the "Father of the Los Angeles Harbor." The home has been called the finest example of Greek revival architecture in Southern California. "The Art that Is Life" exhibition is on display in the museum's visitor center now through February.