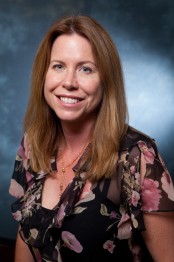 Many women have long attested to an annoying bit of fuzzy-headedness during pregnancy, but thanks to a Chapman University researcher they can actually celebrate those temporary bouts of what's commonly known as "pregnancy brain."
Laura Glynn, Ph.D., a professor of psychology in the Schmid College of Science and Technology, suggests that the irksome symptoms of mild forgetfulness –Where did those car keys go?– may actually be a sign that pregnancy hormones are busy flooding the brain, laying the groundwork for maternal bonding and whipping the maternal brain into a caretaking mode.
"There may be a cost" of these reproduction-related cognitive and emotional changes, says Glynn, "but the benefit is a more sensitive, effective mother."
Glynn and colleague Curt Sandman, a professor emeritus a UC Irvine, made the conclusions about pregnancy hormones in a paper published in a recent issue of "Current Directions in Psychological Science." Since then it has captured attention in The Daily Beas, Live Science, and the Disney blog Baby Zone. Glynn cautions that most research on the maternal brain has been conducted with rodents, whose pregnancies differ enormously from women's; more research on human mothers is needed. But she is optimistic that a more comprehensive picture of the persisting brain changes wrought by pregnancy will yield interventions to help at-risk mothers do better by their babies and themselves.
But exploring the effects of fetal cells on mothers' brains is especially intriguing and something she hopes to pursue, she says.
"It's exciting to think about whether those cells are attracted to certain regions in the brain," Glynn says.