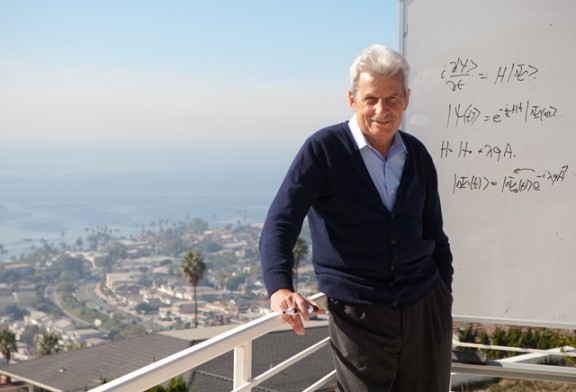 A high-profile conference will help Chapman University mark the 80th birthday of renowned physicist Yakir Aharonov, Ph.D., who has been on the faculty of Chapman's Schmid College of Science and Technology since 2008. The conference Aug.16-18 will feature a public talk, the dedication of a special alcove in the Leatherby Libraries and the formal launch of the new Institute for Quantum Studies. The institute will be headed by Professsor Aharonov and fellow Chapman physicist and longtime collaborator, Jeff Tollaksen, Ph.D.

The invitation-only conference will feature 40 of the leading physicists from around the globe.  Several Nobel laureates will be among them, including Francois Englert, Ph.D., co-discoverer of the
Higgs boson
, announced July 4 by CERN, the European Organization for Nuclear Research, as "one of the biggest discoveries in particle physics in 40 years."

The assembled speakers have each made remarkable contributions to modern physics:
The recent announcement by CERN of the discovery of the so-called "God particle" is based on theoretical work done by Professor Englert (in the physics community, the particle is referred to as the Brout-Englert-Higgs boson).

Sir Tony Leggett pioneering work on superfluidity was honored with the 2003 Nobel Prize.

Sir Michael Berry is known for the discovery of the Berry-phase, the sister-phenomenon to the Aharonov-Bohm phase, work done by Aharonov.

The free public talk will take place Thursday, Aug. 16, at 5:30 p.m. in the Fish Interfaith Center, Wallace All Faiths Chapel on campus, and will include discussion of Aharonov's best-known work, including his studies on the nature of time.

The library alcove will house
Aharonov's National Medal of Science
– the nation's highest science honor – which was presented to him last fall by President Obama at the White House.  Numerous historical items also associated with Aharonov's research will also be placed there.

To warm up for the conference, don't miss Tollaksen on The Science Channel's popular series "
Through the Wormhole
," hosted by Morgan Freeman.  Tollaksen's episode will air on Wednesday, Aug. 1, at 7 p.m. and 10 p.m., and will feature discussion of his work with Aharonov on the theory that time flows backward as well as forward.

For more information and to watch a live webcast of all conference events, visit the
Institute for Quantum Studies website
.