Chapman University's Fish Interfaith Center will be the location for the Conference on Religion, Economics and Culture on Friday and Saturday, March 9-10.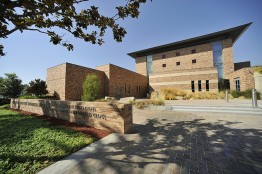 Presented by the
Association for Religion, Economics and Culture
(ASREC), this national conference will feature academic experts from across the country and around the world.  Chapman University participants will include Laurence Iannacone, Ph.D., professor of economics, who also serves as president of ASREC;
Nobel laureate Vernon Smith
, Ph.D.; Bart Wilson, Ph.D.; Roman Sheremeta, Ph.D.; Jared Rubin, Ph.D.; Eric Shniter, Ph.D. and Christopher Bader, Ph.D.

Among the other universities represented by top experts will be Yale, Harvard, Notre Dame, Rice, Cambridge (UK), University of Durham (UK), University of Bristol (UK), Heriot-Watt University (Scotland), Universitat Autonoma de Barcelona (Spain), Universidad Carlos III de Madrid (Spain), Simon Fraser University (Canada), Stanford, Baylor, Boston University, Scripps College, George Mason University, University of Iowa, University of Michigan, University of Colorado, University of Alabama, University of Richmond, USC, UCI, UC San Diego, Florida State, Penn State and Arizona State, and several others.

New research findings by these world experts on the economics, politics and sociology of religion will be presented.  Session topics will include:
Consequences of the Catholic Church abuse scandal

The impact of religion on economic development

Religious extremism and violence

How religion affects charitable giving

Experimental studies of religious belief and behavior

Evolutionary approaches to the study of religion

The conference is open to all Chapman faculty, students or staff members at no cost.   It opens Friday morning, March 9, at 10:15 am, with welcoming remarks by President Jim Doti.  Multiple sessions run all day Friday and Saturday.

Friday's Keynote Session at 6 p.m. will feature a Q&A with four distinguished scholars, including
Nobel Laureate Vernon Smith
.