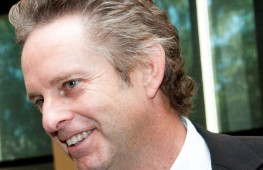 Brian Alters, Ph.D., professor, College of Educational Studies, has been named President of the Board of Directors of the National Center for Science Education (NCSE).
Kevin Padian, professor of paleontology at U.C. Berkeley, held the post for 18 years.  The new position will consume much of Dr. Alters' time. NCSE is frequently in the middle of heated national controversy. With the addition of the teaching of climate change to their focus, NCSE is assured of greater exposure to the increasing assault and denial of the science behind climate change.  It is very likely that in the coming years Dr. Alters will be a major reason why teachers will be free to teach climate change according to the scientific evidence rather than being denied the right to do so. Many states are currently rewriting the science books to deny the hard science behind climate change.  For more on the controversy see the NCSE website.
The National Center for Science Education (NCSE) is a not-for-profit, membership organization providing information and resources for schools, parents and concerned citizens working to keep evolution and climate science in public school science education. We educate the press and public about the scientific and educational aspects of controversies surrounding the teaching of evolution and climate change, and supply needed information and advice to defend good science education at local, state, and national levels. More than 4,500 members are scientists, teachers, clergy, and citizens with diverse religious and political affiliations.