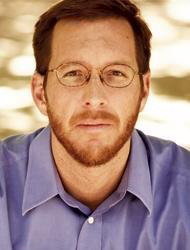 The New York Times bestselling author who launched
the Legacy Project
, an all-volunteer initiative that works to find and preserve
wartime correspondence
from all of America's wars, returns to Chapman University next month as part of the university's Veterans Day observances.
Andrew Carroll
will join Jennifer D. Keene, Ph.D., a professor of history in Wilkinson College, in a panel discussion at 7 p.m. Thursday, Nov. 10, in Argyros Forum 209 titled "Remembering Veterans on Veterans Day." Select scenes from
If All the Sky Were Paper
, Carroll's stage play drawn from the Legacy Project letters, will also be performed by students from the Department of Theatre, College of Performing Arts. Admission is free and open to the public.
If All the Sky Were Paper
 premiered at Chapman University on Veterans Day 2010 under the direction of John Benitz, assistant professor. The production was honored with an invitation to perform at the Kennedy Center American College Theatre Region XIII Festival at the
Los Angeles Theatre Center in
February.
The Legacy Project's letters have been featured on NBC
Nightly News
, ABC's
Good Morning America
,
CBS Sunday Morning
, CNN and
This American Life
, as well as in many news publications.  Carroll's books include the bestsellers
Letters of a Nation: A Collection of Extraordinary American Letters
and
War Letters: Extraordinary Correspondence from American Wars
, which was later turned into an episode of
The American Experience
on PBS-TV.  His latest book,
Here is Where: Discovering America's Great Forgotten History
, is forthcoming from Crown Publishing Group.