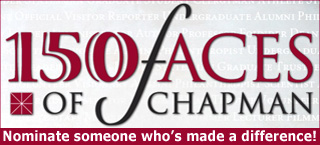 As part of its 150th Anniversary Celebration, Chapman University has launched "150 Faces of Chapman," a campaign to recognize 150 individuals whose outstanding and unique talents, accomplishments, leadership and support have made a remarkable difference to the university.
Fortunately, at Chapman University the list of those deserving such recognition is long. To ensure that no stone is unturned, the 150
th
Anniversary Committee is seeking nominations from everyone who is part of the Chapman family – faculty, staff, alumni, parents and friends.
But the Sept. 1 deadline is fast approaching, so be sure to visit the 150
th
Anniversary website and fill out a
nomination form
as soon as possible.