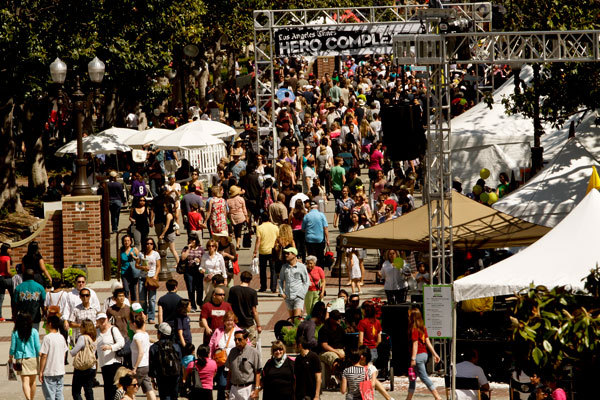 Chapman University made a lasting impression this past weekend with its interactive "Join the Conversation" attraction it sponsored at the
Los Angeles Times Festival of Books
, the nation's largest public literary festival.
The gist of the project was to invite festival-goers to help create a giant online variation of those refrigerator magnet poetry kits. Throughout the two-day festival visitors to the booth, where a full schedule of book signings by Chapman authors was also offered, were invited to write any word on a white card and have their photos taken with it.
All the photos were uploaded onto
www.Chapman.edu/create
, where the words and photos can be perused at random or searched alphabetically and then clicked and dragged into place to make a variety of creative statements or fun sentences. At last count 18 pages of original writing had already been posted. (Give it a try and see if you can also find a few familiar Chapman faces among the montage.)
The project, created and staffed by University Advancement and Strategic Marketing and Communications, was also a highlighted feature in The Los Angeles Times' book blog,
Jacket Copy
.