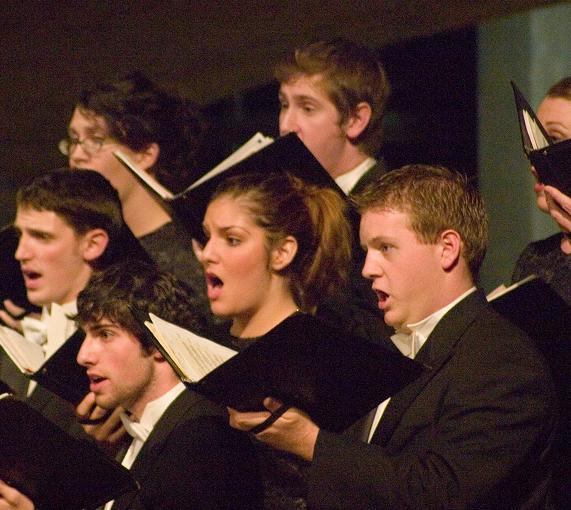 The Chapman University Singers, conducted by Stephen Coker, will perform "The World Beloved: A Bluegrass Mass" by Carol Barnett in a concert at the First United Methodist Church of Orange on Friday, April 29 at 8 p.m.  The unusual work, which Barnett composed in 2007, features a bluegrass band of fiddle, banjo, mandolin, guitar and bass joining with the choir to present music that interweaves classical and folk traditions to create a sound that is both playful and joyful, melodic and rhythmic.
Other choral works on the program will be pieces by Stephen Paulus and Jeffrey Van and folk songs and spirituals arranged by William Hawley, Robert Shaw, Alice Parker and Mack Wilberg.
Admission to the performance is $15 general, $10 senior citizens and students; $5 for Chapman students, faculty and staff with ID.   Purchase tickets online (
www.chapman.edu/copa/calendar
), through the University Ticket Office (714)-997-6812, or at the door.
"The 'Bluegrass Mass' is such a great work, but unfortunately,  it doesn't get performed as much as one might hope, probably because it requires musicians who are skilled at both the improvisational art of bluegrass and the more 'classical' world of note reading. We've pulled together an outstanding and talented group of musicians who excel in both traditions," said Professor Coker.  "The 'Bluegrass Mass" contains both of these elements.  Some of the Mass is quite difficult, especially with regard to rhythmic issues. A longtime presence on the Minnesota music scene, "Bluegrass Mass" composer Carol Barnett is a graduate of the University of Minnesota and currently teaches at Augsburg College in Minneapolis.   Poet Marisha Chamberlain created the lyrics, drawing on the traditions of Catholic liturgy – specifically the Kyrie, Gloria and Credo.  She also intersperses verses of a bluegrass ballad and references to 9/11, the Katrina disaster and the Iraq war.
"I'm delighted to be working on this marvelous piece with the University Singers," says Coker.  "It has surprised and pleased our students, and I hope our audience becomes as enchanted with it as we are."
The bluegrass musicians recruited to play on this piece are all professional musicians living or working in or around Los Angeles and Orange County.  They are: Shelah Spiegel, fiddle; Waldon Dahl, guitar; Scott Gates, mandolin; Chuck Hailes, bass; and Andy Rau, banjo.