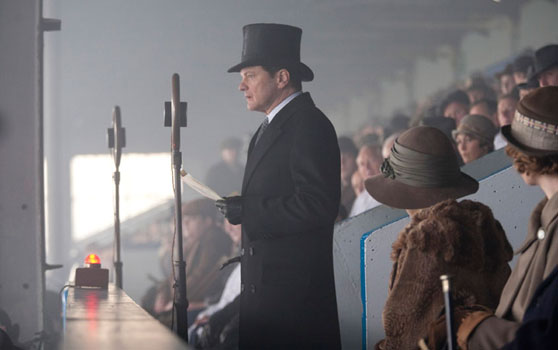 It was a visceral experience for Chapman University speech experts Suzi Fosnot and Judith Montgomery to sit in a movie theater and watch the Academy Award-nominated
The King's Speech
, an odds-on Oscar favorite based on the true story of Britain's King George VI.

They winced with recognition as the monarch, played by Colin Firth, struggled with his
stuttering
at the very moment in history when his country needed a strong voice. They shook their heads at the scene when a hack speech therapist of the era stuffed marbles into his mouth. Their hearts ached when the king, known as Bertie among intimates, suffered his father's scorn.

And Fosnot nearly kicked the theater seats in front of her when two women there giggled at the moment the king recalls his own family members mocking him as "Buh, Buh, Buh Bertie."

"In this day and age, people still regard someone who stutters as a person in a side show that can be ridiculed," says Fosnot, Ph.D., adjunct professor in the
College of Educational Studies
, where she teaches fluency disorders courses. Dr. Fosnot is an expert speech clinician who has 35 years of experience successfully treating people who stutter.

Happily, the movie portraying the story of Queen Elizabeth II's father and his unorthodox speech therapist is helping to change some of those hurtful attitudes, says Montgomery, Ph.D., professor, and director of communication sciences and disorders in the College of Educational Studies at Chapman. Equally significant is that the critically acclaimed movie with 12 Oscar nominations is a blast of moral support for those who struggle with speech impediments, she says. Since the film's debut, three Chapman students have come to Fosnot and are receiving speech therapy with her and her students.

"The film is a reminder of how vital it is to communicate clearly and confidently. Great world events may hang on the words we say and how we say them. Any one of us can overcome a communication challenge with hard work and the right kind of support," says Dr. Montgomery, a former president of the
American Speech Language Hearing Association
in Washington, D.C.

And it does take a terrific amount of work to overcome stuttering, or stammering as the Brits call it, if it's left untreated into late childhood and especially until adulthood, says Dr. Montgomery, who is also editor of
Communication Disorders Quarterly
, the leading academic journal in the field. It's achievable, though, and has been done by the likes of James Earl Jones and Marilyn Monroe.

The precise causes of stuttering, which affects 1 percent of the population and appears in all cultures, still elude scientists. Research indicates there are probably multiple or even a combination of factors, including genetic, physiological and neurological reasons. The problem is not linked to stress or other emotional issues, though they may aggravate the intensity of the stuttering, says Dr. Fosnot, who also served as a speech consultant on
Paulie
, a movie portraying a girl's attachment to a pet parrot as she works to overcome stuttering.

"These are very healthy people," she says. "They don't need psychiatrists."

Meanwhile, the two speech experts who admit to not ordinarily being big fans of award shows will definitely tune in for
Sunday's Academy Awards
. They'll root for
The King's Speech,
but they say their hearts will really be with the other winners coming out of the movie's success – the people who thanks to
The King's Speech
find new courage and discover their own voices.