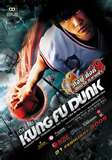 A love story, a basketball tale and a blockbuster.
It's all part of the Taiwan Film Festival running at Chapman University Friday and Saturday, Nov. 19-20, in Argyros Forum 208. The festival is hosted by Chapman's Center for Global Education, Wilkinson College of Humanities and Social Sciences and the Taipei Economic and Cultural Office in Los Angeles. 
Among the highlights of the festival will be a screening of the live-action film
Kung Fu Dunk

by Kevin Chu. Admission is free and the films are open to the Chapman community and the public. The complete schedule includes:  

Nov. 19, 7 p.m., Three Times, produced by internationally acclaimed director Hou Hsiao-hsien, Three Times journeys through three different love stories.
Nov. 20, 5 p.m., Kung Fu Dunk, follows the story of a basketball player, starring Taiwan's leading pop singer Jay Chou.
Nov. 20, 8 p.m., Cape No. 7, the number two best-grossing film in Taiwanese history after Titanic, Cape No. 7 won both the Jury's Award and the Audience's Choice award at the Taipei International Film Festival, and has garnered six awards at the 45th Golden Horse Awards.