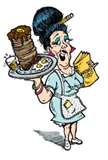 Students are crazed over finals, hungry and in need of some serious carbo-loading, so it must be time for the annual Midnight Madness Breakfast. This year's breakfast is Monday, May 17, and faculty and staff volunteers are needed to help serve at this fun event.
The Associated Students event will be held in the new Sandhu Dining Commons and a big turnout is expected, so any and all who would like to lend a hand should contact Danica Beener at
beene100@mail.chapman.edu
as soon as possible. C'mon, you wouldn't want pancake deprivation to become the new excuse for a late term paper now would you?