Chapman University Athletics celebrated its 40th Night of Champions and Hall of Fame event with a $1 million gift and a tribute to an Olympian.
At Night of Champions Oct. 20, the 2023 Chapman Athletics Hall of Fame class was inducted, and an athletics endowment created by Chapman Board of Trustees Chair Parker S. Kennedy was announced.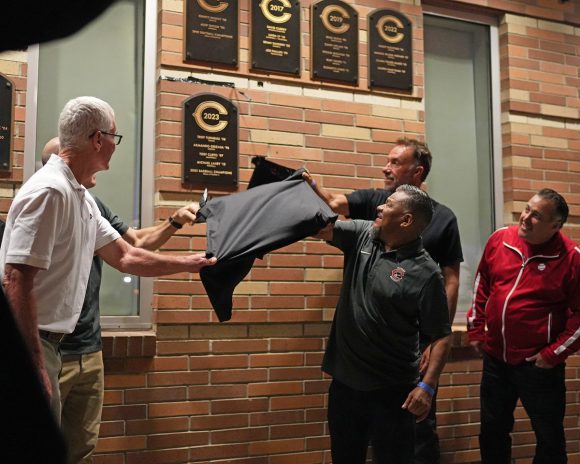 "Parker has been a tremendous supporter of Chapman Athletics through the years," Director of Athletics Terry Boesel said. "His incredible gift of $1 million to establish the Kennedy Family Endowment for Intercollegiate Athletics will positively impact generations of Panther student-athletes in their pursuits of excellence in athletics, academics and beyond."
Kennedy commended Boesel, Associate Director of Athletics Doug Aiken and Chapman's "incredible" coaching staff.
"These are men and women who like to coach student-athletes and not just athletes," Kennedy said. "They're as competitive as anyone in the country."
The Kennedy endowment is part of his $15 million gift to Chapman.
Track and field Olympic medalist and civil rights activist John Carlos spoke at the event and President Daniele C. Struppa sponsored and unveiled his bust, which will reside near the Anderson Athletics Complex.
Carlos — known for raising his fist on the podium at the 1968 Mexico City Olympic Games to protest racial inequality — said the Night of Champions banner "should have said 'Night of Chapmans', because all the Chapmans that I know are champions."
Carlos received Chapman's Presidential Medal four years ago, and his grandson played football for the Panthers.
"John Carlos was a trailblazer for athletes using their platform to change the world," Boesel said. "His contributions to track and field and the civil rights movement are unmatched."
Carlos remembered meeting Martin Luther King Jr., who expressed his support of Black athletes' boycott of the 1968 Olympics. King was assassinated six months before Carlos and teammate Tommie Smith raised their black-gloved fists after winning bronze and gold in the 200 meters.
Carlos said he believes athletics are about "each one teach one, or the other slogan, teamwork makes the dream work."
"That's what you have before you now: teamwork. That's why Chapman University is one of the best universities athletically and scholastically on the market," Carlos said. "And at the same time, you don't go around bragging about who you are. You just walk down the street and hear people whisper, 'That dude's from Chapman'," he said.
The new Hall of Fame class was also recognized at halftime of the Panthers' Oct. 21 home football game.
Chapman Athletics Hall of Fame Class of 2023
Toby Curto '97 (basketball)
Two-time All-Region selection
1,000-point scorer
Top-10 career scoring average
What does it mean to be selected to Chapman's Hall of Fame?
It is a tremendous honor to be selected. I am grateful to represent the basketball program and truly thankful to the fans, coaches and teammates who made my success possible.
What is your favorite memory from your playing days at Chapman?
The easy one is the triple-overtime victory against UCSD in their brand-new arena during my second year … In many ways, it's simply the whole experience that I remember. The long practices, long road trips, late nights, close friendships, hard-fought victories, devastating losses and the lasting friendships that made my time there so special. I really am blessed to have been able to be a part of it all.
Armando Orizaba '95 (soccer)
Two-time All-Region selection
Career record holder for assists
Top 5 for career points
What does it mean to be selected to Chapman's Hall of Fame?
Being selected into the Chapman Hall of Fame means the world to me. I am the biggest Panther out there and now to know I'm in the HOF means everything to me. It's such an honor to be part of this amazing group.
What is your favorite memory from your playing days at Chapman?
My favorite memory is being part of something so special. When I came to Chapman it was Chapman College, and when I graduated it was Chapman University.
Troy Turnbull '86 (tennis)
Four-time All-American in singles
Two-time All-American in doubles
1985 team and individual national champion
What does it mean to be selected to Chapman's Hall of Fame?
I've taken a lot out of the time I was here at Chapman. It was an absolute privilege to be here and it made a gigantic impact on my life.
What is your favorite memory from your playing days at Chapman?
In the years I went to school here, the two things that stood out to me as an international student are kindness and generosity.
Michael Lahey '15 (football)
Two-time SCIAC Offensive Player of the Year
Record holder for career and season completion percentage
Top 3 for career passing touchdowns, yards and completions
What does it mean to be selected to Chapman's Hall of Fame?
Being selected into the Chapman Hall of Fame is a great honor because it includes me in a Chapman sports family with some of the great athletes throughout the history of the school. This Hall of Fame selection helped solidify leaving a legacy for the football program, which was always a goal of mine from the moment I stepped on campus.
What is your favorite memory from your playing days at Chapman?
My favorite memory at Chapman was beating Redlands on their home turf for the first-ever SCIAC football championship in school history. Celebrating on the 50-yard line, after dumping the Gatorade cooler over Coach Owens, will never be erased from my mind.
2003 Baseball Division III National Champions
Second NCAA championship team for Chapman baseball
Finished with 39-12 overall record
Swept Christopher Newport University in championship series
Head Coach Tom Tereschuk on behalf of the team:
What does it mean to get the team back together 20 years later to celebrate the championship with a Hall of Fame induction?
Winning the national championship was an incredible experience for all of us. It was 20 years ago, but so many memories from that year and the post-season run are so distinctly etched in our brains. Each of us have our own specific details that stick out in our minds, but it is the whole shared experience that makes it so special. Accomplishing something great, something very difficult, something that you have prepared for and worked very hard at and something in which you have had to overcome formidable obstacles to achieve any success — to then achieve the ultimate success in that thing — is incredibly satisfying and rare. But to do that as a group — to achieve the pinnacle of success as a team — that must be the most satisfying experience there is. Forever you are linked. Whether it be 10 years, 20 years, 30 years, whenever you see each other you don't see doctor or police officer or firefighter or teacher or businessman, you see teammate. To be inducted into the Hall of Fame as teammates 20 years after the fact underscores how true that is.

What is your favorite memory from the 2003 team?
My favorite memory is the feelings of fulfillment that I experienced day in and day out just being with the team and doing my part as the coach. Just the intense feeling of purpose and confidence knowing that we were doing the right things, and on a daily basis doing everything we could possibly do to prepare the team to be the very best it could possibly be. And the satisfaction of knowing the team believed and trusted in us (coaches) and in each other.