It's a phrase with the power to drive fear into the heart of any parent: "I want to major in acting!"
At Chapman University's College of Performing Arts (CoPA), students with a passion for performance – whether it's theatre, dance or music – can hone their skills within a supportive and creative environment, learn under the mentorship of experienced, professional faculty members and take advantage of abundant opportunities to perform on stage.
But, as parents know, being good at something doesn't necessarily guarantee an easy path into a sustainable career.
Adrian Fernandez '24, a violin performance major and Temianka Scholar, turned to Connor Bogenreif, CoPA's dedicated career liaison.
"I was looking for a lot of advice for things like my resume, scholarships and a bunch of different gigs that I might take [to support] what I planned [for] the future," Fernandez says.
"I just needed to make sure I was just a little bit more secure in my career path and knowing what I could do and wanted to do."
Bogenreif, who has a degree in cello performance from Chapman, knows what he's talking about. After graduating from Chapman in 2015 and completing a Master of Music degree in cello performance at the Bob Cole Conservatory of Music at Cal State Long Beach, he worked as an administrator for the Long Beach Symphony, overseeing operations, logistics and music education programs while serving as adjunct faculty for CoPA's Hall-Musco Conservatory of Music. In 2021, he joined the Chapman's College of Performing Arts staff full time as the college's career advisor while supporting several music ensembles at the university.
He wants students – and their families – to know that whether they are intent on pursuing careers in the performing arts or in other fields, he's prepared to help them fulfill their professional aspirations.
Developing Transferable Career Skills
According to Bogenreif, students often enter CoPA with a single-track mindset: I'm a performance major so I have to end up on stage.
"But with a degree in performance of whatever kind, you're actually being set up to do a lot of different things and lots of people in the arts will appreciate that background, even if you're not the one on stage," says Bogenreif. "There are lots of people in the industry who make performance possible."
Bogenreif emphasizes that the skills performers learn as students can be transferred to any field.
"Performing arts students are really good communicators," he says. "They're very good collaborators. They're very used to working on teams, so they know how to lead and they know how to follow, and they know that there's a time and a place for both of those."
"They also show a lot of skills in long-term and short-term planning and time management," he adds.
Between rehearsals, performances, master classes and guest lectures, CoPA students must complete the rest of their liberal arts education, including general ed courses and, for many, second or even third majors and minors.
"It can be a lot on their plate, but they learn how to manage their time really well because they are expected to do so many things," Bogenreif says.
Targeted Career Services for Performing Arts Students
Translating those soft skills into marketable job qualifications is just one part of Bogenreif's job. Working in conjunction with Chapman's Office of Career and Professional Development, he offers coaching in basic job hunting skills such as resume writing and interviewing.
Performers use the same skill sets as any job hunter, he says, but they look different in an audition setting. In one-to-one sessions as well as classroom presentations, Bogenreif teaches students to use the diverse resources available to all Chapman students as well as:
Connecting students with gig-based work. Typical job hunting platforms and programs are business oriented, but creative positions can look different and the search process is different.

Helping students compose a performance resume or, for students interested in teaching positions, an education-based resume or CV.

Writing bios or guest artist notes. Cover letters aren't common for performance-based positions, but there is still a demand for writing skills.

Teaching students how to adapt interview skills for auditions.
Prep for a Career While You're a Student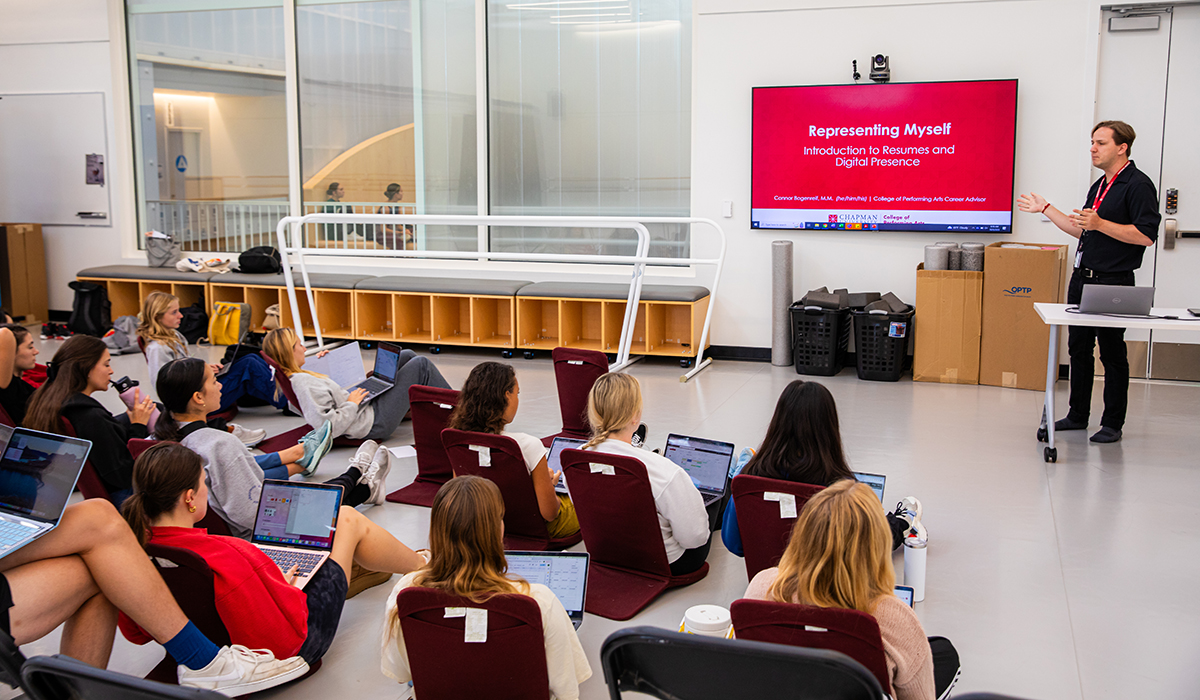 Bogenreif has advice for students who want to start laying the groundwork for a career in the performing arts before graduation.
Start networking off campus and get involved in the local arts community.

Take advantage of opportunities to connect with visiting performers when they are here. Always put your best foot forward because they might be your colleagues one day.

Learn about possibilities for careers in the arts that are not necessarily performance-focused, such as administrative or educational opportunities.

Connect with alumni in your area for guidance and mentorship. Once a Panther, always a Panther!
Speaking of alumni, Chapman's career services are a lifetime resource that can be utilized by performing arts alumni regardless of where they are in their careers. Bogenreif has helped alumni with job searches, grad school applications and questions about when to hire managers and agents, but he's most excited about creating connections between alumni and current students.
"I make it a mission of mine to try to create more opportunities for alumni to engage with each other," says Bogenreif, noting a networking event prior to a recent Pacific Symphony performance at Musco Center for the Arts. "I got to meet some new alumni. I got to see lots of people reconnecting with each other … there's a lot of potential."
Learn more about the career services offered for students and alumni of the College of Performing Arts and about Chapman's commitment to being your career connection for life.