"We understand the pain of the constant discrimination we face globally, and we formed a true family within our college borders," said Talya Malka '24, describing the solidarity amongst Jewish students at Chapman University.
After migrating from Israel, Malka's parents did not get the opportunity to attend college. When she witnessed displays of antisemitism at college campuses nationwide, she wasn't sure if college would be for her, either.
A Chapman tour turned things around for Malka, which happened to take place during the Jewish high holiday Sukkot, the weeklong festival celebrating the gathering of the harvest and commemorating the protection God provided the Israelites when they were freed from slavery in Egypt. "Right by the Fish Interfaith Center was a sukkah [festival booth], which is where we are supposed to eat all of our meals for the holiday."
Jewish Life at Chapman, which was responsible for the sukkah, is the central campus hub for supporting Jewish community on campus. It connects students to student clubs such as Hillel and Chabad, provides individual counseling and wellness programs, promote engagement with Jewish learning and Holocaust education on campus, encourage interfaith and intercultural collaboration, and nurtures diverse Jewish pathways into the arts, social justice, sustainability, service and spirituality.
"It was really warm to know that Chapman made an effort to provide Jews with a place to celebrate our holiday on campus," Malka continued. "Our tour guide also mentioned the Holocaust museum on the top floor of the library, which was also really cool because most universities don't have that, or include it in their education."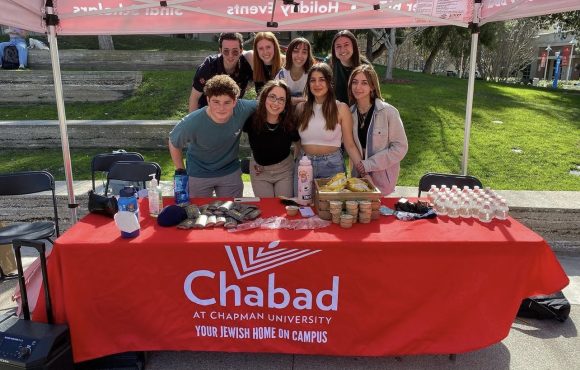 Malka's first year at Chapman was remote due to the pandemic. Slowly, she began to immerse herself in group chats and eventually met some of her friends at a Shabbat (weekly Jewish Sabbath) dinner hosted by Chabad Rabbi Eliezer Gurary and his wife, Mushky Gurary.
Chabad at Chapman University was founded on the principle that Jewish students, regardless of personal practice, deserve a space on campus where they can feel comfortable, without labels or judgment.
This is when Malka's friendships within Chapman's Jewish community really blossomed. "I remember staring at the tables and chairs not knowing who to sit with. Today, everyone in that backyard are now my best friends. Chabad has become my home away from home," she remembers fondly.
Rabbi Gurary's mentorship and support toward the students fosters that "warm" environment on campus. "Anytime I've needed advice about anything at all, Rabbi Eliezer and Mushky are the first people I call," Malka shared. "They're like a second set of parents."
As graduation nears, Malka shares that Chabad dinners have been a highlight of her time at Chapman. Every Wednesday, Chabad offers free kosher meals from 6-8 p.m. Every Friday, Shabbat dinner is served with the Chabad community as well.
"You get to have dinner with your friends, and you meet so many people at Shabbat. I remember one dinner had over 200 Chapman students!"
Malka notes that Rabbi Gurary eases students' social transition by introducing students to each other to help them make friends at large dinners.
Malka has since provided tours to prospective Jewish students and their families and wants them to know that there is a strong community waiting for them.
"I like telling touring students about Jewish life and how excited we all are to meet them. Look at Chabad Chapman's Instagram page, reach out to us, come for a tour and we can meet for coffee," she says.
Perhaps like Malka, one tour can make all the difference for you.