Tiffany Haddish didn't want it to end.
The panel discussion had wrapped, the photos had been taken, and Haddish's ride was idling out back of Marion Knott Studios. Still, she stood at the edge of the Folino Theater stage, a microphone in her hand and a radiant smile on her face. There was more she wanted to share with Chapman University students.
The world is coming at you with obstacles, with disapproval, with lots of reasons to think you can't succeed in a highly competitive industry, Haddish told them. So dare to do what you love. Meet that negativity with light.
"Whatever it is you love to do, don't ever doubt that you can do it," she said.
For better than an hour, some of the funniest women in Hollywood mixed entertaining stories with deep and reflective insights, making the 500-seat space feel like a cozy chat sesh among friends. As the latest edition of Dodge College's popular Women in Focus Conference started breaking up, it seemed that everyone wanted more.
Since 2000, Chapman's Dodge College of Film and Media Arts has been elevating the voices of women in entertainment by organizing an insider discussion and inviting the next generation of industry difference-makers to join in the journey.
The 2023 Women in Focus conference was titled "What's Funny Now?" In addition to Haddish ("Girls Trip," "Haunted Mansion"), the event featured Molly Shannon ("Saturday Night Live," "The White Lotus"), Megan Mullally ("Will & Grace"), Yvonne Orji ("Insecure") and Kerry Ehrin (executive producer of "Bates Motel," "The Morning Show").
The discussion was moderated by Janice Min, CEO and founder of "The Ankler" and former editorial director of The Hollywood Reporter.
"This has been an amazing panel," Min enthused near the end of the event. "Your humor and your honesty have made this a memorable day for me and I'm sure for everyone else here."
There were lots of laughs, to be sure. When Haddish was asked about her breakthrough moments and how she celebrated hitting it big, she spoke of an unusual splurge.
"I bought a $375 microscope," she said. "It hooked up to my computer so I could take pictures of what I was looking at. I liked seeing what kinds of bacteria and germs were going around my apartment."
She added that more recently she has learned what real indulgence looks like.
"I bought another microscope for like $3,000," she said. "This one tells you what the [stuff] is you're looking at."
For each of the panel members, the road to success has been anything but direct. As a Nigerian-born immigrant whose parents wanted her to be a doctor, Orji navigated a particularly twisty path.
"I don't like blood, but I still majored in bio and then got a master's in public health just to stall, because I had no idea what else I would want to do," she said.
While in grad school, on a lark, she entered a Miss Nigerian American pageant, which meant that she needed a talent. So she prayed for guidance, "and loud as day I heard the voice of God say, 'Do comedy,'" Orji said. "I had two weeks before the pageant, so I just started writing what I thought was funny growing up with this dual lens of being both Nigerian and American."
In Shannon's case, a unique comedy perspective grew out of a hardscrabble upbringing, which included coping with her mom's death when she was 4.
"To this day, I don't like people I know coming to see me perform because I'm afraid I'll disappoint them," she said. "It's like, 'Meh, she's not that good' – that's a thought I have about my mom. Like she died when I was 4 because I was not such a great kid. You kind of blame yourself. But the beauty is that it gives you this drive and this bounceability in show business, where you can take the blows."
For Mullally, there was no alternative besides performing, but there were no guarantees of success.
"I always say, I came out of the womb in a top hat and tap shoes," she said. "I just had to do it."
She also had to endure a lot of rejection. It took belief and perseverance to not let a seemingly endless string of failed auditions kill her dream of making it in comedy.
"I remember I was in the parking lot of Bed Bath and Beyond on a pay phone with my agent when I said, 'I am not auditioning for sitcoms anymore – never again,'" Mullally recalled. "He said, 'Yeah, right.' And of course I couldn't pay my rent, so I auditioned for 'Will & Grace.'"
As a writer, producer and showrunner, Ehrin has been on the other side of many an audition. She said it really stands out when an actor displays depth, which "in general, comes from dealing with painful things. As a writer, I connect with that."
Haddish is all too familiar with pain and resilience. Her mother was in a car accident and struggled with mental illness, so at age 9, before she went into the foster care system, Haddish became the primary caregiver to her four siblings.
"I was not a good mom at 9," she said. "They don't have classes for that in elementary school."
Min read a passage from Haddish's book, a collection of personal essays titled "The Last Black Unicorn." This story dealt with her mom, Leola.
"If I could make Leola laugh and turn her anger into some joy, I was less likely to get beat," Haddish wrote. "Same thing in school. If I could make the kids laugh, they'd help me with my homework and protect me from other bullies."
From the Folino stage, Haddish recounted three-hour RTD bus rides from her South Los Angeles home to attend a middle school and high school in the San Fernando Valley, where she would "use personality and charisma to build relationships and get people to help me while they're not even realizing they're helping me."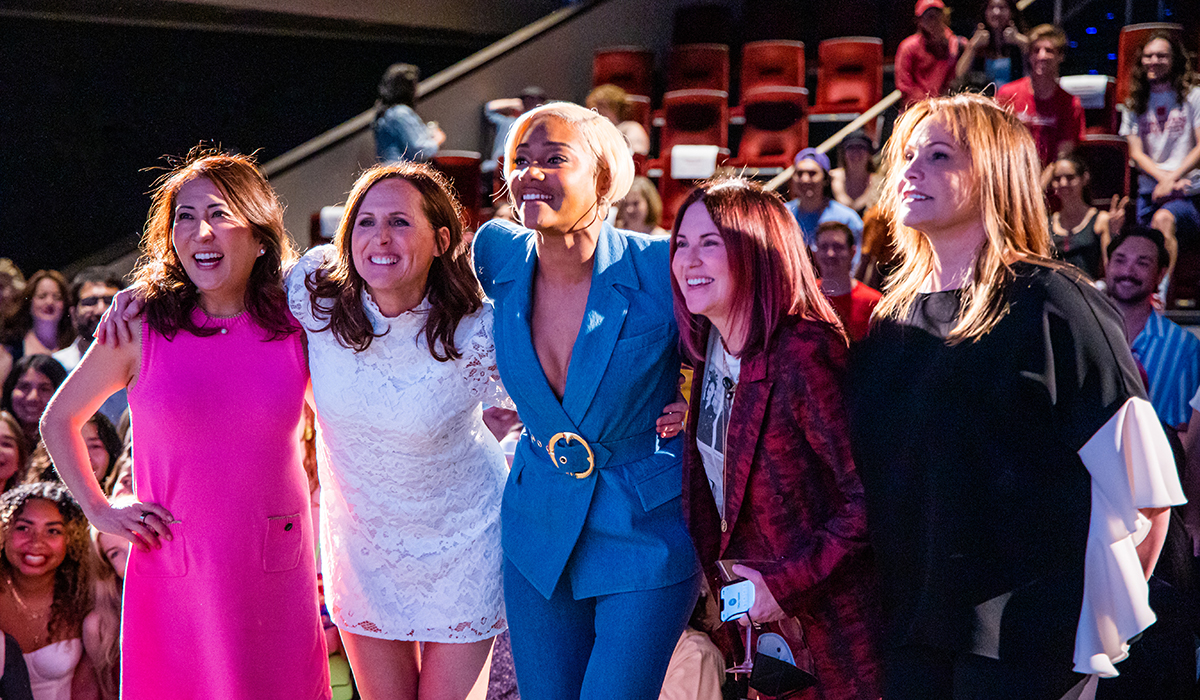 There, she started winning awards for her monologues in drama competitions, but she was also always in trouble because she acted up in class, copied friends' work and perpetually tried to make classmates laugh.
Eventually, her social worker gave her a choice during a summer break: start seeing a therapist, or go to the Laugh Factory comedy camp. She chose comedy camp.
"Here I am 30 years later, and I'm living my dream," Haddish said. "I think my whole purpose on this planet is to bring joy. I mean, I absorbed so much hurt, so much pain from others, but now I also see them walking away from me with a smile on their face. To me, that's important."
So important, in fact, that as the Women in Focus event wound down, she had no interest in walking away from her new Chapman friends.
When she finally did, nothing could have kept her from smiling.