Entertainment companies used to easily track hits and profits through the box office, Nielsen ratings and album sales.
Now, they employ data scientists to help drive decisions in the new age of subscriptions and streaming.
Chapman University Associate Professor Brett Danaher's annual entertainment analytics conference invites these data scientists and household-name companies to speak and hear about topics affecting the industry, while making elite-level connections that benefit Chapman students.
"We invite people who are doing stuff at the vanguard of data analytics or data science in entertainment," says Danaher, who teaches in Argyros School of Business and Economics and has organized the conference in Southern California since 2016.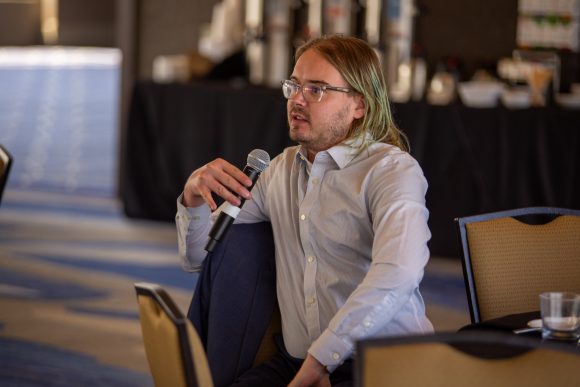 Addressing challenges in the entertainment business
Topics have changed as challenges in the entertainment business have changed, he says. This year's conference, held Aug. 3 and 4, included presentations and discussions on AI, analyzing the value of subscription-based content and upping the speed of data models.
Disney, Amazon, Netflix, Spotify and Warner Music are among the companies that gave presentations.
"Four years ago not many people would have been talking about subscription bundles. This year there were two to three presentations on the analytics of valuing content in a subscription bundle or figuring out, if I launch a new title in a subscription bundle, how much value does that bring in new subscriptions?" Danaher says. "That is now a hot topic for nearly every entertainment firm."
Entertainment companies are thinking through producing content and how to distribute content, he says.
"It's a lot harder to know what the value of 'Stranger Things' is. It doesn't have an over-the-air Nielsen rating. What's the value of a movie that Amazon makes? It often doesn't get a box office run or if it does it's really limited. So how do you value that film? Amazon or Netflix simply collect a bunch of subscription revenues," he says. "So how do you figure out the value of a 'Stranger Things' or a 'Jack Ryan'?"
Beyond analyzing a hit, panelists – who included both industry professionals and academics – discussed whether AI will impact the composition of data science teams. At the same time, more entertainment companies are building analytics models to operate faster, he says.
"More and more of these firms are building these models because they want to make decisions based on data science," says Danaher, whose entertainment data start-up Katch was a conference sponsor.
Industry connections
Chapman students and alumni get a front-row seat to these discussions, and some alumni have used Chapman's industry connections from the conference to land data analytics jobs at some of Hollywood's big names.
Brendan Moylan (MBA '23) met someone at the 2022 conference who encouraged him to apply for his current position as a sales analyst at Sony Pictures.
"The conference is home to the best blue-flame thinkers in the entertainment industry – getting an invite is coveted by many," he says. "There were times at the conference that I was completely lost in the mathematics of the presentations, but simply by being in the room I was able to hone my skills and become exposed to standards and practices of the best data scientists in the world."
Alexis TerKonda (MBA '23) first encountered Chapman as an undergraduate at No. 4-ranked Dodge College of Film and Media Arts. She was drawn to the business side of entertainment and later returned to Chapman for her MBA, already knowing she wanted to work with data.
During Argyros' analytics week that brings top professionals – including conference participants – to campus, she heard the head of analytics for Creative Artists Agency speak, and applied for an internship there. She reconnected with him and other CAA employees at the 2022 conference.
TerKonda was hired as a data insights analyst by CAA shortly before earning her MBA, and later introduced the person who became her boss when he returned to speak at Chapman.
"Chapman set me up in the best way possible and has given me support from so many angles," she says. "To have graduated from Chapman and to have a job at a leading entertainment company has been my dream since I was 18."
Chapman alumni who have attended the conference have also taken the academic route. Jesse Newby (MBA '16) is starting a Ph.D. in information systems this fall at Carnegie Mellon University, one of the conference's sponsors.
"It was a great opportunity to both see how the work I was doing related to what was being done at other organizations, and get to know people who were very skilled and very practiced in areas I was working in and where I wanted to advance my career," says Newby, who did contract analytics work.
Both of Newby's doctoral advisors first met Newby through the conference and research work.
TerKonda says the conference and her industry mentors helped her understand the industry's language and get comfortable talking with people.
"Being invited to the conference and seeing it from the inside was really cool," says TerKonda, who wants to mentor Chapman students interested in entertainment analytics, particularly women interested in STEM.
The conference and analytics week are not the only ways Chapman is leading in data science and analytics. In fall 2024 Argyros is launching a master's of science in business analytics program. The program will meet growing demand for talent in entertainment and real estate analytics, according to Dean Henrik Cronqvist.
"Dodge has always been connected to the creative side," Danaher says. "The question is, can Argyros be as connected to the business side?"