Cool temperatures did not chill the spirits of family and friends who came to celebrate the Class of 2023 at Chapman's University Commencement Ceremony on May 19. Award-winning actress, director and producer Angela Bassett delivered the keynote address at the evening event, which culminated in fireworks and a traditional toast from President Daniele C. Struppa.
"If someone ever says to you that you are 'doing too much,' you tell them, 'I'm just getting started,'" said Bassett to graduates during her speech, during which she talked about her own journey to success and reminded students of their legacy as part of Chapman's history.
"You have become a part of a long and magnificent history of people who weren't afraid of overachieving and 'doing too much.' Because for Chapman University Panthers, there is always much more work to be done," said Bassett.
"Always remember that life is not linear," she said, offering advice to the new graduates. "You may experience many detours on your journey. But just because something doesn't happen the way we envisioned or when we expected, don't label it as a failure – rather, embrace it as a gateway to infinite possibilities."
Watch the full speech here:
President Struppa, Ph.D., reminded graduates of the first time they gathered on Wilson Field, as first-year students just embarking on their college education, unaware of the challenges that the global pandemic would lay in their paths.
"Yet through it all you not only endured, but your creativity and determination flourished and that speaks volumes about the way that you as a class embody the Chapman spirit," said Struppa.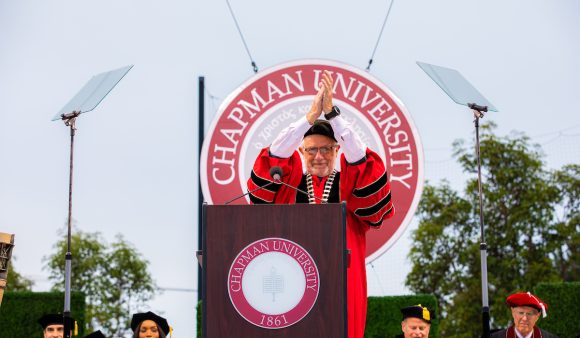 During the ceremony, Bassett and six others were awarded honorary degrees from the university. Senior staff also recognized faculty and student award winners, and graduates were formally welcomed to the Chapman University Alumni Association by Connie Benson '93, vice president of the Alumni Association.
At the conclusion of the ceremony, President Struppa formally conferred graduates with their degrees as undergraduate students moved their tassels from the right to left. Afterward, the graduates and their families were invited to Aitken Arts Plaza for the traditional President's Toast and a celebratory fireworks show over the Musco Center.
More than 2,650 undergraduate and graduate students crossed the stage to collect their diplomas this year, during degree ceremonies for individual schools and colleges on Friday, Saturday and Sunday. For more photos, visit Chapman University's Facebook page. [/vc_column_text][/vc_column][/vc_row]