On Earth Day weekend, Chapman University's Fowler School of Law hosted a multidisciplinary climate conference that brought together perspectives and ideas from law, art, STEM and business.
Conference organizer and Chapman law professor Deepa Badrinarayana said she wanted the April event to engage the entire Chapman community and shed a multidisciplinary light on climate change.
"Tackling this issue will require not only innovation, regulation and money, but also incredible imagination, especially from the younger generation whose future may well be defined by climate change challenges," she said.
"We as a university have a unique opportunity to expose our students, the future generation of problem solvers and leaders, to gain the kind of knowledge to foster great imagination."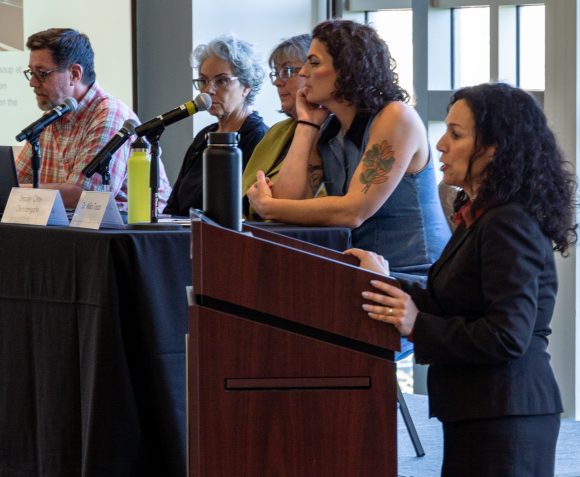 Chapman panelists included law professor John Hall, Presidential Fellow Joshua Fisher, political science associate professor Fred Smoller, physics professor Menas Kafatos and business assistant professor Robert Koepp.
Before the conference, attendees viewed a student art exhibit curated by Jamie Larkin, an assistant professor in Wilkinson College of Arts, Humanities, and Social Sciences. The exhibit "highlighted how acutely aware and attuned students are to environmental and climate threats," Badrinarayana said.
Panels covered art, law, local initiatives, science, bioethics and business.
Hall, who left for Ukraine less than a week after the conference to work with a human rights organization there, spoke about how climate protests are handled in the U.S. compared with his native United Kingdom.
He contrasted how authorities handled two activists throwing tomato soup on Vincent van Gogh's "Sunflowers" at London's National Gallery of Art last October with the 2016 protests over rerouting the Dakota Access Pipeline near Standing Rock Sioux Reservation in North Dakota.
"You have these extraordinary, draconian punishments for what is an attempt by Native peoples to stop what they see as this desecration of their land," he said. "Demonstrators are faced with clouds of tear gas, pepper spray, rubber bullets. … They used water cannon hoses on the Native American demonstrators in 27-degree temperatures and that resulted in over 300 people being hospitalized."
He said that despite the First Amendment, once people physically protest "the state comes down on them in the most extraordinary, violent way."
In the U.K., protests like the soup-throwing incident don't always damage artwork, and charges are usually not pursued in court, he said.
During his panel, Fisher said that the right form of communication can prevent antagonism and create advocates who can reach even broader audiences. An overlooked key to addressing climate change is empowering and educating women and girls in developing countries. That leads to good outcomes like population stabilization, he said.
Koepp discussed the geopolitical importance of the Asia Pacific region in pivoting to alternative energy goals.
Smoller spoke about the inaugural OC Sustainability Decathlon, which challenges about 20 college teams to design homes that are powered by renewable energy. The homes will be displayed in October at the OC Fair & Event Center.
Kafatos, who directs Chapman's Institute for Earth, Computing, Human and Observing (ECHO), discussed the importance of local initiatives in solving global issues.
One local initiative represented at the conference was Orange Home Grown, which operates a weekly farmer's market and leases land for its community garden. Director Megan Penn spoke about how local efforts can contribute to larger climate goals. Chapman faculty and students volunteer with Orange Home Grown.
Badrinarayana said she was "heartened that there are so many dedicated people working on various dimensions" of climate change.
"There is no single answer, but at the end of the conference I was convinced that the first important step lies in being engaged, engaging communities and continuing the conversation – something that I am thrilled can happen at Chapman," she said.