Five students from Chapman University's MS in real estate program defeated the University of California, Irvine for the second year in a row in a competition held by a national commercial real estate association.
Chapman defeated UCI in NAIOP's first Orange County real estate challenge in 2022.
The Chapman team – Joshua Dale '13, Bryce Grandison, Taylor Johnson '22, Rylan Mukssood '22 and Shaun Wiechmann '22 – is part of the third cohort in the history of the program at Argyros School of Business and Economics. They are all receiving their degrees this month.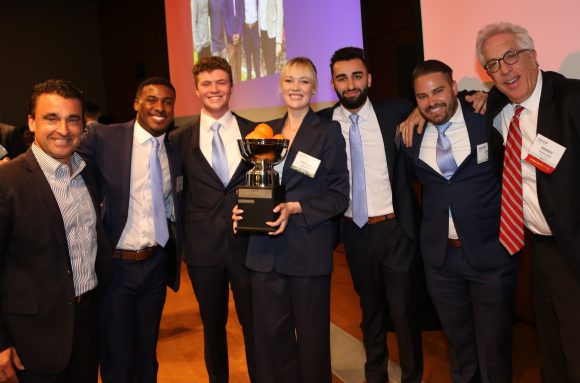 "Chapman University's students are significantly better prepared to enter the workforce than our competitors," said Alex Hayden '95, vice chairman of CBRE in Newport Beach and one of the team's coaches. "One hundred and fifty industry professionals are aware that Chapman students are prepared."
The teams pitched their highest and best use for a 17-acre, multi-building site in the city of Brea to the property owner, a panel of industry professionals and a live audience.
"It was so fun collaborating with professionals and getting advice from experts in the industry," Johnson said. "I also loved researching deep into a specific niche – health care and senior housing – because it gave us exposure to new industries."
Hard work and payoff
The work the team put in before the competition was "intense," Grandison said.
"From the actual work and research to everyone coordinating their schedules to still trying to balance life outside of school/work was quite the task," he said.
The coordination and balancing – which included early mornings and late nights – paid off.
"They showed up more professional than the competition," Hayden said. "They were a true team who captivated the attention of the property owner and industry executive-filled audience with their stage presence, wearing coordinated professional attire. They gave a dynamic, confident presentation delivery along with calculated underwriting of how to approach the development."
Wiechmann said the team worked with industry professionals to "create a realistic strategy that aligned with the client's objectives."
"We wouldn't have succeeded without the help from our incredible mentors, so special thank you to every individual we had the opportunity to meet with and learn from," said Johnson, who is starting a development and acquisitions coordinator job with a homebuilder.
Standing out
Mukssood said the presentation demanded "innovative strategies."
Hayden said that one of the elements that made Chapman stand out was their inclusion of a fountain, meeting Brea's requirement for art at commercial buildings.
"It shows how detail oriented Chapman students are," he said. "Their project had a lot of flexibility, a lot of thought."
Dale, a partner at Apex Capital Properties, said the competition simulates "much of the process to prepare a pitch for real estate development to an investment committee."
"It felt like a precursor to our future careers of working really hard on a deal and closing it at the end with a huge reward and accomplishment," said Grandison, who recently began working at Langdon Park Capital.
Wiechmann said that the competition was one of the best learning experiences in the MS in real estate program.
"The industry exposure and knowledge gained is incredible," he said. "Not only are you working through a real-life development strategy, but you are also learning to create synergy and balance among teammates."
The students said the challenge was also a networking opportunity and built their confidence.
"The NAIOP competition was important because of the connections with the advisors, judges and guests," said Dale, who hopes to develop a project of his own in the future.
Mukssood, who wants to start a real estate private equity firm, said demonstrating his academic and professional knowledge at the competition "led to developing strong relationships with key members of the commercial real estate industry."
Wiechmann said he feels more prepared to succeed in commercial real estate.
"There are so many skills that you learn in the competition that will apply to both professional and personal aspects of life," he said.
Winning the Orange Cup, as the trophy is called, "feels like being in a new club of winners," Grandison said.
"There are a lot of talented people in our cohort so it was an honor to be selected to represent Chapman in the competition, and we were all very excited that all of our hard work paid off in the end," Dale said.
NAIOP has held a USC-UCLA competition in Los Angeles County for 25 years.