Miguel Lopez says his daughter "came home overjoyed" 12 years ago after finding out that the Simon Family Foundation would pay for her college education.
"And today she came home even happier," he says in Spanish in a video, posted in August 2022.
His wife Elba Valencia, sitting next to him, says, "I don't have enough words to thank you for this great support."
The video was recorded by their daughter, Vanessa Lopez (MMS '24), when she found out the Simon Scholars program would pay her way through Chapman University's physician assistant (PA) program.
"I really wanted them to see the impact it had behind closed doors, especially with my family," says Lopez, whose two younger brothers also received Simon college scholarships.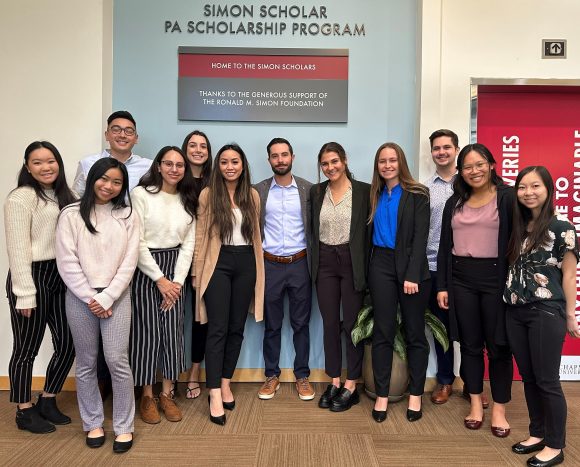 Full Scholarships Help Students Meet Life Challenges
Lopez and classmate Stephen Rossi (MMS '24) are the first Chapman PA Simon Scholars who also received Simon scholarships for their undergraduate education. Their cohort started the two-year PA program in January.
The Simon Scholars program gives full scholarships to PA students in Chapman's Crean College of Health and Behavioral Sciences who are facing adversity so they graduate debt free. Graduates are expected to work in Southern California.
Lopez's challenges included an accident that left her father a paraplegic and the family's subsequent move to Orange County from Mexico in 2009, when she was 13.
"When I started the Simon Scholars college scholarship interview I was barely fluent in English and didn't know a lot about the educational system," says Lopez, who credits high school guidance counselors with pointing her to the Simon Family Foundation and college.
She and Rossi didn't hear about the PA profession until college or after – Rossi wanted to be a doctor and Lopez planned to be a physical therapist. Both attended state universities and then worked in other medical settings for a few years before applying to Chapman's PA program.
Rossi was raised in the San Diego area by his maternal grandmother, then his fraternal grandmother when the former grandmother died. His father was absent and his mother was in and out of jail. He was picked on for most of his time in school.
"These hardships left me feeling isolated, both at home and with my peers. I became depressed, and had ups and downs academically," Rossi says.
When he was chosen for a Simon scholarship, "to be chosen for something like that when it feels like you're never chosen for anything can completely transform how you see the world," says Rossi, who got a bachelor's in human biology in 2020.
On the Way to Being PAs
Meanwhile, Lopez, who majored in psychobiology, began learning about health care careers but wasn't sure what she wanted to do post-graduation. She worked at psychiatry, physical therapy and optometry offices.
She and Rossi – who worked as a medical assistant at an urgent care – both heard about the Simon Scholars program at Chapman because they were Simon scholarship recipients in high school.
At Chapman, they appreciate how faculty care about and want to know their students.
"All the instructors – even if there's a line of people to talk to them after class – are always happy to answer questions," Rossi says. "They are passionate about education."
He and Lopez also have the support of other Simon Scholars and the rest of their cohort.
"You definitely get close to them – they've seen me laugh and cry plenty of times already," Lopez says.
When the program feels difficult, Rossi says he remembers that he's studying to do what he loves.
"I learned being a PA was everything I really wanted about being a provider," he says. "I wanted to be able to treat the majority of people who come into primary care – I want to help the average person."
Lopez says she wants to get to know patients and practice in her community. She intends to use that knowledge and the skills she's learning to assess the needs of the community and ways to make local resources more accessible to patients.
Now that Lopez and Rossi are Simon Scholars, everything has come together as they prepare to practice as PAs.
"I feel like things are lining up in an almost too-perfect way, especially coming from the circumstances I talked about," Rossi says. "Everything just lined up so well to lead me to success. It almost feels surreal."