As a broadcast journalism student and documentary filmmaker, Tess Martinelli '24 knows her way around an on-camera interview.  Still, it's not every day that she gets to sit down with Nobel Peace Prize Laureate Nadia Murad.
"Initially, the idea of interviewing her was a bit overwhelming," Martinelli acknowledged. "But after meeting her, my nerves immediately settled. She's so amicable and charming, with so many thoughtful insights."
Since last summer, when Murad began a three-year appointment as Presidential Fellow in Peace Studies at Chapman University, the global human rights advocate has been sharing her experience with Chapman students across the university. This spring, Martinelli and 18 classmates got to engage even more profoundly with Murad in the course "Unsung Stories and New Expressions: Making Conflict-Related Sexual Violence Visible."
As the students explored the work of Nadia's Initiative, which assists survivors and lifts communities out of crisis, they also broke into small groups to create four documentaries that support the initiative and the international cause of eliminating conflict-based sexual violence.
But those short films are just one example of the course's lasting impact, participants say. Over the semester, the students also learned:
How to turn immersive research and extensive preparation into intensely meaningful storytelling.
How the perspective of peace studies majors can enhance the work of documentarians, and vice versa.
How following the Murad Code of ethical interviewing and conduct can illuminate experience without evoking previously documented trauma.
How survivors of sexual violence have much more to offer the world than just retelling stories of the horrors they endured.
"It's a chance to consider why we have tended to focus on the violence instead of on the work Nadia is doing to support her community and other women," said Lisa Leitz, associate professor and Delp-Wilkinson Endowed Chair in Peace Studies. Leitz co-taught the course with Christine Fugate, assistant professor of film and an award-winning documentarian.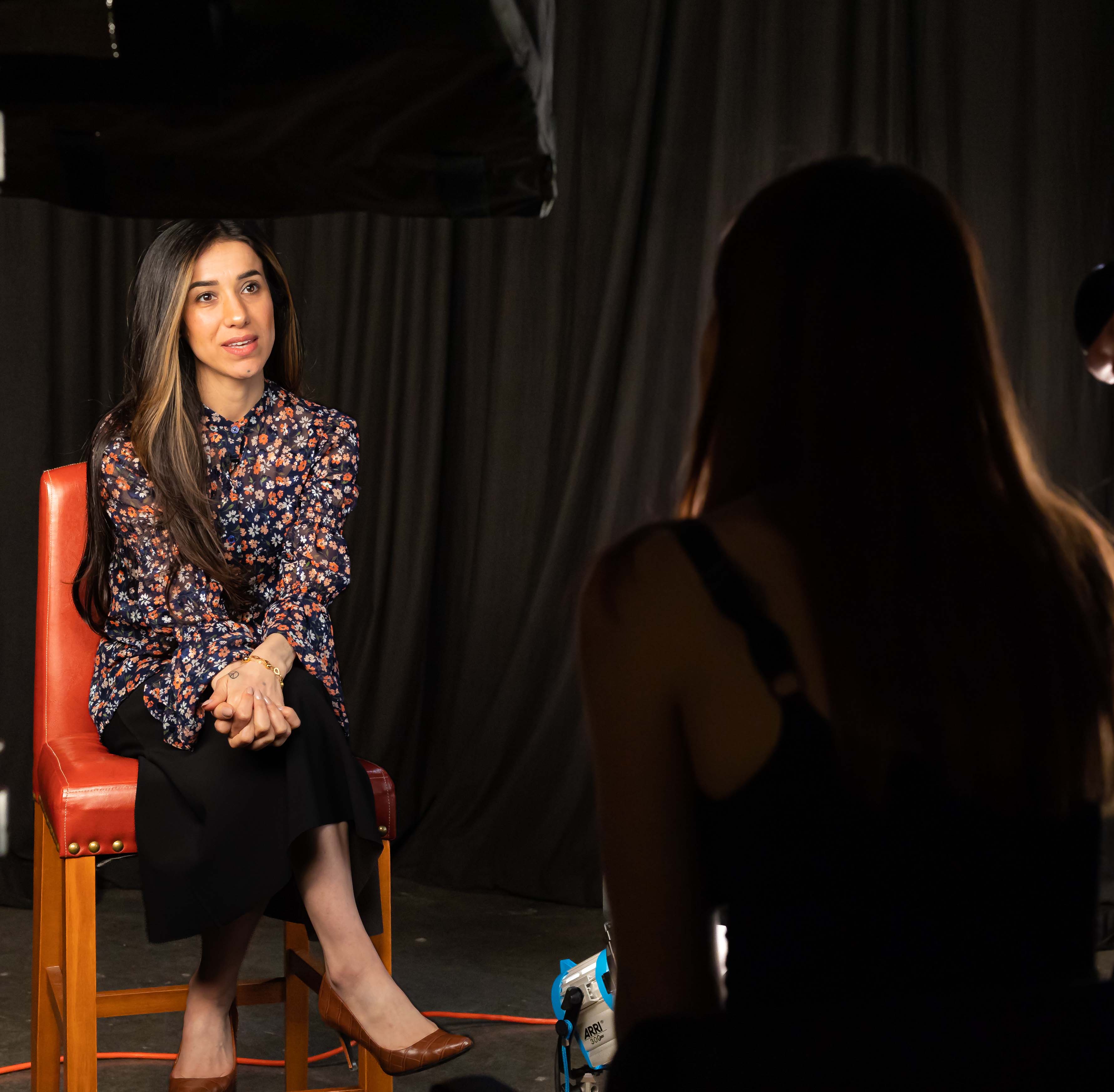 "The violence is one piece of Nadia's life; it's not her whole life," Leitz added. "Our students have been able to see how [not understanding that distinction] does a disservice and to apply what they've learned."
"Combining the social sciences with issues like informed consent and how you portray a subject is so important," Fugate noted. "Really the only way you can understand it all is through experience."
One documentary team had a particularly immersive experience, shadowing Murad throughout a week at Chapman. The students went backstage as Murad prepared for a discussion with President Daniele C. Struppa at Musco Center for the Arts; they recorded her interactions with students during classes; and they joined her at home as her husband, Abid Shamdeen, whipped up a traditional Yazidi brunch.
"We learned that she still has dreams she's had all her life," said Ruthie Weeks '25, a broadcast journalism and documentary major. "She loves doing hair and makeup and spending time with friends, just as she's passionate about her advocacy."
"We wanted to help her create something authentic to her," added peace studies major Emma Drake '23. "We didn't want to portray her as a victim who doesn't have power, because she does, and that's what matters. Then other people can feel empowered to spread that message."
Among those people are 19 Chapman film and peace studies students who, during a semester of intense study and collaboration, got to know Nadia Murad better than they ever could have imagined.
Instead of the heroic character they'd read about in some media portrayals, the students met a real person, which makes Murad's impact all the more tangible, perhaps even attainable, said Blair Henry '26.
"I feel like we have a lot in common," Henry said as the team's week with Murad concluded. "I'm going to miss her."