For Richelle Tanner, it was a time of passage. She was a science student on her way to becoming a faculty researcher, and along the way she crossed the channel from Long Beach to the Wrigley Marine Science Center on Catalina Island more times than she can remember.
Now she's helping her Chapman University students launch their own journeys of discovery.
"I had really formidable experiences on the island as a student and staff member," said Tanner, Ph.D., assistant professor of environmental science and policy with dual appointments to Chapman's Schmid College of Science and Technology and Wilkinson College of Arts, Humanities, and Social Sciences.
"I want to provide that same opportunity to our Chapman students because I strongly believe it's the reason I'm the scientist and researcher I am today."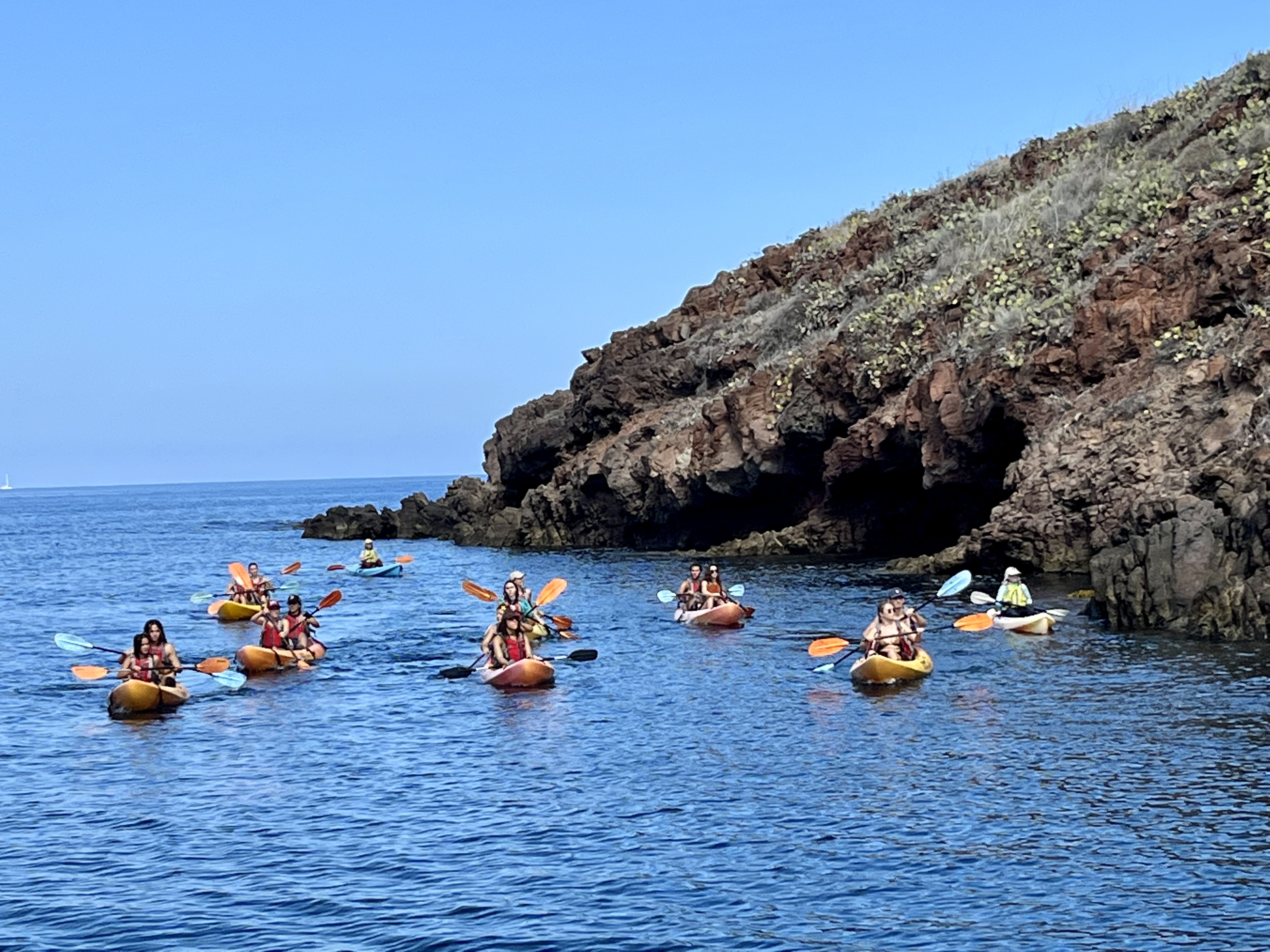 The Wrigley Marine Science Center is a field station on the west end of Catalina Island, far removed from the tourism of Avalon Bay. The center, operated by the University of Southern California, is equipped with labs, classrooms, housing and other facilities for academic research and environmental study.
Starting with a recent trip by 20 of her environmental science and policy undergrads, Tanner is creating connections to the center she's confident will lead to a host of immersive experiences, possibly including resident Interterm classes for Schmid and Wilkinson students.
"You don't often get a chance to see a great white shark face to face, which is something I got to do out there," said Tanner, a nationally recognized climate change ecophysiologist and science communicator who co-directs the Environmental Science and Policy Program at Chapman.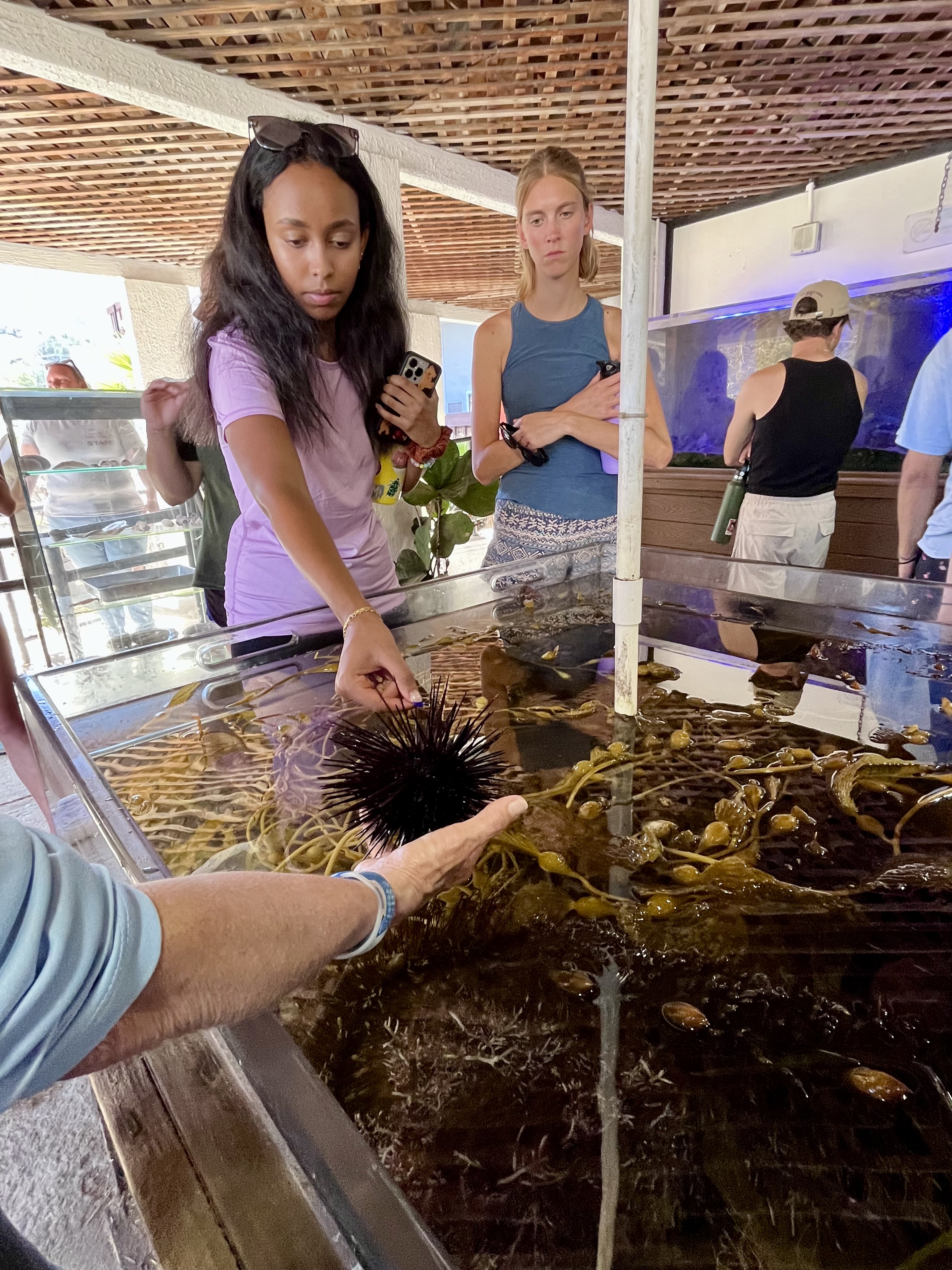 "Getting the chance to be certified as a research diver and then dive on weekends during the school year was awesome, but I think the biggest thing for me was the one-on-one time I got with research advisors," Tanner added. "It really broke down barriers and allowed me to experience the life of a researcher. I see a lot of parallels with the kind of personal learning experience Chapman provides."
In addition to touring the center's facilities during their recent visit, the Chapman students kayaked crystal-clear inlets and hiked a trail Tanner helped create as a student. The Chapman visitors learned about the island's unique ecosystem and settlement history, including its Native American middens – archaeological sites of cultural remains from centuries ago.
"We do work in the labs that's hands-on, but this is a different kind of hands-on learning," said field trip participant Ramsey Elshiwick '23. "So often we talk about ecology and how to protect fragile environments. This experience puts us in those complex environments."
"Something that surprised me was the bison population," added Kainani Tacazon '24. "It emphasized how much humans can impact a habitat not only through resource consumption but also by adding new species."
Tanner said she was delighted by the levels of excitement she saw from her students during their visit. She's eager to see that enthusiasm expand as connections to the marine science center grow over time.
"The ways I approach my own teaching are informed by how professors treated me like a peer and encouraged me with experiential learning," she said. "I see that kind of learning at Chapman – it's why I decided to come here. What better way to continue these experiences than to bring my students to do the same things I got to do as an undergrad?"