Many of the new plants are small, but as drought-tolerant landscaping projects spread across the Chapman campus, it's clear that the university's growing water-conservation efforts are taking root in a big way.
"It's exciting to be at a phase where we can share this opportunity with the rest of the campus community and everyone can enjoy the benefits of these drought-tolerant landscapes," says Jenny Kaufman, energy conservation and sustainability manager at Chapman.
The progress is evident in multiple locations on campus, including the entrance to the residence halls at Walnut Avenue and Center Street. There, blue glow agave, medicinal aloe and pink muhly grass nestle into the red mulch as students stroll past. A new drip irrigation system will allow the succulents and other plants to thrive.
Less than a block away, at Walnut and Grand, an earthen path has been installed, and new greenery contrasts with the mulch that surrounds them, with more drought-tolerant plants still in containers, waiting their turn to be planted.
Water-wise tip: If you have plants in your home or residence hall, water them with catchment collected as you wait for the water to heat up in the shower.
The plan is that by the end of the academic year, 17,268 square feet of grass on the main campus in Orange will have been converted to drought-tolerant landscaping, resulting in an estimated annual water savings of almost 485,000 gallons.
"Everywhere you see one of those bright green signs that says 'Look What's Coming,' you'll be seeing a variety of low-water-use plants and flowers that attract pollinators and fit in with our existing Chapman landscape while they also meet our goals of reducing our consumption of irrigation water," Kaufman said.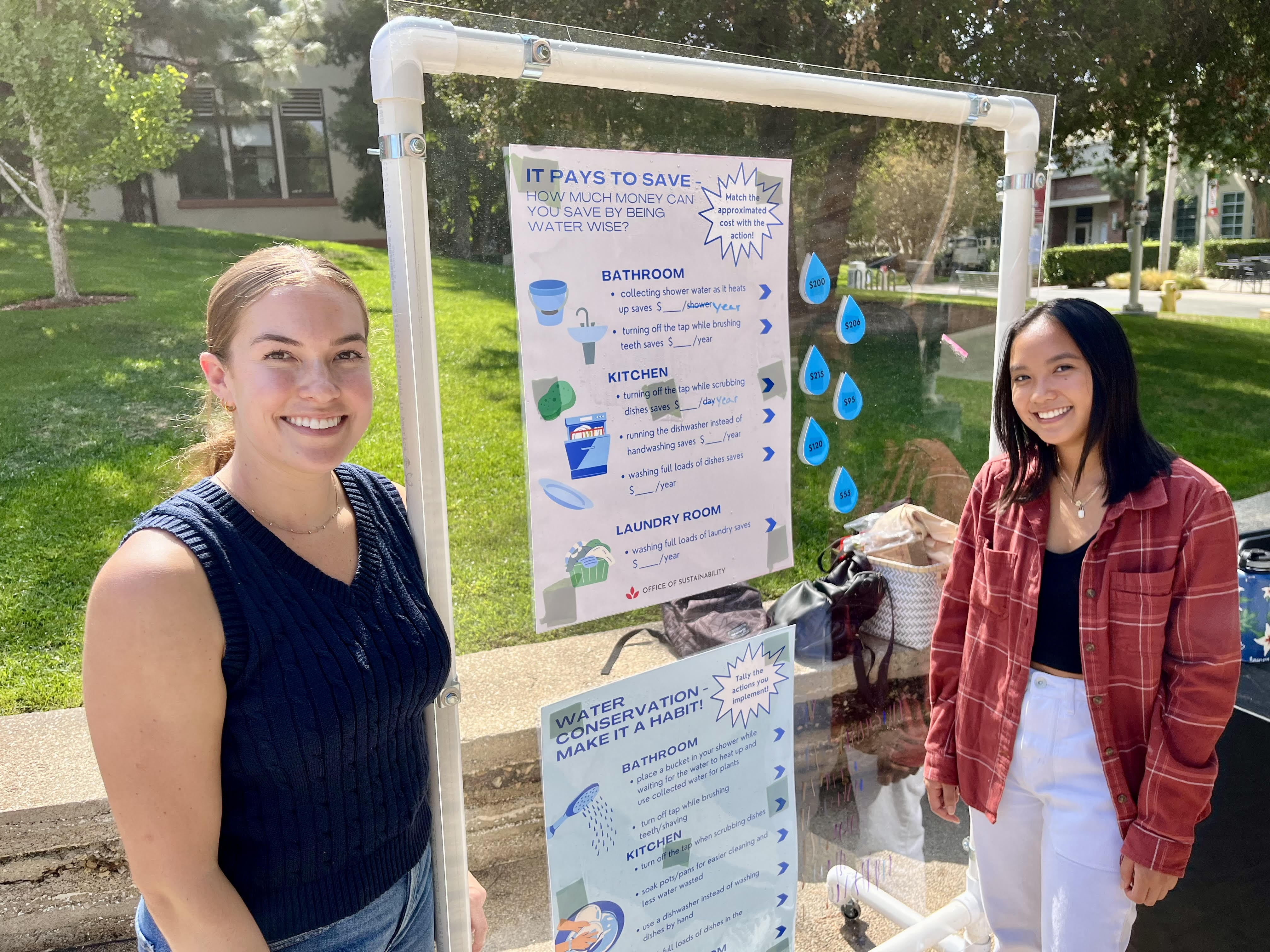 As the landscaping conversion continues, Kaufman and her student workers in the Office of Sustainability are also inviting students to join in water-conservation efforts. The team recently launched a campaign called the Ecolympics, built on a friendly competition among residence halls.
Water-saving tips are shared to encourage students to conserve, with a leaderboard tracking the cumulative savings of each residence hall. So far, Pralle-Sodaro is in gold medal position, with the Davis Apartments holding silver and The K bronze.
The students who ultimately stand atop the podium will receive $50 gift cards.
Water-wise tip: Scrape off food before rinsing your plate in the sink to shorten time at the tap. 
"Our goal is  to show that when everyone takes small steps, the cumulative impact can make a big difference," Kaufman said. "Residence Life has been thoroughly involved, sharing the leaderboard and all of our tips on social media. Together our efforts are keeping the competition on everyone's radar."
Last week, under a pop-up in Attallah Piazza, Kaufman was joined by Office of Sustainability student workers  Kainani Tacazon '24 and  Max Hellmann '24 as the team used engaging activities to invite conversations on water use with passing students.
"The students I'm meeting are taking an interest," said Tacazon, an environmental science and policy major who is also co-president of  a student club called Mission Environment. "I definitely think we're headed in the right direction."
Tacazon said she hopes that conversations about campus water use will lead to wider discussions on conservation of resources and advocating for communities affected by issues of environmental justice.
"I'm excited to learn more and to be included in Chapman's holistic approach to sustainability," she said.