From drought and flood risk in California to extreme temperatures and desertification in the Middle East, the research of Chapman University Professor Hesham El-Askary crosses just about all geographic regions, reflecting the global scale of climate change.
Yet, the bulk of the work he does with his team of Ph.D. students takes place behind a bank of computer screens in a basement lab at Hashinger Science Center.
Such is the nature of the remote-sensing technology used by the team. Satellites and powerful computers capture huge datasets that the team combs through and interprets, using sophisticated tools of data mining, artificial intelligence and machine learning.
"Our lab is thriving at the interplay of data science and earth observation," says El-Askary, a professor of computational and data science who leads Chapman's Earth Systems Science and Data Solutions Lab. "Our work is very much applied research on things that are happening all around us. We study natural disasters and phenomena driven by humans that can have a drastic impact on a local, regional and global scale."
Recently, the lab's work got a huge boost as Congressmember Lou Correa delivered a $1 million federal grant that expands the team's research opportunities. In addition to California's current drought and the huge wildfire risk that comes with it, areas of research include the impact of aerosols on the retreat of Sierra Nevada glaciers as well as the salinity of the state's soils in agricultural regions.
"Droughts and climate change are having a significant influence on agricultural production in California, and every Californian is feeling the effects," Rep. Correa said during a visit to the lab in April. Correa represents the 46th congressional district, which includes the Chapman campus in Orange.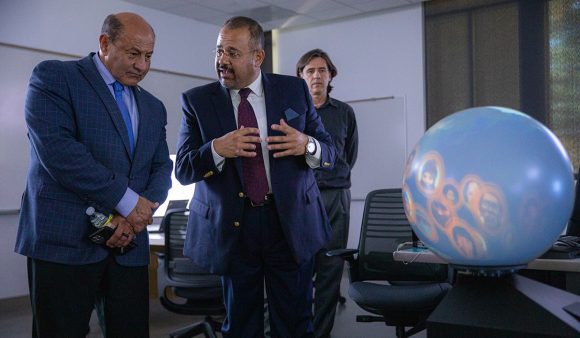 "Professor El-Askary and Chapman have established scientific and mapping capabilities with the potential to become a geoscientific classification system that is universally applicable in response to these crucial concerns," Correa added. "This lab's outstanding work is vital in combating climate change and ensuring that our community establishes a permanent research center dedicated to addressing global problems."
Having a Voice at UN Climate Conference
This is a particularly impactful year for El-Askary and the Chapman students who assist him in the Earth Systems Science and Data Solutions Lab. Through their collaborations on international research work, including in North Africa, the Middle East and the Balkans, the team has been preparing to help influence discussions and global policymaking during the UN Climate Change Conference 2022 (COP 27) this November in Sharm El-Sheikh, Egypt.
Previously, El-Askary, an Egyptian native, helped develop the first analytical solar Atlas of Egypt – now considered the official document of the Egyptian government for solar investment. In August, he was named vice president of the Egyptian Space Agency – a position that will broaden his perspective to include the view of administration and strategy as he continues to mentor his students, El-Askary said.
"Hesham has an extensive international partnership network and devotes a lot of energy building bridges that demonstrate the benefits of science and technology to the rest of the world," said Ghassem Asrar, former director of the World Climate Research Program and currently senior vice president for science at the Universities Space Research Association. "He's also a rare breed of scientist willing to work closely with the private sector to ensure that solutions we identify and develop benefit society."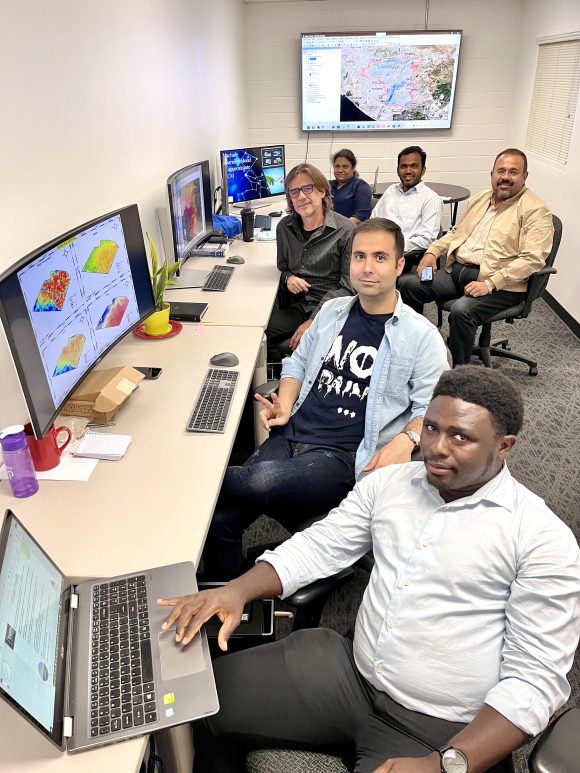 Also among the beneficiaries of El-Askary's collaborative approach are the five Ph.D. students in his Chapman lab. There, the student researchers get a chance to take the lead on projects, mentored not just by El-Askary but also by renowned scholars like Erik Linstead, principal investigator of Chapman's Machine Learning and Affiliated Technologies (MLAT) Lab; Joshua B. Fisher, who worked at NASA's Jet Propulsion Laboratory and was lead scientist for a mission on the International Space Station before coming to Chapman as Presidential Fellow in Ecosystem Science; and Chapman President Daniele C. Struppa, an internationally recognized mathematician and researcher.
The student researchers in the lab include Shahryar Fazli (Ph.D. '22), who works on issues of food security and resource management, and Rejoice Thomas (MA '20, Ph.D. '23), who uses satellite imagery to predict crop yields and detect ocean plastics.
Thomas is also part of a lab team studying sea level rise on the coastline of Alexandria, Egypt, and another led by El-Askary examining the structural integrity of a massive dam project on the Nile in Ethiopia.
"It's exciting to work on projects that refine data science techniques and merge science with policy so we can get results that best serve society," Thomas said.
Sharpening Their Focus to Assess Local Risks
Niko Grisel Todorov (Ph.D. '23) previously developed software for Fortune 100 companies and assessed the risks of natural hazards for the Federal Emergency Management Agency (FEMA).
Now, he's adapting global research models and applying them to central Orange County, assessing earthquake risk and considering what essential facilities might get damaged in the event of a 500-year flood.
"The global model is like drawing with a crayon, and now we're sharpening our pencil and fine-tuning our focus to look at a smaller area," Todorov said.
Assisting that sharpening are Sachi Perera (Ph.D. '23) and Eric Adams (Ph.D. '23), who are developing specialty skills in AI and machine learning that can be applied across the team's panoply of projects.
"AI is the concept – designing an intelligent machine – and machine learning implements what we learn from the AI architecture," explained Adams.
With such cutting-edge tools, it's possible to determine the cause of past environmental events, Adams noted.
"We are looking at the impact of climate change, but to detect that impact, you need to look into the history," he said.
Currently, the entire lab team is working on a major report on climate impact in the Persian Gulf Region, in collaboration with the World Bank and the Arab League.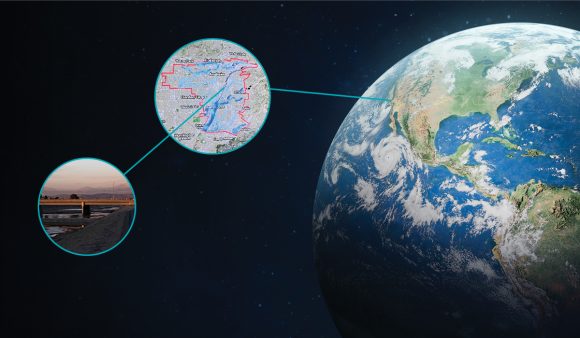 "Everyone is eager for these findings because the Gulf Region is among the areas that will be affected most dramatically by climate change in the years ahead," El-Askary said.
As the effects of climate change continue to manifest globally and locally, the Earth Systems Science and Data Solutions Lab has a chance to develop a growing number of research projects that inform policy at all levels of decision-making.
From satellites in space to a basement lab at Chapman, the insights and impact are just beginning to resonate.
"It's evident that the world is witnessing a global change, and the intersection between earth observation and data science is critical to mitigating and adapting to that change," El-Askary said. "With the advancements in our lab, we're prepared to lead in this area."