Two Chapman University leaders and several alumnae have been nominated for the Orange County Business Journal's 28th annual Women in Business Awards.
The program honors five exceptional business and professional Orange County women.
Chapman nominees are: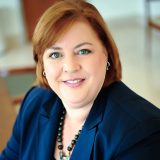 Mary Platt, director of the Hilbert Museum of California Art
Platt has been the museum's director since 2017. Under her direction, the Hilbert Museum has achieved top ratings on Yelp, Google and TripAdvisor, and has been named to "Best of Orange County" lists by the Los Angeles Times, OC Weekly and other publications – most recently, the Hilbert was a Finalist in the L.A. Times 2022 "Best of the Southland" Awards. In 2019, its most recent full/"normal" year open, the Hilbert Museum attracted more than 30,000 visitors.
The museum has presented 47 major exhibitions of California art, with Platt having curated a number of them. Under Platt's guidance, the museum also presents a robust series of lectures and concerts. Platt is among those who have presented lectures at the museum and for local clubs and organizations on topics ranging from California artists to American illustrators to Disney art. She serves as a frequent judge/juror for art competitions throughout California, and is an adjunct professor at Chapman teaching Aesthetic Education in the Attallah College of Educational Studies.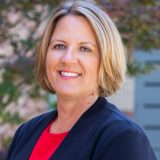 Jamie Ceman, vice president of strategic marketing and communications.
Ceman, who has worked in her role since 2018, has almost 25 years of marketing and digital experience in both the public and private sectors. She did e-commerce marketing for JJ Keller & Associates and Miles Kimball before moving into higher education. She worked at the University of Wisconsin-Oshkosh for 10 years, serving as executive director of integrated marketing communications and then as assistant chancellor for university marketing and communications.
She is the recipient of numerous professional awards, including recognition from the Association of Marketing and Communication Professionals (Hermes and MarCom Awards) and the Council for Advancement and Support of Education (CASE) Circle of Excellence. She and her team at Oshkosh were the first-ever winners of the American Marketing Association's Higher Education Marketer of the Year Award. She volunteers on councils for Forbes, the American Marketing Association and the Public Relations Society of America. At Chapman, Jamie leads the continued evolution and roll-out of the university's branding strategy.
Alumnae nominated
Anna Lisa Lukes, Co-Founder and CEO, The Lukes Network LLC; Breann Shook, Owner/Founder, Grandma Lucy's; Dominique Worthington, VP of CSF Management and Critical Care, Medtronic; Genevieve West, VP, Howard Building Corporation; Lisa Fratzke, Partner & Executive Strategist and Head of Client Strategy, Fratzke Consulting; Maria Martinico, Principal, SmithGroup; Michelle Wulfstieg, Executive Director, Southern California Hospice Foundation; Rebecca Hall, President/CEO, Idea Hall; Samantha Dorey, Partner, Everett Dorey LLP; Stacy Hubbard, Principal and Managing Director, Marsh & McLennan Agency; Teresa McQueen, Corporate Counsel, Western Growers.
Women in Business nominees will be recognized at a luncheon in October.