Tiffany Bui and Don Nguyen both saw their hardworking parents sacrifice for them as they grew up, and often pitched in to help. When they become physician assistants in December, they want to pay it forward.
Bui and Nguyen are both seniors in Chapman University's Simon Scholars Physician Assistant (PA) program, which covers their tuition through a $9 million gift from the Simon Family Foundation.
The program is one way Chapman is meeting the great need for health care providers in Southern California. According to the California Health Care Foundation, 12% of Orange County's population and almost a third of the state lives in areas with shortages of primary care providers.
"The Simon Scholars PA scholarship program gives students from disadvantaged backgrounds an excellent opportunity to attend our PA program," said Michael Burney, Ed.D., chair of the Physician Assistant Studies program. "They receive financial assistance, faculty guidance and mentorship, preparing them to become caring and competent physician assistants. I am very grateful to the Simon Family Foundation for their sponsorship of our Simon Scholars."
'Huge blessing in my life'
The scholarship program gives students who want to earn their master's in medical science through the PA program the chance to graduate in two years with little or no debt.
"The Simon Scholars program has been such a huge blessing in my life," Nguyen says. "I'm able to focus on school. Being in PA school is challenging, so not having to worry about loans is a huge burden off me and my parents, as well."
Bui says the program gave her a support system of fellow Simon Scholars and program coordinators at Crean College of Health and Behavioral Sciences – especially during the pandemic.
"Even though the class is 50 people, I went into it having met these nine other incredible people who were also part of the Simon Scholars program. We really relied on each other to get through the first year, which is demanding," Bui says.
As PA Simon Scholars, he and Bui have gotten a lot of hands-on experience in five-week clinical rotations. She is leaning toward specializing in pediatrics, he in surgery.
"I learned how to interact with patients in a way where they're able to speak and be listened to, and I spend time with them," Bui says. "That might be the only time in the entire year they come see a doctor."
Nguyen says he likes both helping the surgeons and seeing patients in a clinical setting.
"I'm not just in clinic all day; I like a change of scenery," he says.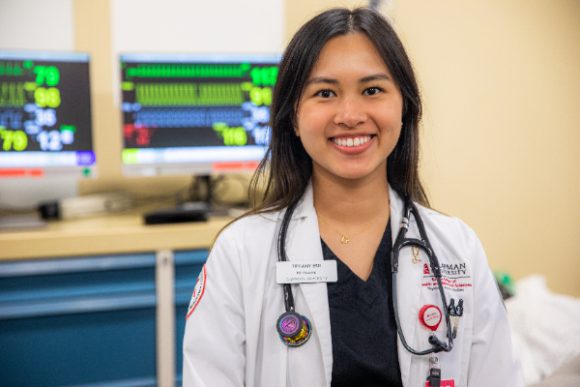 Family impact
Both his and Bui's parents immigrated from Vietnam before they were born. Bui's parents didn't have time to take English classes because they worked and took care of her and her sister, so she went on errands and to appointments with them to translate.
"When they'd go to the grocery store, go to the doctor and dentist, in more specific circumstances they struggled," she says. "When I was a child I'd try my best to help them understand … even during my own parent-teacher conference, I had to try my best to understand."
Nguyen, who was bullied in high school and grew up in an area with gang activity, started an iPhone and computer repair side business to help his family get by. His father put in long hours as a landscaper so Nguyen and his three brothers could go to college, and his mother helped the boys with homework.
"The one thing our parents wanted us to do was focus on school," he says.
He says that no matter how hard the PA program gets, "it's not as exhausting as the work my dad has put in all these years."
His and Bui's backgrounds affect why they decided to work in health care and their approach to their patients.
Nguyen was impacted by a PA who worked with his uncle after he had a stroke.
"The way the PA treated him and his family and the education they provided, it was a turning point for me because you can really inspire people and change lives and affect the community directly through the patient care you provide," he says. "The PA made us feel at ease and comfortable. That experience and a few other experiences with health care made me prefer health care to the tech world.
"Once I finish my training, I want to be like that PA," he says.
Bui says that translating for her parents growing up played a big role in why she wanted to become a PA.
"Even speaking the same language, when a PA speaks in medical jargon the patient doesn't understand," she says. "I would want my mom to understand what's going on because it's her health and her life. As a PA, I can play a direct role ensuring my patients understand what's going on with their health; I always make it a priority that I explain things to a patient in ways they can understand."
Bui and Nguyen both plan to give back when they begin practicing.
Once she has a few years under her belt, Bui hopes to take PA students under her wing as others have done for her. She would like to work with low-income populations.
Nguyen says that because he won't have student loan debt, it will be easier for him to do volunteer medical work in countries like Vietnam, where he has family. He'd also like to work with doctors and other PAs to help local veterans.