One by one, visitors enter the tranquil, skylit chapel at Chapman University's Fish Interfaith Center. Some arrive to worship, some in search of a quiet space and others in search of answers.
Rabbi Corie Yutkin, Chapman's director of Jewish life and chaplain, recalls a student who entered the chapel in search of the latter. Although the student identified as Jewish, she was struggling to find a connection to her faith. Yutkin recalls counseling the student for some time before giving her a moment to herself.
When Yutkin returned to check in on her, she was stopped in her tracks as she saw the student engaged in conversation with Shaykh Jibreel Speight, Chapman's director of Muslim life and chaplain. The conversation with Speight was so impactful, the student felt compelled later that week to bring her dad to the center to meet Speight.
For Yutkin, that experience encapsulates the essence of the Fish Interfaith Center.
"It doesn't matter what faith tradition you identify with. When you walk through those doors, there will always be someone to listen to you with unconditional love and support," says Yutkin.
"That's what interfaith expression is all about – celebrating shared commonalities in religious or non-religious practices and appreciating the differences, all under one roof."
An Overlooked Element of DEI Work
Creating spaces on campus that actively engage religious diversity, is, according to Speight, a central, though often overlooked, component of the work of diversity, equity and inclusion (DEI).
"When people talk about DEI, I rarely hear religion being discussed. I hear gender. I hear race. I hear age and physical ability, but I don't often hear much about religion." 
But embracing a diversity of spiritual and religious practices is central to being sensitive to and respectful of the various identities that make up the university, according to both Speight and Yutkin.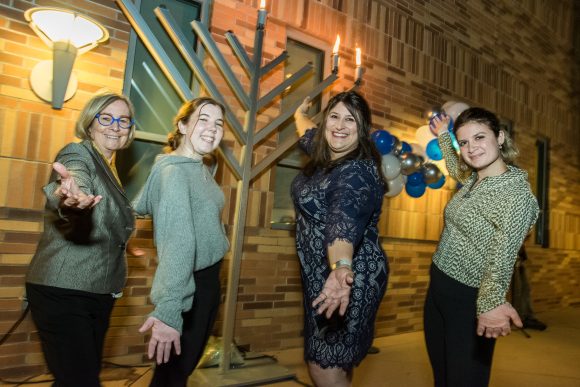 "I don't live in a Jewish world. I live in a predominantly Christian world," says Yutkin. "So, to help others be sensitive to issues that may arise for me or for students from different religious backgrounds, it's important to have a place like Fish that reaches across lines and works to make sure the university has things like kosher food options available or can support students during the month of Ramadan."
Adds Speight: "A true acknowledgement and respect for people who are trying to adhere to their religious values and morals is critical. Students should have the opportunity to articulate their faith without fear of being judged or ridiculed for their beliefs."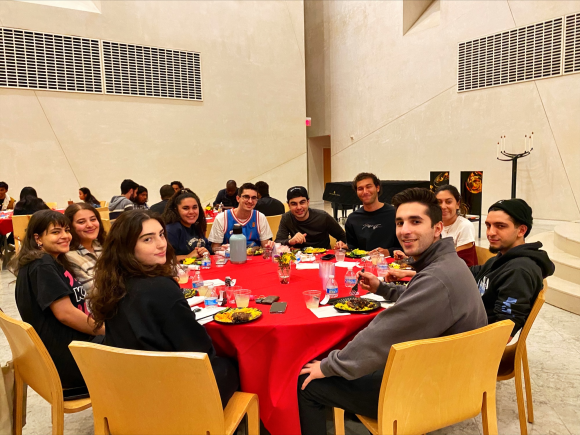 Fearless Faith Journeys
Anais Padilla '23, who serves as president of Chapman's interfaith council, has experienced first-hand the kind of freedom of faith-expression Speight refers to. Although she was raised Catholic, when Padilla got to college, she found herself wrestling with her faith. "I couldn't seem to reconnect with a lot of the practices and religious values I grew up with," says Padilla.  Frustrated, she eventually confided in her friends and colleagues at Fish about her spiritual battle. "They told me it's okay to question my faith and that I should question it in order to learn more about the religion and myself," she says. 
While Padilla's spiritual journey ultimately led her away from Catholicism, it kindled in her a stronger sense of spirituality and a deeper appreciation for interfaith work.
"In the end, I concluded I am happier being more spiritual than religious," says Padilla. "I learned to see the beauty in all religions and in interfaith dialogue. What I now believe is that there is one God and that all religions worship that God in their own unique ways."
Wherever students are in their spiritual journey, Chapman's interfaith community offers a safe space to seek spiritual grounding in the face of challenges.
As a transfer student from the Midwest, Reagan Cisar '24, who engages in Dharma practice and serves as the president of Chapman's Inner Peace group, recalls battling feelings of loneliness and anxiety at the start of her Chapman journey.
"I didn't meet my best friend in the first week of class like you expect to do," says Cisar. "Being able to visit the interfaith center allowed me to foster better connections and push past my anxieties."
These kinds of external pressures are common among college students, according to Speight.
"We're constantly bombarded with so much information, and students need to be able to funnel out the noise. Having a place like Fish gives students an opportunity to do just that – to funnel out the noise, maybe even mute it for a while so that they can try to make sense of it and then get back into the grind."
Cisar agrees. She says her journey into Dharma practice and mindfulness was fueled by a desire to make sense of a world that is so often in disarray.
"As a political science major, I'm learning all day about horrible things happening in the world. Being able to ground myself in spiritual practice allows me to see those realities and be okay. To co-exist with them."
Strengthening Cultural and Community Ties
For other students, religion and culture go hand in hand. Psychology major Riya Mody '22, who identifies as Hindu, says religion helps her stay connected to her Indian culture.
She recalls her first semester at Chapman when an on-campus Diwali celebration honoring the Hindu tradition helped plant the seed for the start of what would eventually become Chapman's first South Asian Student Association (SASA).
"While I would have normally celebrated Diwali at home with my family, for the first time I had the chance to meet students who also identified as South Asian and celebrate Diwali with them," says Mody. "Fish was really integral to me feeling like I had a place here, and that's how we got inspired to start SASA."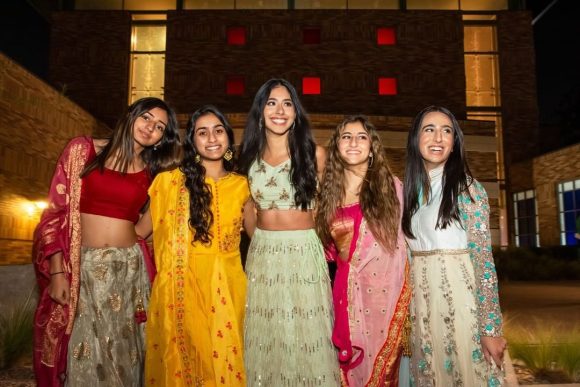 And while Hinduism is the religion practiced by some members of the group, Mody stresses that the group is not defined by one single religion.
"We're unified through our South Asian identity and celebrate all faiths and practices that are within the South Asian community – Ramadan, Holi, Diwali, we celebrate it all." 
She also rejoices when members of the campus community show up to celebrate with them. "Faith is something that's so personal to people," she says. "When we share it, it's to help others gain a deeper understanding of who we are, so it's always encouraging to see allies show up to support events like our Diwali celebration."
That gracious embrace for all is what keeps students like Mody and Cisar among many others returning to the center.
"It's what makes the interfaith community at Chapman so amazing," says Cisar. "You have all these different people practicing different religions. But, at the end of the day, we're all so similar. We're all striving for the same thing. We just have different ways of getting there."