Career Fairs are a great way to make connections with prospective employers. Although it can seem like a daunting task, there are ways to prepare and feel comfortable during the event. Susan Chang, assistant director of Career Education at Chapman University, has these tips for students who are ready to find success at a career fair.
1. Know which companies will attend.
Your college or university will provide a list of companies that will attend the event. Check it out! Make a priority list so that you are able to meet with each one. Being prepared shows commitment and allows you to feel more calm and collected. Confidence is key!
2. Do the research.
Make sure you know a little bit about each company you want to talk to. Learning about their most recent work shows that you are a dedicated candidate. Check out their internships and job openings that match your interests and skills and prepare questions (What is the hiring process like? What has your experience been like? Company culture? What can you tell me about this position?). Both are great ways to ensure that your conversation runs smoothly.  
"We typically have more than  60 employers registered at our career fairs. Many students will gravitate towards certain companies, so it's important to broaden your horizons. Do the research and don't be afraid to look into companies you may not have heard about; sometimes those end up being the best opportunities," states Susan Chang, assistant director of Career Education. 
3. Craft the perfect "elevator pitch."
An elevator pitch is a short speech that outlines an idea of something or someone. In this case it allows the employer to get to know you and your interests in just a few seconds. This is your time to shine! Create a 20-30 second speech to present to prospective employers. Don't forget to add what you can bring to the table. If you can't think of anything, ask family or friends to point out your strongest qualities. 
"Chapman offers prep courses and meetings through the Handshake platform so that students can prepare their elevator pitch, resume and interview techniques. There are group sessions as well as one-on-one," says Chang.
4. Don't forget your resume.
Don't forget to update your resume and include your best skills. Then print around 10 copies for the fair. It wouldn't hurt to have different versions of your resume to highlight qualities that are going to be most relevant to the company representative that you're talking to. It's also beneficial to update your resume on Handshake, so you can provide both physical and digital copies. 
5. Shop your closet. 
Appearance matters. Make sure you're wearing business attire: slacks and a button-up shirt, pant suits, a nice dress, etc. This ensures that the companies take you seriously and understand that you are enthusiastic about the work. It's better to be overdressed than the alternative.
6. Be an early bird.
Arrive early so you can be the first to talk to your priority employers. Give yourself time to explore other companies as well. You'll be surprised by one you had not considered.  
7. Be positive and express enthusiasm for the companies.
Maintain a positive and lively attitude throughout the day. Don't seem bored or tired – try to stay present in the conversations and animated when you're talking about yourself, even if you might be saying the same thing multiple times.
8. Beware of your body language.
Don't forget to maintain great posture because body language is everything. Stand up straight, lean in when engaging with the employers so that you appear interested at all times. It's also important to speak with intonations so you don't sound monotone. And lastly, don't forget to smile. 
9. Don't forget to follow up after the event.
Get contact information from the individuals you talk to during the event so that you can follow up afterwards. This will make you stand out and show them that you are committed. In this message you can reiterate why this company is a great fit for your goals and skills and share how great it was to meet them at the career fair.
Though email follow-up messages are fine, Chang notes that she "highly recommends students write handwritten notes because it's more rare. Companies will often keep those because they're very meaningful."   
10. In future opportunities, reference someone you talked to in a cover letter.
To make yourself more memorable to the employer in the future, make sure to reference someone you talked to at the fair in the opening paragraph of the email or letter. This will help make it feel more personal, helping you in the long run. 
How to Succeed at a Virtual Career Fair
Now more than ever, career fairs can be entirely online or hybrid, combing both virtual and in-person opportunities. This means that you might be meeting with employers via Zoom. 
1. Be prepared. 
When it comes to signing up for the virtual event, each company will have appointments. These will fill up on a first-come, first-serve basis. Some companies will be more popular than others; if you are interested in a big company like Apple or Disney, sign up with anticipation.  
2. Look presentable. 
Because you will most likely only show your upper body during the Zoom meeting, your entire outfit doesn't have to include business attire. However, you must look presentable nonetheless. It is also recommended you dress as if you were meeting them in person just in case you have to get up during the meeting for any reason. 
Don't forget to have a presentable background. Keep the attention on you and make sure there is nothing inappropriate behind or around you. 
3. Don't be late. 
Sometimes technology is unpredictable so prepare it ahead of time. Know the system and how it works so that everything can run smoothly during the meeting. 
"It can be helpful to log in five minutes early, even if the employer isn't there. You want to also be the focus, so have a simple and appropriate background," Chang states.  
4. Maintain positive body language.
When it comes to engaging during the virtual meeting, it's important to look into the camera as much as possible. It's okay to let your eyes wander as you speak but try not to make it a distraction. Even when you're looking at the speaker it can appear that you're not giving them eye contact or looking down the whole time.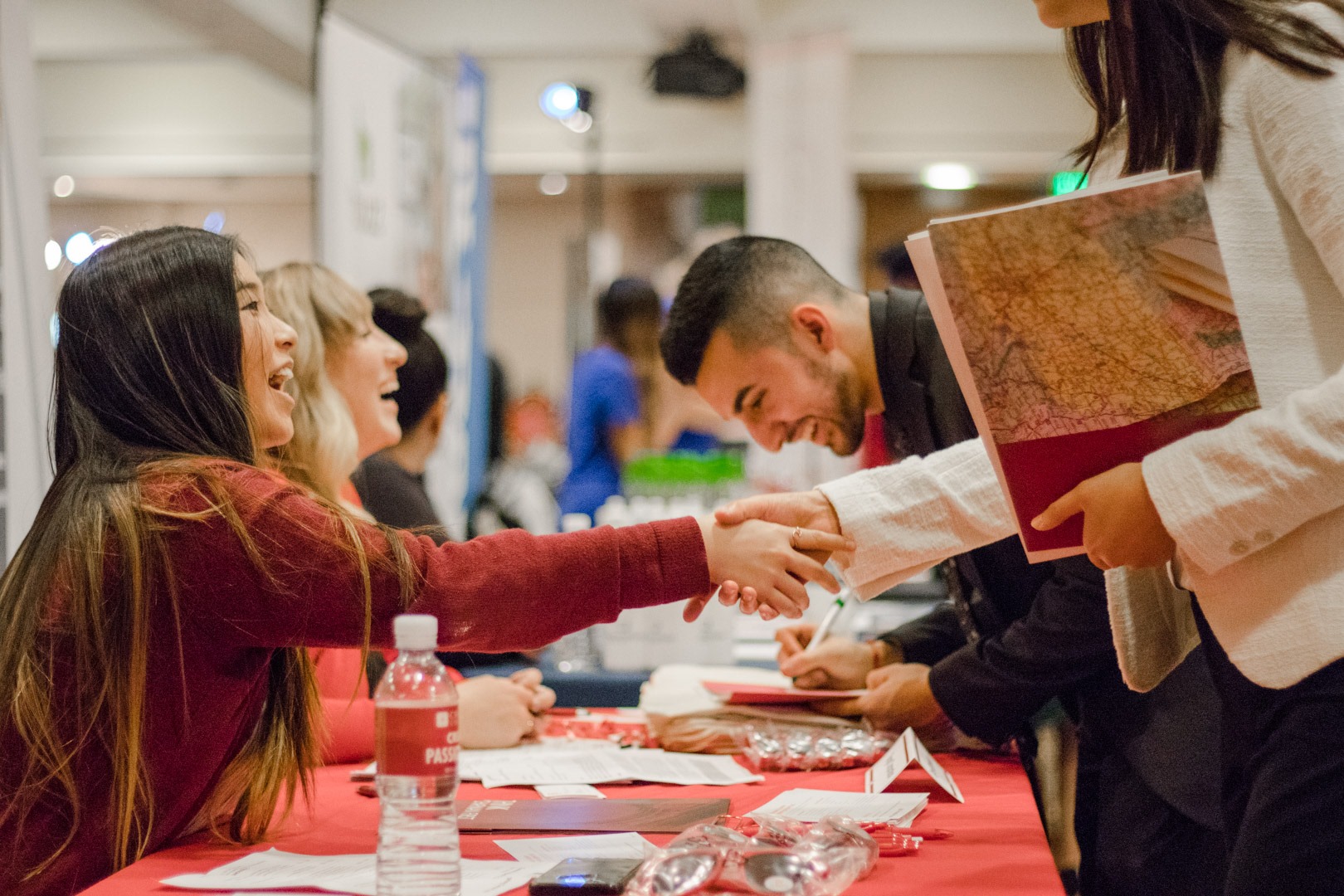 5. Follow up after the event.
In any type of business event it is important to send a follow up email to show your interest and thank them for their time. 
"It's only a ten minute conversation with each company, so don't put too much pressure on yourself. A smile and a positive attitude goes a long way," Chang says.  
Learn more about how Chapman University's Office of Career and Professional Development can help you land the job of your dreams!