Two rising stars from Chapman University were recently named to the Greater Irvine Chamber's 40 Under 40 List for 2021. The annual list features 40 of Orange County's most dynamic professionals who are driving innovation and vitality in the region—and beyond.
Chapman University's Vice President of Community Relations Alisa Driscoll was one of the recipients recognized for her outstanding contributions as Chapman's chief community liaison, as well as for her advocacy work on behalf of women, members of the LGBTQIA+ community and other underrepresented groups. 
"I am truly honored to be recognized as a 40 Under 40 honoree by the Greater Irvine Chamber of Commerce," said Driscoll. "Being included in this accomplished group of community leaders is humbling. I hope to continue to offer a fresh perspective and new ideas that make our community on and off campus even brighter."
In addition to her work with neighborhood groups, Driscoll also serves on the board of several community-based organizations including the Orange Chamber of Commerce, Mariposa Women & Family Center and Youth Centers of Orange. An advocate for diversity, equity and inclusion initiatives, she is the current chair of the Advisory Group of Socio-economic Stratification that works to address food insecurity through the Chapman Diversity Project and is a faculty and staff trainer for LGBTQIA+ Safe Space.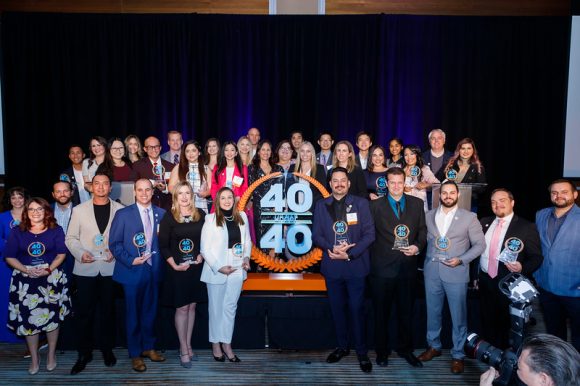 Also on the list is Talent Acquisition Specialist Martha Castrejon '09. Castrejon was recognized for her ongoing commitment to Chapman staff members amidst the challenges brought on by the COVID-19 pandemic. In addition to co-leading Chapman's Working Remote Committee, Castrejon also helped keep a fully remote campus connected and engaged through the Paws Up for Workplace Wellness and Engagement Series. 
"The Greater Irvine Chamber is honored to recognize 40 of Orange County's most accomplished young professionals, each a promise of continued innovation for our region," said Bryan Starr, the chamber's president and CEO. "I congratulate them all for what they have achieved, the example they set, and I look forward to their future contributions."
See the full listing of 40 Under 40 honorees.