'Tis the season for papers, projects and make-or-break exams. Finals week at Chapman University is officially upon us, which means for many students the added pressure may be starting to set in. But, amid the flurry of prepping for exams, it's important to prioritize your well-being. Below is a list of campus resources and events that will help renew your mind and body and make finals week as stress-free as possible.
University Resources
Study After Hours at Leatherby Libraries
Is your residence hall too noisy? Through Friday, Dec. 17, at 7 p.m., you can find a quiet study spot in the first floor Rotunda of Leatherby Libraries. Cookies and snacks will be available after hours. Coffee will be available from 7 a.m. to 7 p.m., beginning Dec. 12, courtesy of Chapman's Student Government Association (SGA). Students using the library after hours will be able to contact Public Safety for an escort to their vehicles or back to the residence halls.
Take Advantage of Extended Hours in the Union
If you've had your fill of the library, check out the Student Union, open 24 hours Monday, Dec. 13, through Thursday, Dec. 16, and from midnight to 5 p.m. on Friday, Dec. 17. The Student Union stage area has been converted into a relaxing space with additional tables and seating for students to de-stress and study.
Practice Self-Care with YOU at Chapman
SGA, in collaboration with campus partners, recently launched YOU at Chapman, a digital hub for mental-health resources. Find personalized and actionable tools for dealing with stress, fostering friendships, staying fit and much more.
Chat with a Chaplain
Connect with Fish Interfaith chaplains to chat about any spiritual, mental or personal concerns you have. Chaplains are available to listen and offer support in a safe, judgment-free space. Visit the Chat with a Chaplain Booking Page to sign up.
Pray or Meditate at Fish Interfaith Center
Students who need a quiet escape from the stress of finals season can stop by the prayer/meditation room at Fish Interfaith Center. The room is available Monday-Friday, 8 a.m. to 9 p.m., and includes a wudu/washing station, prayer rugs and meditation cushions.
Special Events
Wellness Project Finals Event
7 p.m., Thursday, Dec. 9, 1 p.m. – 7 p.m., Argyros Forum, Room 209C
Join the Wellness Project for an event focused on well-being during finals season. Settle in at an open table to study, and grab a finals-week survival kit loaded with scantron forms, green books, pencils, assorted snacks (gluten- and dairy-free options available), educational materials on managing stress and anxiety, coloring pages and a succulent plant. Coffee, tea and hot chocolate will also be available.
Midnight Breakfast
9 p.m.–midnight, Dec. 13, Argyros Forum
Mark your calendars for one of Chapman's longstanding and favorite student traditions – Midnight Breakfast! Enjoy a complimentary breakfast buffet while watching musical and dance performances by student groups. Register to reserve a spot.
Chapman Calm Drop In Hours
10 a.m.–noon and 1–3 p.m. Monday, Dec. 13 through Thursday, Dec. 16, Wilkinson Founders Chapel, Room 103
Stop by Fish Interfaith Center's tranquil space and enjoy some time of meditation, inner reflection and self-care. Visitors can also walk the winding path of Fish Interfaith Center's Labyrinth on Monday, Dec. 13, and Tuesday, Dec. 14, from 10 a.m.-2 p.m.
Christmas Edition GroupX Spin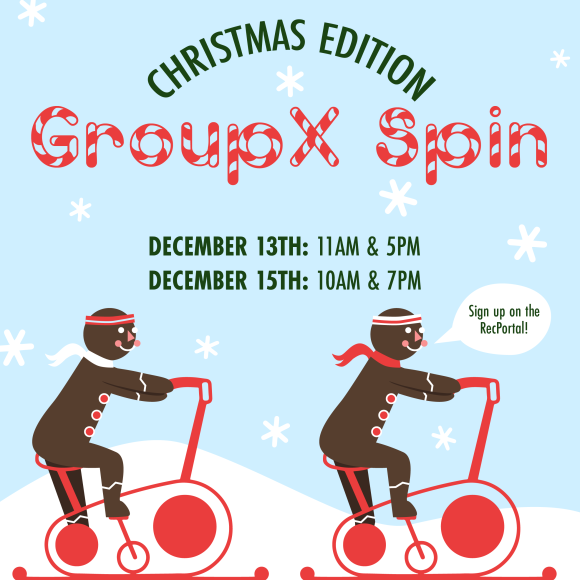 11 a.m. and 5 p.m. Monday, Dec. 13, Henley Fitness Center
10 a.m. and 7 p.m. Wednesday, Dec. 15, Henley Fitness Center
Get moving at the rec with a series of Christmas edition GroupX spin classes. Visit the Rec Portal to sign up.