Place has always mattered at Chapman.
From the post-World War II days when growing pains prompted it to leave Los Angeles for the citrus-scented opportunities of Orange County, to its decision to reimagine historic buildings as inspiring learning spaces, Chapman University has continually focused on creating a place that best serves the next generation of students.
Today, that commitment continues to shape the university, as planners, donors and campus leaders collaborate to build the physical spaces essential to a maturing institution of higher education now ranked among the nation's best universities.
Those spaces spring from strategic planning that sparks collaboration. Barriers to creativity come down, and fledgling ideas take wing. Students work with high-tech tools that prepare them to thrive in fast-changing industries, from the health sciences to computer engineering to the creative arts. The momentum is palpable across the Orange campus and extends to the Rinker Health Science Campus in Irvine. Here we spotlight just three of the venues where the work of creating a campus of the future is transforming the learning experience of today and setting the stage for tomorrow.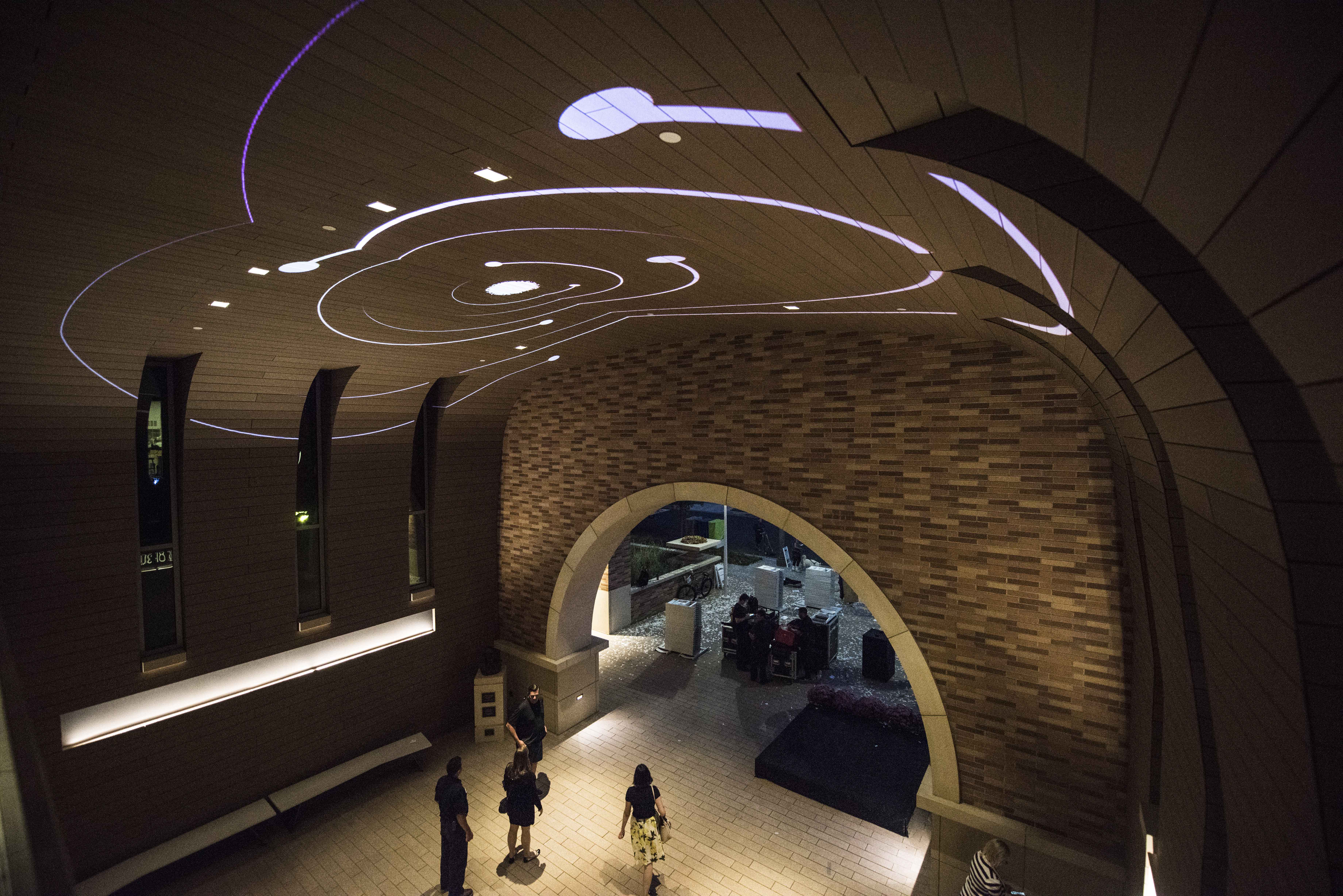 What might a vintage citrus packinghouse, a defunct wire and cable manufacturing plant and a former auto shop have in common? At Chapman, they're the anchors of an evolving west campus. Planning for new teaching spaces equipped with technology and designed for flexibility, the university has purchased several properties west of Glassell Street in recent years. In signature Chapman style, the vintage industrial buildings are being reimagined to honor the past while meeting the future.
"I love projects that are so able to balance that respect and celebration of history with an embrace of where we are and where we're going," says Collette Creppell, Chapman's vice president of Campus Planning and Design.
Most of these buildings sit along North Cypress Street, and all are within sight of the trains that stop at the historic Santa Fe Depot, and several are links in what Creppell envisions as an academic arts corridor connecting student experiences to California industries such as film, digital media, fine art and dance.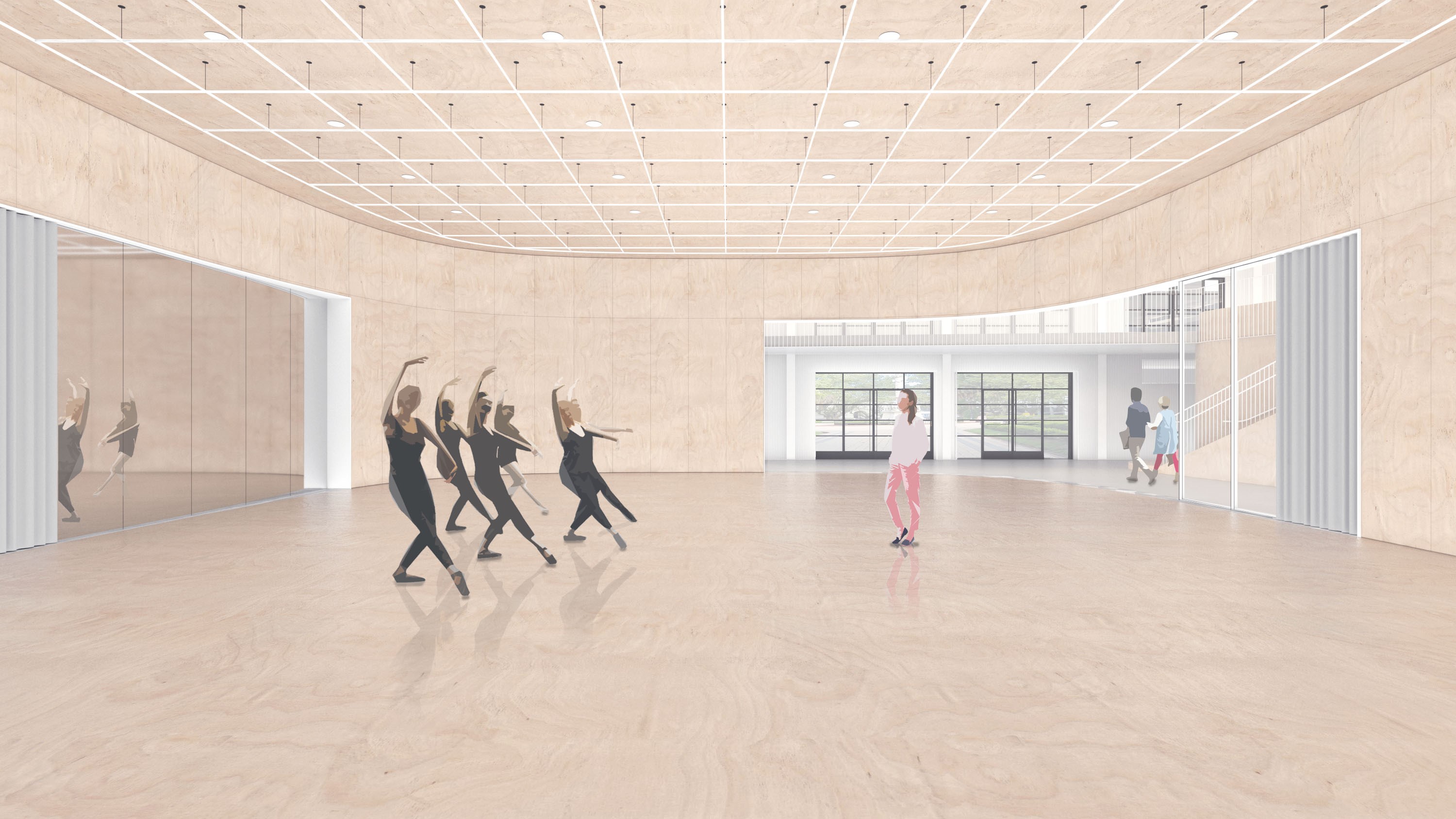 Newest on the Cypress Street scene is the Sandi Simon Center for Dance, supported by a $5 million naming gift from Orange County philanthropists Ron and Sandi Simon. The center is set to open in the redesigned packinghouse by fall 2022. The adaptive reuse of the building will provide nearly 33,000 square feet for teaching studios, including one that can flex into a performance space, a training center dedicated to dancer health, along with classrooms and a third-floor mezzanine adaptable for multiple uses.
An architectural bonus reflecting both the energy and philosophy guiding the building's redesign is the array of windows at the ceiling. These clerestory windows still function and will fill the interior with gentle northern light.
"It will have a feeling of open possibilities," says Julianne O'Brien, chair of the Department of Dance.
Nearby, the Hilbert Museum of California Art thrives in a transformed warehouse and is planning for an expansion to further its mission of collecting and celebrating the unique genre of California Scene Painting. In total, the expansion will almost double the exhibition space. Among the features of the proposed plan are a multipurpose conference and lecture hall, research library, outdoor event space and a redesigned front entry, with an inviting courtyard to showcase a historic Millard Sheets mosaic.
The Digital Media Arts Center of Dodge College of Film and Media Arts continues to flourish in a former manufacturing building, as does Crean College of Health and Behavioral Sciences a block away. Just steps from Crean is The K Residence Hall, a new 400-bed student housing complex that incorporates the architectural heritage of the adjacent packing plant, with which it shares an open courtyard.
The growing effect of west campus is not that it's unto itself, but instead full of character and adding to the sense of place of the whole campus, Creppell says. It's no secret that some folks used to refer to the area as "off campus." Those days are history.
"The centers of gravity have shifted," she says. "There's a little more critical mass there. It doesn't feel that remote anymore."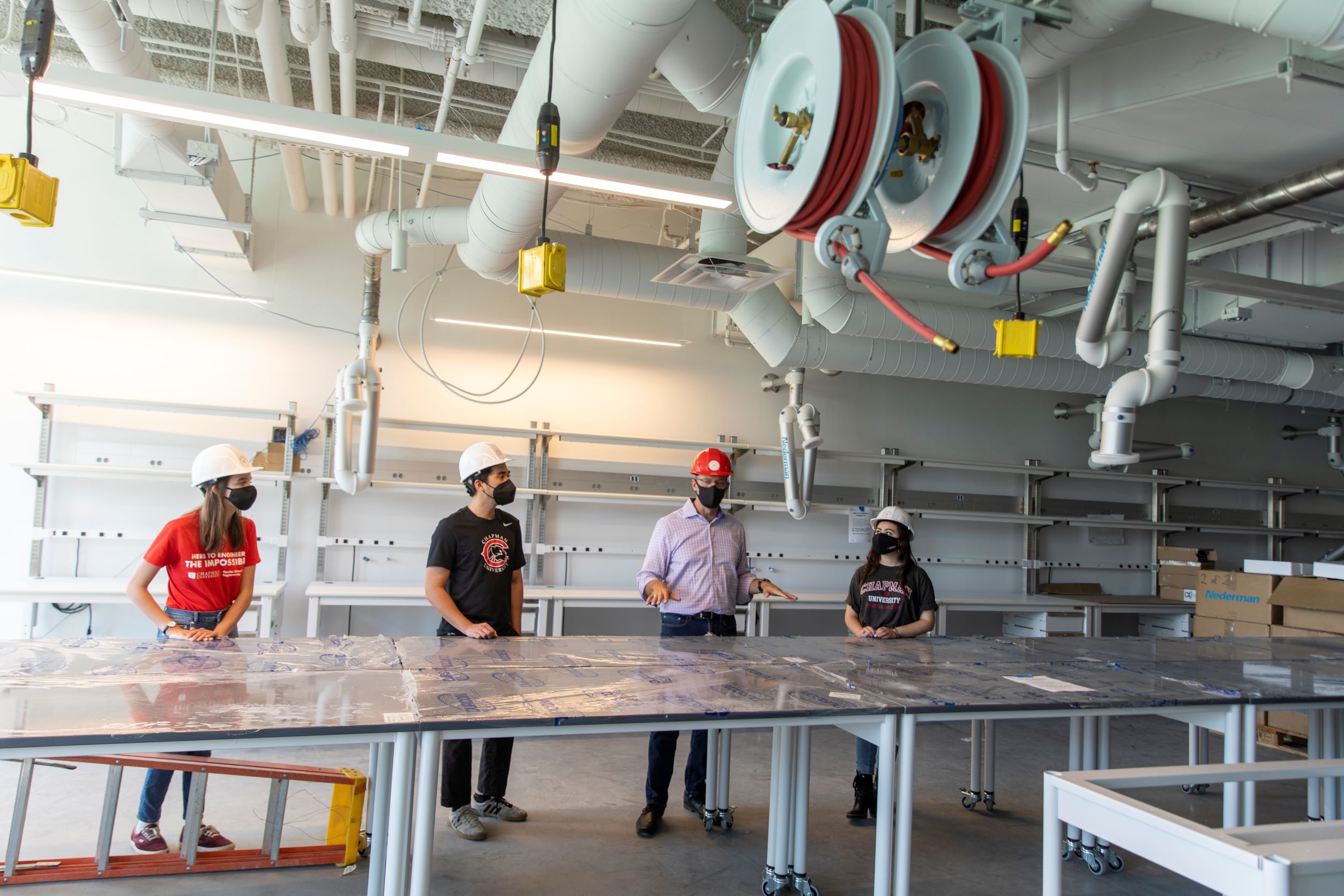 A spirit of breakthrough learning guided Chapman planners as they built out Swenson Hall, the new home of the Fowler School of Engineering. The state-of-the-art wing opened this fall in the Keck Center for Science and Engineering, completing the most ambitious building project in university history.
In addition to high-tech tools, Swenson Hall features an immersive layout that promotes collaboration and innovation.
Don't look for rows and rows of sterile cubicles, offices and meeting rooms, nor single-purpose labs. What predominates are welcoming spaces for ideation that flow into equally inviting areas for prototyping and manufacturing.
The vision is that electrical engineers excited about hardware will interact with computer scientists excited about software, says Fowler Engineering Dean Andrew Lyon.
To make interaction easy, desks are all movable, accommodating groups of all sizes. Writable surfaces abound, allowing ideas to quickly turn into tangible next steps. In the research labs, dividers permit resizing of spaces for a wide range of research endeavors.
Where students of various interests meet, collaboration grows.
"From day one, we push all interests together so we're cross-fertilizing students' enthusiasm for different aspects of engineering," Lyon says.
Truckloads of mission-critical equipment went into the new engineering space, including the world's most powerful platform for deep learning and AI research in the high-performance computing facilities.
And dogs, of a sort. The Robotics Shop will house enterprise-level Boston Dynamics "Spot" four-legged robots for teaching and research in autonomous systems.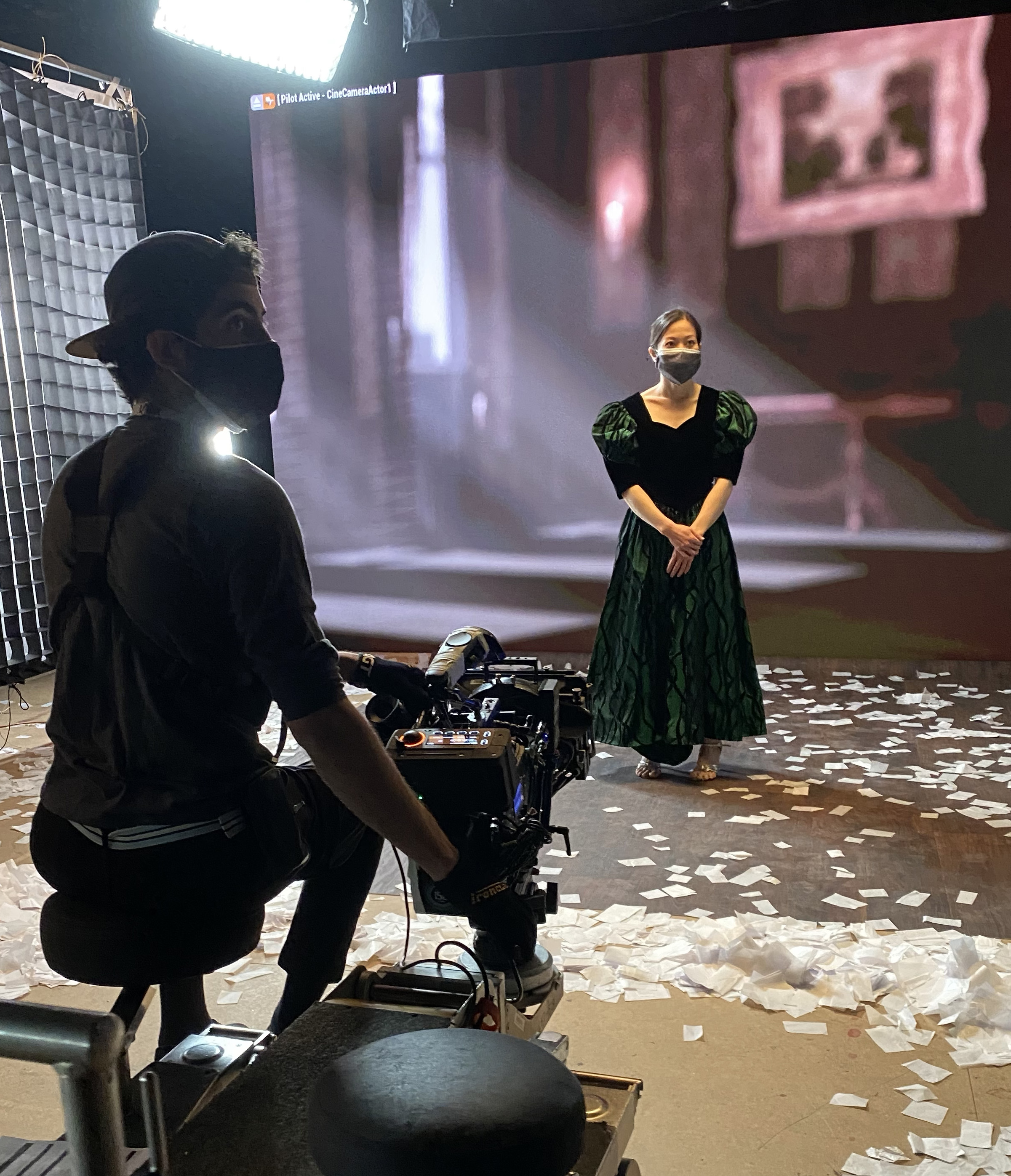 Cameras rolled across a vast stretch of treeless tundra. The next day the setting shifted to an elegant ballroom, and then to the far reaches of space. All without filmmakers ever having to leave the Digital Media Arts Center.
Ethan Ganouna '21 and his crew were the first Chapman students to test the new technology, which is inspired by the platform being pioneered for Disney's "The Mandalorian." It's thought that Dodge is the first film school to install an LED wall for students to learn virtual production, blending the live-action and digital filmmaking worlds.
"At Dodge, we really want to be the film school of the future," says Madeline Warren, associate professor of film, media arts chair and director of the Institute for Creative Reality at Chapman. "We want to prepare students to enter an industry that's rapidly changing so they can jump right in and keep up with new technology."
Ganouna and his student team were in with both feet as they shot a music video that was Ganouna's thesis project. The video showcases a new album by his band, North Morlan, named for the Chapman residence hall where he and his bandmates first met.
The film production major figures he now has a jump on the industry, which is just beginning its journey with virtual production.
"I definitely think this is the future," Ganouna says.