Nearly 4,000 graduates from Chapman University's Class of 2020 and Class of 2021 were welcomed back to campus for in-person Commencement ceremonies over two weekends in July and August. With friends and family in attendance, the new graduates were treated to pomp and circumstance as they crossed the stage in caps and gowns in a celebration that has been postponed, for some, by more than a year. 
In the spring of 2020, when the COVID-19 pandemic led to remote learning and the cancellation of most in-person events, Chapman University officials quickly pivoted to an online Virtual Celebration for the Class of 2020, but remained committed to an in-person graduation as soon as possible. Though delayed longer than anticipated, that promise has finally been fulfilled.
Class of 2020 Comes Home to Chapman 
After more than a year away, many in the Class of 2020 had mixed emotions about returning to Chapman. "It's really satisfying to be back, even though it's such an awkward time," said Jawa El-Shanti '20, who enjoyed reconnecting with classmates and comparing their post-Chapman lives, jobs and opportunities. "It feels good to finally have this closure."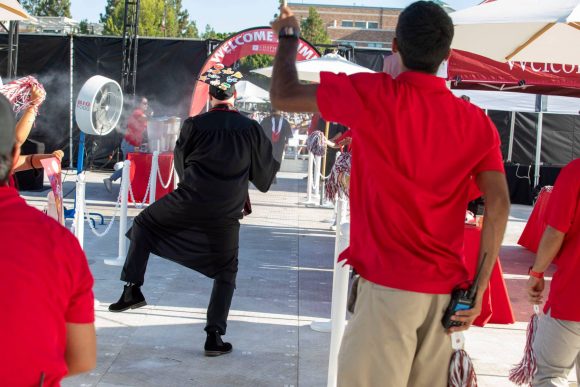 Most attendees were simply happy to have an opportunity to celebrate with family and friends. 
"We haven't been together with our family in fifteen months," said Denise Perez, whose nephew Adrian Serrato '20 was among the graduates from the Argyros School of Business and Economics. For Perez and Serrato, the event was a true "Chapman Family affair" — Dad Luis Serrato is on staff at the university, and brother Luis Serrato '20 graduated later the same weekend.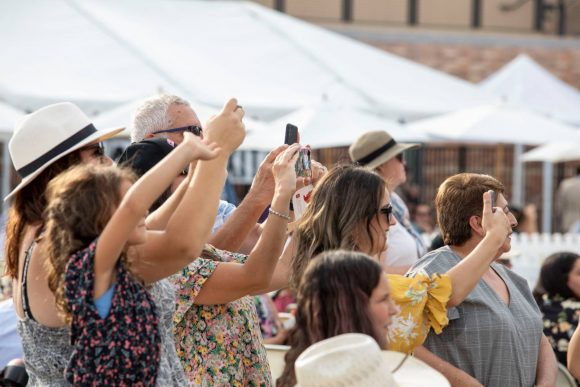 "We're so proud of him," said Arnold Valdez about his son, Barry Valdez '20. Arnold celebrated with his son during last year's Virtual Celebration, and said, "This is another blessing."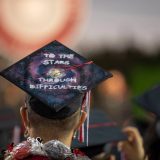 Class of 2021: Once a Panther, Always a Panther
During the second weekend of Commencement, health guidelines were heightened in response to the surging numbers of COVID-19 cases locally and across the nation. Social distancing was implemented for all participants, and more face coverings were in evidence among everyone in attendance. Graduates were required to utilize hand sanitizing stations before and after crossing the stage.
But the extra measures did not dim the celebratory mood among the graduating class. 
"Getting to walk across the stage feels like I am able to get some control over my senior year at Chapman. With COVID, it really felt like by the time I knew what I wanted to do, everything went virtual, and honestly, I felt robbed of some of my quintessential senior year experiences," said  Sanika Pandit '21. "Being able to physically have a graduation ceremony is like a step closer to getting to have all those memories and experiences that I missed out on."
View this post on Instagram
You can read more about Pandit's Commencement experience on the @ChapmanUFamily Instagram account. 
To see more photos from both Commencement weekends, and to share your own photos of the event, visit Chapman University on Facebook.