As Chapman transitions back to on-campus instruction, there's a great deal to be excited about. One thing in particular is the notable Chapman Radio team who have taken advantage of this strange time to learn how to podcast, revamp the Chapman Radio class and completely redo their studio and website. They are also currently developing new ways to broadcast Chapman sports updates through a separate streaming channel. 
"Whether you're a staff member or DJ, you can make Chapman Radio whatever you need it to be for you. There are so many different ways to create any kind of radio show you want. What I really like about Chapman Radio is that we have a really wide range of topics because we want it to be as diverse as possible," says Isabel Roney '22, Film Production major and the current Audio Production Manager of Chapman Radio as well as the incoming General Manager. 
Persevering Through the Pandemic
Chapman Radio is currently thriving, streaming shows such as "You're Not Like Other Girls," (Mondays 9 a.m. PST), "Keep Fashion Weird," (Mondays 1 p.m. PST), and "RepresentAsian," (Fridays at 7 p.m. PST). 
"We have a lot more flexibility right now because of COVID – it's weirdly enough been some quality control. In the past, we would maybe have around 150 shows going on, but the quality definitely wasn't as high as it is in the 30 shows we have now," says Sylvie Messing '21, the outgoing General Manager who is graduating with a sociology degree this spring. 
Although it hasn't always been this way during quarantine. 
Like many other groups and organizations, the pandemic caused Chapman Radio to go dark for about five months. But, as they figured out how to navigate the lockdown, the Chapman Radio team learned how to podcast through Adobe Creative Cloud products. These programs are easily accessible and free to all Chapman students, faculty and staff.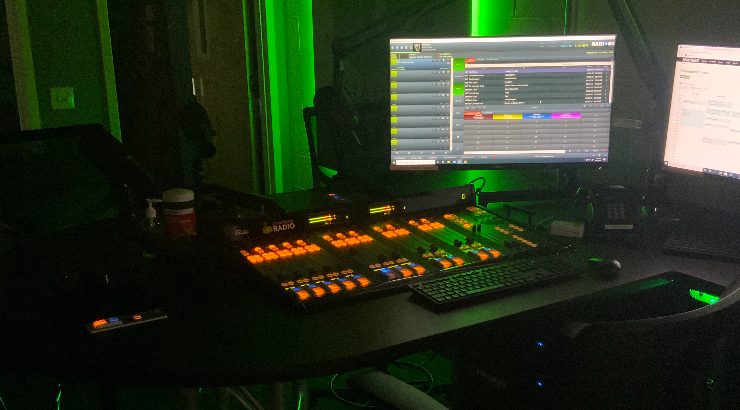 "Some things we've been trying to focus on are podcasting and audio engineering. Podcasting is becoming a really popular medium, so we're setting ourselves up to provide a lot of resources for that," Messing says. 
Currently, Chapman Radio shows are pre-recorded and uploaded to a shared drive. Audio files are then placed in Adobe Audition and set to play at the correct broadcast time. 
"We've learned the value of teaching our DJs Adobe Audition to pre-record material for their show. It's something we will continue to teach since even live broadcasting requires some pre-recorded material," says Travis Bartosh, Chapman Radio Faculty Advisor and teacher of the Chapman Radio Workshop, COM 108/308.
This summer, Travis's re-imagined course will teach students how to broadcast and utilize Chapman Radio software. Students are required to take the course in order to get involved with Chapman Radio. As part of a guest speaker series in the class, students will hear from Ken Bunt, Chapman alumni and the president of Disney Music Group, Cameron Louis from the Woody Show and Tyler Russel, the owner of KXFM in Laguna Beach. And upon completing the Chapman Radio Workshop, students will earn a Chapman Radio Broadcasting License. 
New Year, New Studio 
Another benefit of enrolling in the class? Access to the newly renovated Chapman Radio studio. 
"The silver lining of the pandemic was that we were able to gut the studio and start from scratch without interrupting student shows. We were also fortunate enough to connect with Mike Boyle, a broadcast engineer at AM 830 in Angel Stadium, who was instrumental in building the new radio station," says Bartosh.  
Founded back in 1967, Chapman Radio started with AM technologies but shifted to an online interface in the '90s. In the fall of 2019, the Chapman Radio team began overhauling their systems, and they are still in the process of improving some aspects of their studio.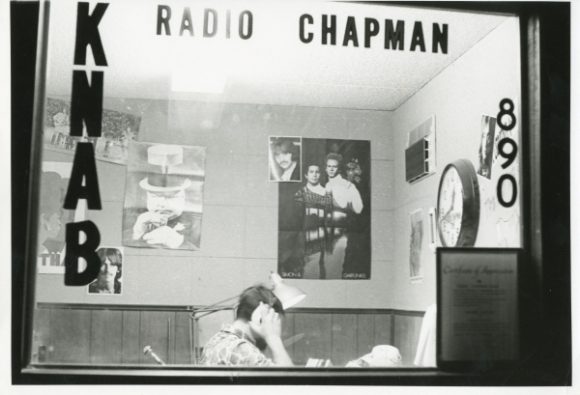 "It has been a great experience to watch it undergo such a drastic transformation and improve it from the inside out. We have brand new monitors, microphones, speakers, a recording studio, plus a broadcasting studio and a state-of-the-art broadcast console. The console is the industry standard, so if anyone wants to go into the radio industry, that's what they would be using," says Messing.
A handful of Chapman Radio team members have already had the chance to work in the new studio, and some of them have already been doing their shows live. The new studio allows students to experiment in their show formats and designs.
"It feels a lot like a real radio station. It's a great place to learn, and it definitely makes it easier to get even more new music on-air. We'll be experimenting with lots of different show formats. In short, it's going to broaden the Chapman Radio experience for both DJs and listeners," says Roney. 
Learning Invaluable Skills 
Chapman Radio looks forward to adding new members to the team this fall, along with welcoming students to several paid positions on their team. Applications are currently open for Program Director, Music Director and Graphic Designer until Wednesday, April 28. 
"As I was growing up, all I wanted was a radio show. Chapman Radio has been part of my rhythm – no pun intended – and once I graduate, it'll be like losing an arm. The feeling I'll miss the most is the flow you get when you're in the studio – kind of like a cathartic high. It's done a lot for my confidence and leadership skills," says Messing. 
Check out Chapman radio's schedule and visit their new website at www.chapmanradio.live.