Chapman Radio has once again been included in The Princeton Review's list of the top 20 "Best College Radio Stations." The student-run station ranked No. 17 on the recently released 2019 list. The rankings are drawn from student surveys of 384 campuses across the nation. Faculty advisor Travis Bartosh considers the recognition a double honor, of sorts.
"Chapman Radio is the only internet-based radio on the list. I like to think that means we're the No. 1 college internet radio station in the nation," Bartosh said.
The station's internet platform is a significant factor that contributes to the high rankings, said Sam Gershik '19, program manager.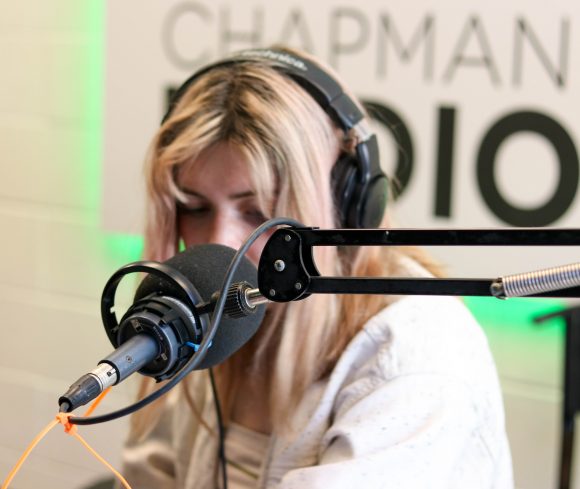 "One of the benefits of being an internet-only station is that we can play whatever we want, as long as we log it and submit it to the licensing companies, as opposed to most college stations that rely on independent-artists' submissions," Gershik said.
Thanks to the freedom of the internet, Chapman radio serves as a hub of creativity for the students who participate. Each semester, DJs host shows on any topic they choose, from the music of Disneyland, talk shows on modern culture and banjo playing, to recreated 1930s radio dramas.
Jack Freiberger '19, who is serving his second year as general manager, also credited the DJs' creative freedom for Chapman Radio's success.
"We really do have great DJs, and a great staff. The DJs make the station what it is," Freiberger said.
Freiberger plans to keep growing Chapman radio during his senior year and increase its campus engagement. He hopes that Chapman Radio can put on a big event approximately every two months, in addition to its open mic nights. He plans to expand the annual music festival and is looking to schedule additional concerts as well.
Chapman Radio was founded as an AM station with limited reach in 1967. Today it operates from a Henley Hall basement studio. Programs can also be heard on the station's iPhone app.
Learn more about the ratings at Princeton Review.
Display image at top/Some of the student DJs at Chapman Radio includes, from left, Christian Castillo '20, Kayla Slack '21 and Jaylyn Scott '21, hosts of the talk show "JK Christian." (Photo/Mia Fortunato '20)