It all started with short films starring cartoon animals.
While their film school peers in a Visual Storytelling course were crafting sensitive tales full of dream sequences and dark storylines, Graham Towers '08 (MA/MFA '12) and Ben Deeb '09 were amusing each other with their comedic stories. One of their films was about a sentient banana and his gorilla friend.
"Graham and I were just goofier," Deeb recalls. "Our sensibilities kind of lined up."
At Chapman University's Dodge College of Film and Media Arts, a writing friendship was forged. Then, as that bond grew to become a professional partnership, Towers and Deeb widened their perspective thanks to classes in Chapman's Wilkinson College of Arts, Humanities, and Social Sciences.
At its core, the collaboration is about telling incisive stories that still make each other laugh.
Towers and Deeb recently co-wrote a high-profile election episode of the hit ABC TV series "Black-ish," where the pair have become fixtures in the show's writers' room. For both, it's a dream writing job.
Although neither took a direct path to success, they continue to draw on lessons, experiences and a pool of self-belief that was fed by their Chapman classes in film, the humanities and even environmental science.
To a great extent, their story is also about "just sticking with it," says Deeb, who started as a film major but ended up graduating with degrees in philosophy and political science.
"We've had so many moments over the past 10 years where we thought, 'This is going to be our big break,'" Deeb adds. "We've had people tell us, 'Hey, as soon as this show goes to series, you'll be staffed on it,' and then the show didn't go to series. The business is so competitive that it would be easy to get disheartened."
Learning from Fellow Chapman Writers Working in TV
Both Deeb and Towers lean on Chapman peers who also have made it in television.
"We have a lot of Chapman friends who are now successful writers, and the thing they all seem to have in common is that they worked really hard as assistants, and they just didn't give up," Deeb says.
"It helps to not be smart enough to have a plan B," says Towers, who graduated with a screenwriting degree from Dodge College before also earning a dual MA/MFA in English and creative writing.
It also helps to have loads of talent and to dedicate yourself to your craft. That dedication is evident in the recent episode of "Black-ish" Towers and Deeb created together.
Theirs is the second episode of a two-part election special that originally aired Oct. 4. It was a departure — animated to avoid the risk of bringing the cast and crew together during the COVID-19 outbreak.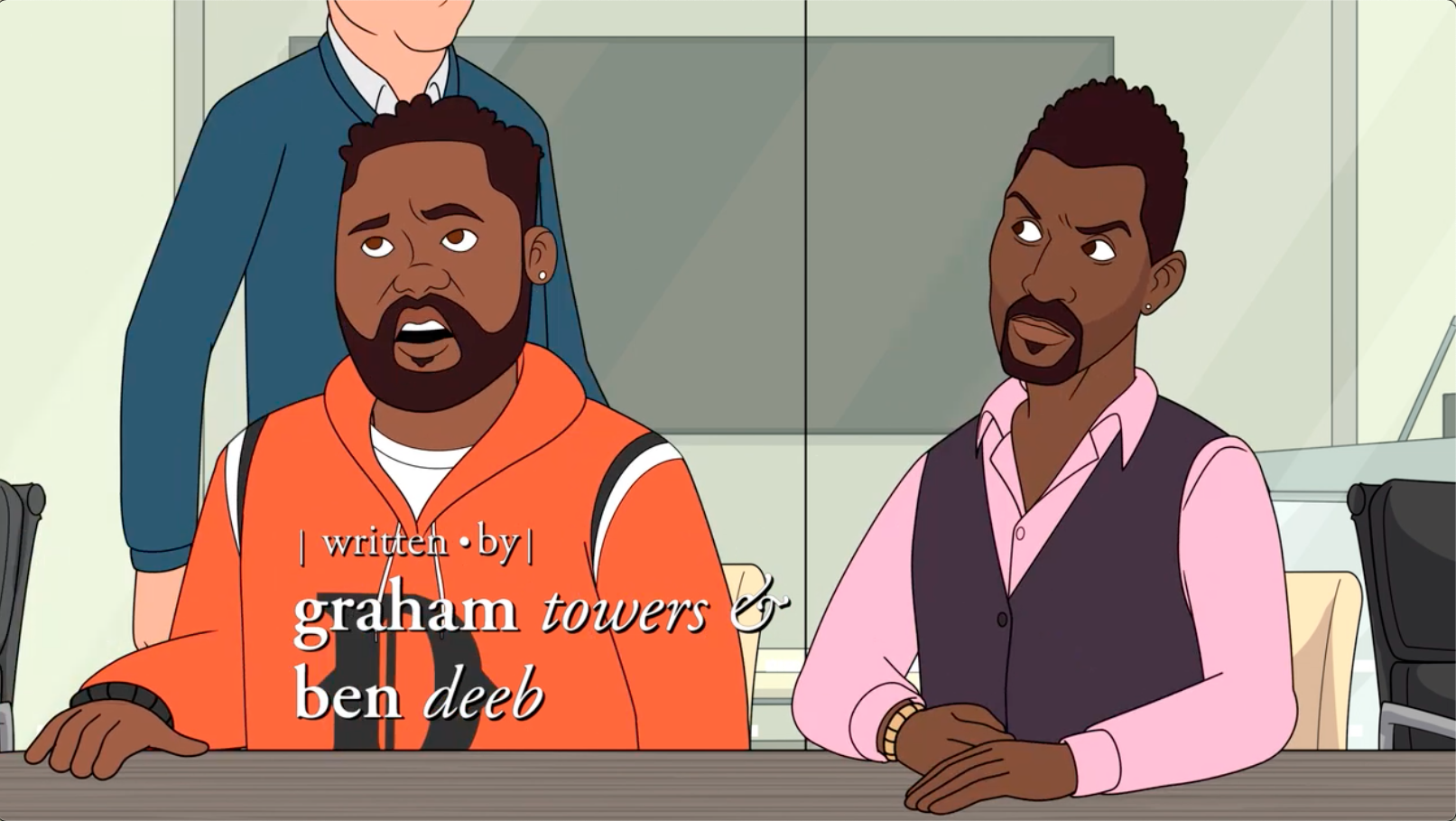 Election Episode of "Black-ish" Described as "Near-Perfect"
The storyline features a run for Congress by a white colleague of lead character Dre (Anthony Anderson), who witnesses the manifestations of privilege and decides to run himself. Along with plenty of laughs, the episode offers a window to the fundraising demands and moral ambiguity that dominate politics today.
In her review of the episode for the online media site AV Club, Ashley Ray-Harris writes that "Part 2 is a near-perfect 'Black-ish' episode. It takes on a serious topic — campaign fundraising — and breaks it down while poking fun at the characters' own moral impurities."
Towers has been a writers' assistant on "Black-ish" since Season 3, when he met series creator Kenya Barris on a different project, for which Towers was script coordinator. During his four years in the writers' room of "Black-ish," Towers has co-written three episodes, including the Season 6 finale, which he wrote with Deeb.
"That episode was directed by Matthew Cherry just weeks before he won an Oscar (for the animated short film 'Hair Love')," Towers says. "Then a similar situation happened this year — they were working on an animated election special, and they said we could write it, which was very flattering that they trusted us."
That level of trust also thrives within the writing partnership.
"What Graham is leaving out is that it was also very nice of him to not pretend he didn't have a writing partner and take full credit for himself," Deeb says. "I'm very grateful to be involved and to have gotten to know so many people in the 'Black-ish' writers' room through this process."
How Humanities Classes Helped Them Widen Their Perspectives
There was a time when Deeb thought his professional life might be as a college professor, or perhaps as an aide to a member of Congress (he interned for a Nebraska senator during college). Although he journeyed from Omaha to become a film major at Chapman, he found that he also wanted the fruits of a broad liberal arts education.
In addition to his double major in philosophy and political science, Deeb earned minors in environmental science and university honors.
"I want to explore as many things as I can," he says.
Towers, a native of Newport Beach, also found his way to classes in Chapman's Wilkinson College after earning his screenwriting degree from Dodge College and then moving to Los Angeles, where he has worked on a half-dozen TV shows.
He returned to Chapman for graduate study "mostly because I knew I wasn't a good enough writer yet," Towers says. "I had a lot of great professors in the MA/MFA program, but Paul Buchanan was my favorite. He taught some great creative writing workshops, and he's still a good friend."
Wide-Ranging Experiences Lead to Rich Story Ideas
While Towers was workshopping his writings and offering feedback to peers, Deeb was joining in environmental research as well as in philosophical discussions.
"I was the kind of kid who would go to office hours and chat about all the things that interested me," he says. "But I also had a lot of seminar classes. And sitting in a room, throwing around ideas, sometimes with people you don't agree with, is kind of what we want to do in a TV writers' room. You're benefiting from a diversity of experience and coming up with interesting ideas."
Now, while they also collaborate on feature scripts and other projects, Towers and Deeb are in the room where it happens for TV writers. Two white guys working for a show called "Black-ish."
"One of the great things about 'Black-ish' is how everyone feels free to talk, which is where you find out where people's preconceptions are about society at large," Towers says. "Everyone at 'Black-ish' is a curious person. So everything tends to start out in particular experiences and then, in the story-breaking process, we find out what makes it universal."
In that universality, Deeb and Towers are always searching for the original.
"When we write a new pilot, we definitely say, 'How can we present something that people haven't seen before — stories that need to be told?'" Deeb says. "Sometimes that's us putting ourselves in the shoes of other characters and just trying to do an exercise in empathy to see what that character would be like."
"I'm so lucky," Towers adds, "to be in a position where so much of my job consists of having interesting conversations with people with different experiences. I continue to learn from everyone else in the room."