Hilbert Museum of California Art founder Mark Hilbert recently acquired some outstanding original production art from the classic stop-motion animated feature "The Nightmare Before Christmas," released in 1993 by Disney's Touchstone Pictures.
This timely Halloween exhibition features production sketches by famed Disney animator Jørgen Klubien, as well as oil-pastel concept drawings. The movie, produced by Tim Burton and Denise di Novi and directed by Henry Selick, has a screenplay by Caroline Thompson based on characters created by Burton. Music is by Danny Elfman, who also provided the singing voice of lead character Jack Skellington.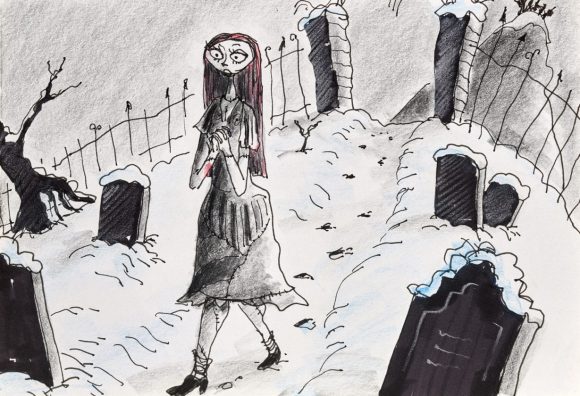 The movie tells the tale of how Jack Skellington (voiced by Chris Sarandon), the Pumpkin King of Halloween Town, concocts an audacious scheme to abduct Santa Claus and take over Christmas. Meanwhile, his love interest Sally (voiced by Catherine O'Hara) thinks nothing good can come of this. Wacky Halloweeny shenanigans ensure, all with a wild Tim Burton twist.
Boasting artistic influences as wide-ranging as Dr. Seuss, Ray Harryhausen, Gahan Wilson, Charles Addams, Francis Bacon, Wassily Kandinsky, Edward Gorey and German Expressionism (among others!), Nightmare has become a cult hit, even though Disney at first feared it would be too dark for youngsters (leading to its release via the more adult-themed Touchstone label).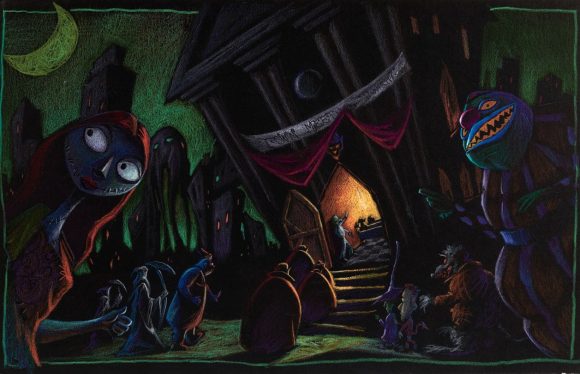 Critical acclaim followed, with Peter Travers of Rolling Stone calling it a movie that brings "originality and daring to the Halloween genre. This dazzling mix of fun and fright also explodes the notion that animation is kid stuff. It's 74 minutes of timeless movie magic."
Roger Ebert hailed the film's visual effects, calling them "as revolutionary as Star Wars," and adding that Nightmare is "filled with imagination that carries us into a new world."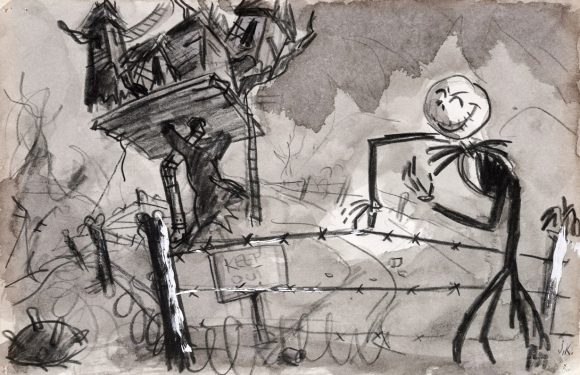 Celebrate Halloween with the Hilbert. Stop by to view the "Nightmare Before Christmas" exhibition.
The Hilbert Museum has re-opened for limited hours, Tuesdays – Fridays from 1 p.m. to 5 p.m. In order for everyone to safely enjoy the art, all visitors are required to wear face masks and adhere to all of Chapman's health and safety protocols.