Chapman University's Hilbert Museum of California Art has been weathering the COVID-19 shutdown by posting daily on its social media pages one piece of art from the museum's collection, in a series titled "At Home with the Hilbert." The posts have continued all summer, highlighting a variety of works paired with a brief story about the artist and history of the piece. A creative response to COVID-19, the digital series is part of the global #museumfromhome initiative and has virtually rallied together art aficionados everywhere from the Chapman community and beyond.
"We've received great feedback from people who are discovering our social media pages through these daily posts," said Hilbert Museum director Mary Platt, who selects and posts the Hilbert images and writes the stories that accompany them. "It's been a very popular platform for more audiences to find out what the Hilbert Museum is all about. It's something we plan to continue even when the current crisis is over." 
Platt recently expanded the initiative's digital platforms to include NextDoor.com, and the response from neighbors in Old Towne Orange and the Orange, Santa Ana and Tustin neighborhood has been equally enthusiastic.
The museum's Facebook following has grown from around 600 followers to 1700 over the summer. Its Instagram following has similarly tripled with more people following almost every day.
While the Disney-related posts have proven to be the most popular, the museum has also posted works of American illustration by Norman Rockwell and other artists, and fine-art watercolor and oil paintings by such well-known California artists as Millard Sheets and Phil Dike among many others.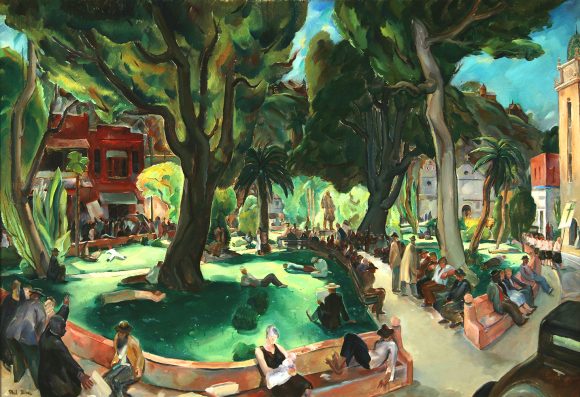 Platt says that when the pandemic is over, the Hilbert Museum plans to collect all the posts and publish them in an "At Home with the Hilbert Museum" book. 
"It will be a souvenir of a time when we had to be nimble and resilient, to face a crisis and to find a creative way to share our collection with the public in a new and different way," Platt says. "There's a definite yearning out there to return to museums and galleries when we are able to safely reopen. Until then, we are all doing our very best to bring that beauty and comfort to you at home." 
You can view and follow "At Home with the Hilbert Museum" on its Facebook and Instagram pages.