Stephen Galloway is on the move. It's a sunlit afternoon in February, and Galloway has just met for lunch with members of the Women of Chapman support group before taking a spirited trip through Marion Knott Studios to meet with students and pose for photos. He ducks into his new office to keep a conference call appointment.
Oprah Winfrey is on the line.
The two are working together on The Young Executives Fellowship, a leadership initiative Galloway launched last year to provide learning opportunities for young people of color. The phone call is to work out some important details.
"She's very committed to the program," Galloway says of Winfrey.
These days, Galloway is preparing for his own exciting new opportunity. On March 30, he stepped out of his previous position as executive editor at The Hollywood Reporter and into the role of dean at Dodge College of Film and Media Arts at Chapman University. It's clear that he is bringing an abundance of energy, a unique set of talents and an impressive array of industry connections.
"I have two great passions – education and film," says Galloway, who in addition to his nearly three decades of leadership at The Hollywood Reporter is an Emmy Award-winning producer and was the Cosgrove Visiting Artist at Loyola Marymount University. "I want to create a real osmosis between Dodge College and the industry to bring working professionals in close connection with our students."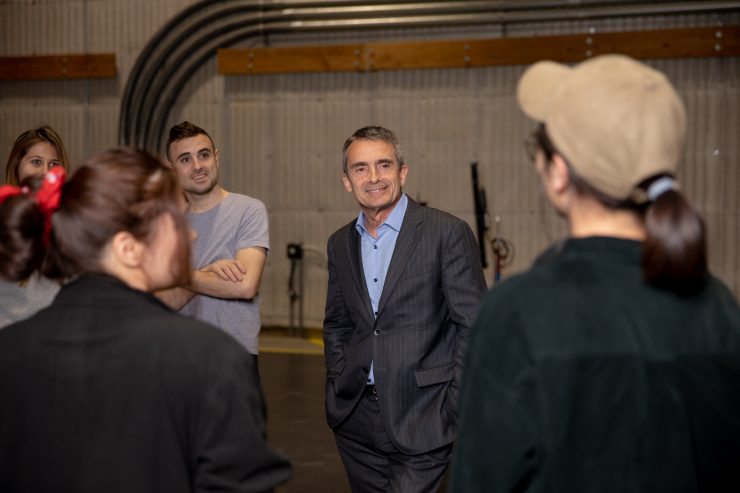 Praised as a Film Scholar Who Has a Deep Knowledge of the Industry

Galloway isn't the only one who's excited about this new chance to change lives.
"There are many reasons why I think he'll be a great dean," says Sherry Lansing, former CEO of Paramount Pictures. Galloway wrote the definitive biography of Lansing, the first woman to lead a Hollywood studio.
"Stephen is smart and has a great love for learning. This is his dream job," Lansing adds. "I respect and admire him so much – I've seen him build programs and take them to a new level. Then, to have someone who has been in the business, who knows all the players? I just think it's the perfect time for him because he's steeped in academia, but in a different way – this is the film school, after all. We need someone who knows the business and the ways it is changing."
Those in leadership at Chapman agree that Galloway is the ideal choice to replace Bob Bassett, the founding dean who built Dodge College into one of the most highly respected film schools in the nation. Since Bassett's retirement last summer, Dodge has been led by interim dean Michael Kowalski, who will continue at Chapman as a professor of film.
"Stephen is a gifted intellectual who will help bring our nationally-ranked film school into an entirely new era," says Chapman President Daniele C. Struppa. "I love his passion for film as an academic discipline and his vision for how our students and alumni can be a part of this exciting industry."
Adds Chapman Provost Glenn M. Pfeiffer: "From his First Class Honors degree from Cambridge to his exceptional career in the entertainment industry, Stephen is unique. He impressed us all not only with his qualifications but with his vision for Dodge College and his passion for the future of the entertainment industry."
Raising Chapman's Profile in Hollywood

Galloway's vision for Dodge includes listening to faculty, students and staff to find out how he can best support them. Then he also wants to develop strategies that will raise Chapman's profile among entertainment industry leaders as well as prospective students. Galloway created The Hollywood Reporter's national ranking of film schools, in which Chapman ranks seventh, so he knows how great Dodge College is already, he says.
"I think we need to better define what makes Chapman unique," he adds. "The film school is a village, a community. If we can explain how that works, we can create a sense of what makes Chapman special."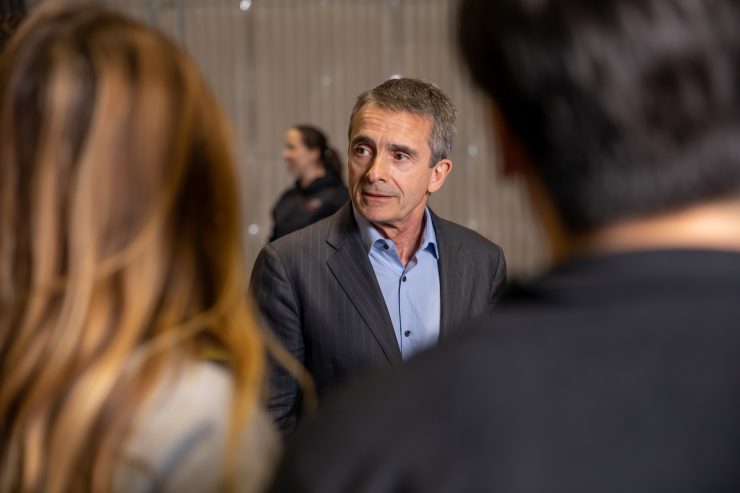 One way for Dodge College to grow is to bring industry leaders to campus. With his interview series "The Hollywood Masters" and The Hollywood Reporter's "Roundtables," Galloway has shown that inviting highly creative people into profound conversations can deepen understanding and spark innovation.
"He'll develop new programs that are not only innovative but collaborative," Lansing says.
The creative community Galloway envisions for Dodge will champion opportunity for students and faculty from diverse backgrounds. He says his work with Big Brothers Big Sisters of Greater L.A. to create the Women in Entertainment Mentorship Program is "the most meaningful thing in my life."
The program pairs high school juniors from schools in South Los Angeles with women leaders in entertainment. More than 250 teenagers have gone on to college, helped by more than $10 million in scholarship money raised by Galloway and program partners.
Leadership Fosters Opportunities for Students

Empowerment is ingrained in Galloway's leadership style, says Louisa Marshall '20, who as a second-year student at Chapman worked for Galloway as an intern at The Hollywood Reporter. She contributed to research projects that gave her a window to the team's investigative reporting, including coverage of the #MeToo movement.
"Just to be privy to the work going on in the newsroom was a great learning experience," says Marshall, now editor-in-chief of The Panther newspaper as well an investigative reporting intern for NBC.
"Stephen is always someone I've relied on for guidance. If he can do half of what he did for me, all the students in Dodge will be better off," Marshall adds.
As Galloway gears up to the challenge of leading Dodge into a new era, he admits to feeling a mix of emotions.
"I'm absolutely excited because I truly believe that where I'm strong can help move the school forward. And I'm also petrified because there are areas where I need support. Tell me again how tenure works," he says with a laugh. "Together we're taking this bold leap, and I think that says a lot about the University and its leadership."
Galloway is confident that a collaborative approach will ensure there are more bold leaps ahead for Dodge and for Chapman.
"One great thing you discover when you're trying to launch a program is how many people want to help," he says. "It's really astonishing. It changes your view of people, not just your view of Hollywood."