The
Future
at their
Fingertips
In a Chapman engineering lab, two students are turning MRI Scans into a next-level healthcare tool – a 3D-printed model of the human brain.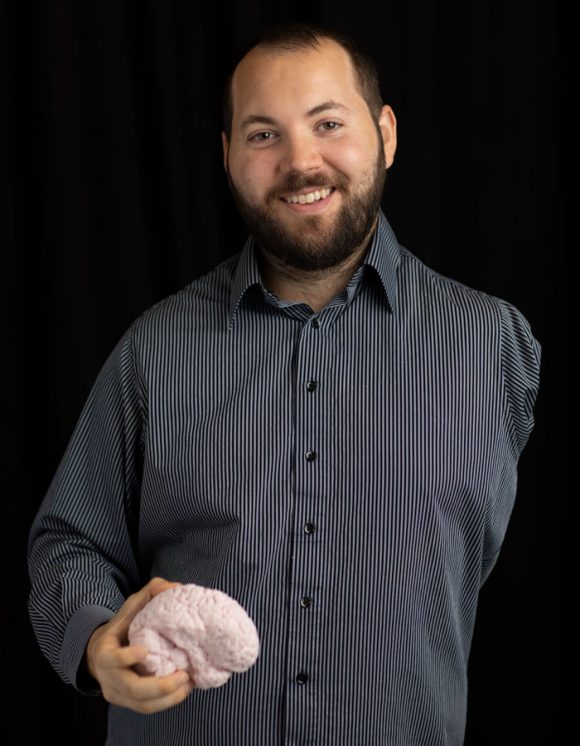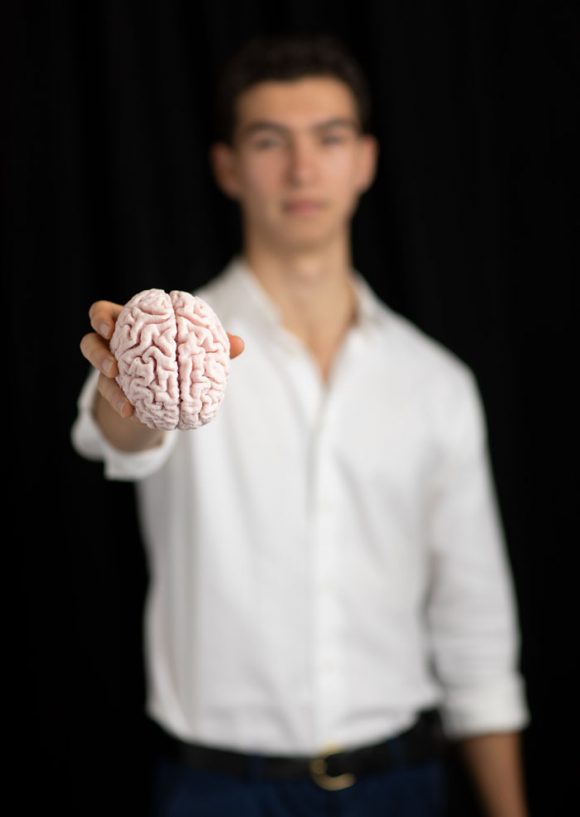 MRI scans and other forms of imaging have revolutionized medicine. A neurosurgeon can use such scans to view a patient's brain, form a diagnosis and plan a course of treatment. Still, magnetic resonance imaging is hamstrung by the limitations of flat-screen technology. What if that scan could jump off the monitor and into the surgeon's hands?

Two undergraduate students in Chapman University's Fowler School of Engineering are trying make that "what if" a reality. In their 3D Printing and Design course, they're working to transform an MRI into a physical 3D model of a patient's brain. From such ideas may come the next era in medical imaging.

Here's a closer look at the class project of Oliver Mathias '21 and Greg Tyler '21 (M.S. '22).
An Idea Takes Shape
Entering the 3D Printing Lab in Keck Center for Science and Engineering, Mathias empties his backpack. A notebook, pencil and 3D-printed section of a brain spill out onto his desk. He slides to the edge of his seat and his eyes widen as he enthusiastically shows the print to Tyler, his classmate. Mathias had printed out a slice of the brain's soft tissue the night before to share with his brother, a neurobiologist.
Seeing and holding that print sparks an idea for Tyler.
Eleven years ago, he was involved in a life-altering motorcycle collision that broke 15 of his bones and punctured both of his lungs. His left arm had to be amputated and left leg was paralyzed. Through that traumatic experience, Tyler became very familiar with the use of imaging in health care.
He started thinking about how medical imaging machines are already creating digital, three-dimensional models of organs. And after studying Mathias' 3D print, Tyler began to brainstorm possibilities for adapting these images into 3D-printed models of the human brain.
"I had to rebuild my own body, and because of that I learned a lot about how bodies work," said Tyler. "I knew I wanted to use that knowledge to help other people."
"I had to rebuild my own body and because of that, I learned a lot about how bodies work. I knew that I wanted to use that knowledge to help other people with it."
Trial, Error and Success
Their final class assignment, an independent project chosen by each student, provided an opportunity to further investigate these ideas. With six weeks left in the semester, Tyler and Mathias went to work. Since there were no textbooks or step-by-step instructions to guide them, the majority of their time involved research and learning through trial and error.
Throughout the process, the students had to make dozens of choices and adjustments. Where would they find MRI scans? Were the scans accessible for their use? What kind of printed filament would work best?
Then there's the printing itself, which happened layer by layer, hour after hour, with Tyler and Mathias manually leveling the printer platforms all along the way. If their adjustments were off by even a 16th of an inch, the prints wouldn't come together correctly. It was a test of patience and resilience, as the biggest model required 72 hours of continuous printing.
After many failed attempts and a backpack full of odd-looking brains, Tyler and Mathias ultimately achieved success. They completed their course with tangible prototypes of 3D-printed brain models.
"It is amazing to look back and see how we went from this broad idea to actually having a lot of the pieces in place to make it work," Mathias said.
Color-Coded Tissue
The class is over, but the project continues. Tyler and Mathias plan to expand on their current model, improving the internal structure of the 3D-printed brain to include color-coded tissue types that will help doctors and their patients better visualize anomalies and tumors.
The students hope to one day get their 3D models into the hands of every surgeon, so treatment options and surgical pathways can become even more precise.
"What our students have demonstrated here is precisely the sort of thing we hope to see from all the immersive experiences we offer in Fowler Engineering," says Andrew Lyon, Ph.D., dean of the engineering school. "They have combined a deep understanding of engineering principles with technical abilities, creativity and passion to address an unmet need in health care."
Putting New Tech to the Test
Three-dimensional printing is rapidly opening up novel avenues of design and production. Industries from health care to fashion and the culinary arts are using this technology to their advantage. This tech revolution is also taking place in a new Chapman University class, Topics in Computer Science: 3D Printing and Design, in which students explore the seemingly endless possibilities of this emerging technology.
40
Percentage of infill used on the students' 3D-printed brain model. With most 3D-printed models, the internal structure is made up of infill with a standardized honeycomb pattern. With Mathias and Tyler's model, the goal is to limit the infill and print an accurate depiction of the brain's interior.
899
Layers in their printed model. Each layer takes about five minutes to print.
80
Percentage scale of the 3D-printed model, compared with an actual human brain.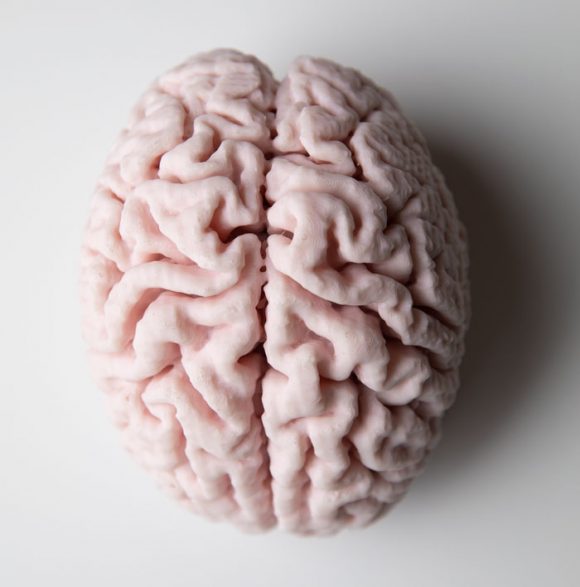 72
Hours needed to print the model.
300
Amount, in dollars, that Tyler received for winning second place at the IEEE Brain Data Bank Challenge. Competing against doctoral students and university professors, he presented this 3D model and his team's approach to MRI visualization.
Field Research
Undergraduate students Oliver Mathias '21 and Greg Tyler '21 (M.S. '22) met with a surgeon to learn how he uses a slideshow of 2D MRI images to prepare for surgery. The students recognized a need for 3D-printed models that would help physicians plan surgical pathways and improve practice procedures. 
High Resolution
One of the many challenges faced by Mathias and Tyler was getting access to MRI images of the highest resolution possible. Such advanced imagery isn't needed when its viewed on a digital screen, but it's vital for the transition to 3D-printed models that reveal more advanced tissue typing such as blood vessels, muscles, calcified tissue and tissue anomalies. Much of the data for current MRI images is unusable for 3D printing due to low resolution and image gaps
Creating Partnerships

MatterHackers, one of the country's leading suppliers of 3D-printing products, donated the 80 spools of filament used by students during the course. 

Adafruit, a nationally known creator of micro-controllers, donated electronics for students to incorporate circuit design into their 3D prints. This allowed their creations to have sophisticated features such as sound effects and lighting.

Higher Ground, a nonprofit organization that serves at-risk youth in Orange County, collaborated with the Chapman students on their first project of the semester: the manufacture of 3D-printed costumes for Higher Ground youngsters to wear on Halloween.