Where there is smoke, there's fire, but in the case of vaping, there has also been a mist of uncertainty. Chapman University Professor Georgiana Bostean is working on writing policy for a national public health organization to bring clarity to a practice that has seen a spike in illnesses, injuries and even deaths.
The popular tobacco practice of vaping has been in the news recently because of more than 2,400 U.S. cases of illness and injury as well as 52 deaths (as of Dec. 18, 2019). Most striking is that about 79% of victims are younger than 35, according to reports from The Centers for Disease Control and Prevention (CDC).
Vaping products are advertised as an alternative to smoking for existing tobacco users, but the CDC notes that marketing campaigns tend to be aimed at younger consumers.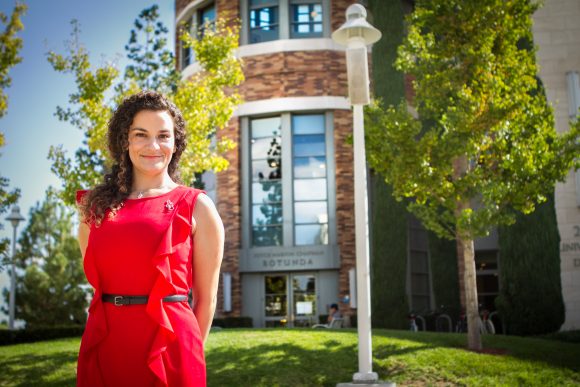 Bostean, Ph.D., a demographer and professor double-appointed in the Department of Sociology and Schmid College of Science and Technology, has been researching e-cigarette trends and data since 2014. She is a contributing writer for a project updating the American Public Health Association's (APHA) policy statement concerning vaping, assessing for the recent deaths and illnesses. Her current research focuses on teen access to vape products and the location of vape retailers in relation to schools.
Bostean noted CDC statistics confirming that teen use of e-cigarettes in 2017-2018 jumped from about 12% to 21%. That's 1 in 5 students reporting that in 2018 they used electronic cigarettes in the past 30 days. In 2011, the figure was only 1.5%.
Portability, options for discreet use, and candy-inspired flavors give vaping products added appeal to teen audiences, Bostean says. With that appeal comes increased access to products linked with doctored devices and chemical mixes.
An early study of 17 cases of injury and illness was published in a paper from the New England Journal of Medicine in early October. The paper reported not pneumonia-like conditions, as first suspected, but overall inflammation and lung damage. Many of those cases, in-line with reports from the CDC, involved the combination of vaping with illicit Tetrahydrocannabinol (THC) products.
"The most recent recommendation from FDA and CDC is to stop vaping all THC-containing products, and not to use 'off the street' products," said Bostean. "The outbreak was not confined to users of a particular brand or type of vaping device and there were, in fact, cases – over 10% – in which patients reported vaping only nicotine-containing products. Some vaping devices allow users to modify the juice contents, so the recommendation is that users not modify or add anything to juices."
While a manufacturer like Juul may operate with regulation in product creation or production, even with FDA rulings, there is not a precise standard for how to mix or combine the liquids used in vaping or vape-related products.
Bostean says that while the FDA has since begun conducting retailer inspections, vape shops mixing their own juices are now considered "manufacturers" as well as retailers, and must apply for approval for both.
"There are many products that continue to be sold that have not been approved or tested," Bostean says.
"Adolescent e-cigarette use rose sharply through 2015, then appeared to dip briefly, but once Juul emerged on the market, there was once again a rapid increase in use," says Bostean.