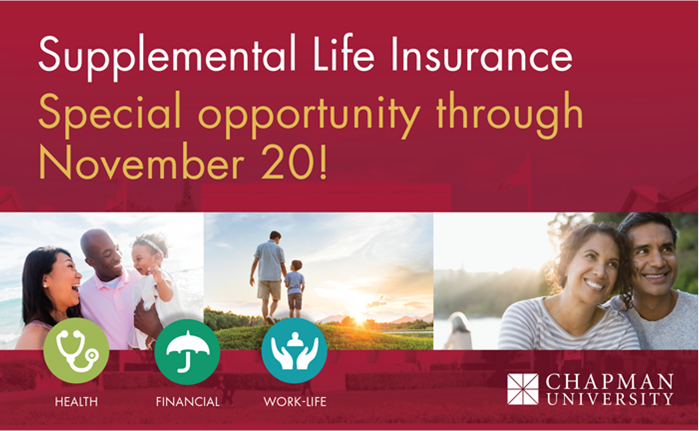 Open Enrollment is a great time to review your life insurance needs. If you could use additional protection, now's the time to enroll or increase your coverage.
This year, you have the opportunity to enroll in or increase supplemental life insurance up to guaranteed issue limits without having to submit Evidence of Insurability (proof of good health). Coverage is available for you, your spouse/domestic partner and your child(ren).
Need More Coverage?
You may request coverage in excess of the guaranteed issue limits. However, you will be required to provide evidence of insurability. This may include medical questions, a medical exam and/or a physician's statement.
Plan details can be found in the Cigna Term Life and Accident Insurance Benefit Summary.
How to Enroll
To enroll in this valuable coverage, complete the Open Enrollment Supplemental Life Application and return it to Yesenia Castillo at ycastill@chapman.edu.
Be sure to request coverage before Open Enrollment ends on November 20 to secure your guaranteed benefit amounts!
If you have any questions, please contact the Benefits Department at 714-997-6749, 714-628-2734 or hroffice@chapman.edu.