The opening this fall of The K Residence Hall at Chapman University combines a student housing solution with an historic preservation project. It's a big part of Chapman's Specific Plan, not only ensuring success for students but strengthening Chapman's connection to the city it calls home.
The K Residence Hall is a 56,628-square-foot and 400-bed student housing complex at the site of the historic former packing house at the corner of West Palm Avenue and North Cypress Street in Old Towne Orange. 
Enhancing the Student Experience
The new facility helps Chapman fulfill plans to provide on-campus housing to 50% or more of the total student population.
"The K demonstrates Chapman's commitment to creating the best experience for our students, while also being a good neighbor to the citizens of Orange," says University President Daniele Struppa. 
The project incorporates the architectural heritage of the historic site it shares with the 100-year-old Villa Park Orchards citrus packing house. The materials, design features and scale of the building blend with the historic character of the neighborhood and complement the design of Chapman's nearby Crean Hall, the restored 1923 Western Cordage Building.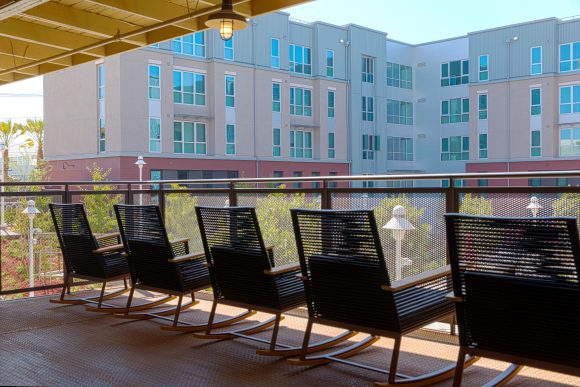 Good Neighbors
By increasing Chapman's ratio of students housed on-campus, the University seeks to minimize traffic and other impacts on the neighborhood while giving students a sense of community to best support their success, says Jerry Price, vice president for Student Affairs and dean of students.
"Young people, in general, are on their own cycle," says Price.  "Their schedules can stop and start throughout the day and often into the night."
The K gives them a built-in community for socializing, study and other aspects of academic life, Price says.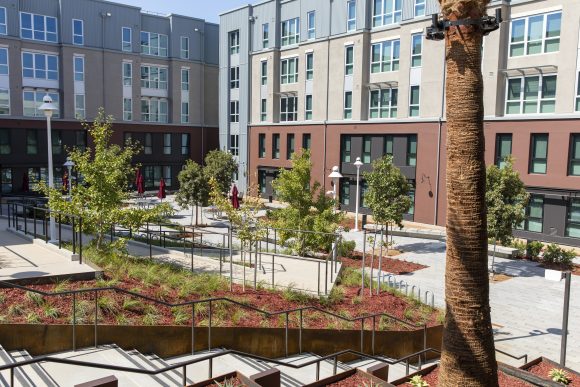 "We know that students, especially in their first and second year of school, perform better when they live on campus," Struppa adds. "They become part of a community. They develop a network of students who experience many of the same challenges and stresses of this new environment — and we can provide additional support when they need it."
Having similarly motivated peers around them can reduce outside stress and help keep students on track to success, Price says.
"It's important for students to feel a sense of connection to their university and peer group that really correlates to other students having the same experience you are," says Price.
Tour The K at Homecoming
Free tours of The K Residence Hall will be offered on Saturday, Oct. 5, during the Chapman Family Homecoming. The public is invited to The K's Grand Opening and picnic from 11:30 a.m. to 1:30 p.m. Register and see all the amazing events Chapman Homecoming has to offer.