"It's my school … but now it's your school, too!"
On the last night of new student Orientation, parents and family members gathered to welcome the newest Panthers in one of Chapman University's favorite traditions, the Alumni Candle Lighting Ceremony.
As the candle flames rippled out from the Four Pillars of Halfacre Fountain and across the Attallah Piazza, some of the family members present — moms, dads, grandparents, aunts, uncles, siblings and cousins — knew better than most what the Chapman experience has in store for the new students, as they were once Chapman students themselves.
This was the first Candle Lighting Ceremony for Connie Watson' '61, and she was thrilled to have this opportunity to pass the Flame of Knowledge to a member of her own family. Joined by her nephew's family from New York, including Christina '21 and freshman Damon '23, she took a moment to remember her days at Chapman, especially her favorite professor, Jim Miller. She knows that both Christina and Damon will create similar relationships with their professors, since Chapman has maintained small class sizes, allowing the students of today to have the same wonderful experience she had over 50 years ago.
As she lit Damon's candle on this special night, Great Aunt Connie, a former teacher, had words of advice for young Damon.
"Education is really important, but to function, you have to have wisdom," she said.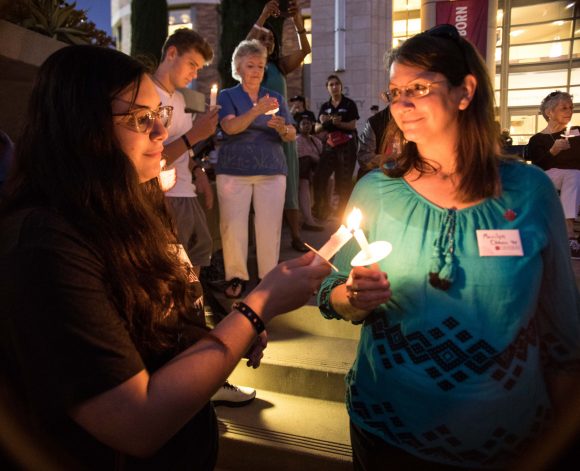 Other great words of "Panther Wisdom" came from alumni relatives scattered about the Piazza as they lit candles. Chapman mom and alumna Marilyn Moskowitz Othon '94 wants her daughter Rachel '23 to "Make great memories. Follow your passion. Do every production you can think of." Rachel is really following her mom's path and is entering the same field — television writing.
"Go to everything. Do everything!" is the advice that Jessica Kellogg Seabern '90 shared with her daughter, Marley '23. With older daughter, Eleuthera '20, already here at Chapman, Jessica was an experienced candle lighting alum.
However, the excitement in her eyes did not diminish the second time around. Jessica enthusiastically remembered meeting her very best friend during Orientation Week and hoped that Marley might do the same. Jessica came to Chapman with plans to leave for UCLA in a year but came to love Chapman and never thought of that other school again! She is thrilled that both of her daughters chose Chapman and can have the same outstanding experiences that she did as a student.
Mackenzie Weber '13 had some wise advice for her younger brother, Jeffrey '23, echoing the thoughts of many alumni. "You have to become friends with at least one professor. First name basis. This was one of my favorite things about Chapman — the ability to connect with professors, get to know them and receive the one-on-one support they gave. That just would not have been possible at another school."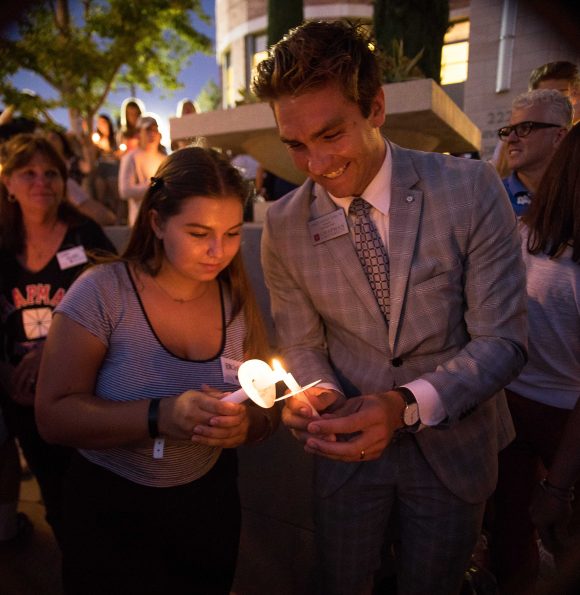 Perhaps the sagest words of "Panther Wisdom" came from one of the youngest alumni lighting a relative's candle. As Garrett Aanestad '16 lit his cousin Rachael's '23 candle, he said to her, "In all aspects of being a Chapman student, the amount you apply yourself will determine what you get out of your experience. You can easily skate by and not get much out of here, or you can devote your best self to your relationships, academics and extracurriculars, and have the most incredible time of your life!"
As the candles flickering in the Piazza were blown out, families said their goodbyes, sad but also excited as their students look forward to all the fun ahead of them … for the night, the year and even further. Perhaps even to the day when their Panther Path leads them back to campus, when they'll be the ones lighting the candles of new students.