There's no better way to end the weeklong celebration and professional gathering that is Staff Summit than with an awards ceremony honoring some of the best and brightest staff members—except, of course, with a National Championship title.
Still basking in the glow of their victory at the NCAA Division III National Championship on Tuesday, June 4, members of Chapman University's Baseball team gathered on stage at the annual Staff Appreciation Awards Ceremony to present President Daniele Struppa with the National Championship trophy.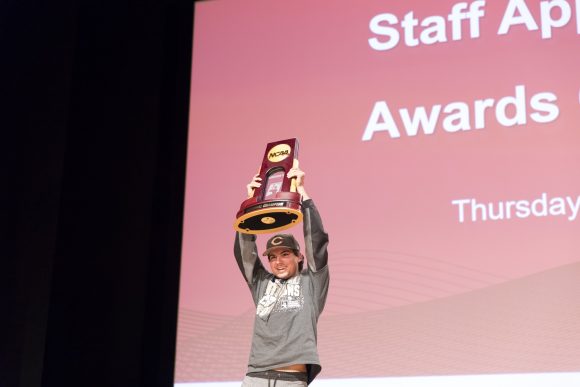 "Our guys performed outstanding, and made it through a double elimination bracket," Terry Boesel, director of athletics, said to the audience of staff members at Musco Center for the Arts. "I don't think our victory is surprising to anybody who knows these guys. This group has represented nothing but a first-class act during the playoff series and championships."
The Panthers swept Birmingham-Southern in the best-of-three championship round, 6-4 and 11-0, to win the NCAA title for the first time since 2002.
In addition, Boesel announced that baseball head coach Scott Laverty was named 2019 D3Baseball.com Coach of the Year. The news follows another accolade for Chapman Baseball: All-American Tyler Peck was drafted by the Cardinals in the 28th round on Wednesday, June 6, just hours after the National Championship victory.
Staff Success
The celebrations continued as Struppa presented service awards and special honors to staff members who contribute to the Chapman Experience through spirit, professional performance and commitment demonstrated by service ranging from five to 45 years.
"I want to thank everybody who's in this room for the tremendous success Chapman is enjoying," Struppa said. "I want you to know that we realize that none of this will be possible without you. This has been another fantastic year; we are doing extremely well and we are on the rise."
Honoring the President's Award Winner
Before presenting the President's Award, the highest award a staff member can receive, President Struppa reflected on the impact such staff members can have on the culture of the university at any level.
"Something we often forget is that our role is not just to energize the people who work for us, we also energize the people at our level, as well as those above us. It's very important that we understand the interconnectedness of all our efforts. By your work, you enhance the reputation of university and you really embody those values that make Chapman a distinctive university," he said.
Receiving the 2019 President's Award was Peter Westenhofer '00, artistic operations manager with the College of Performing Arts. Westenhofer supervises the artistic logistics for all productions in the music, theatre, and dance programs in addition to being a Chapman alum '00 and local actor. Through his tireless creative energies and expertise, Westenhofer has contributed to the improvement of workflows that have allowed COPA to thrive on and off the stage.
Commitment to the Chapman Experience
Vice President of Human Resources Brian Powell closed the ceremony with a testament to the spirit of Chapman:
"If the Chapman Experience can be reduced to only one word, that word would be 'bond,' or better yet, 'lifelong bonds'. Your experience matters. It's what this week is all about. That's why we're here today—to celebrate you."
Display image at top/Chapman University