By his own account, middle school student Ezekiel Torres is not the kind of guy who's ever at a loss for words. But then he toured Chapman University's Holocaust library and later stood spellbound while an 89-year-old man described how his family escaped the Nazis and survived in hiding for more than two years until the end of World War II.
"Just wow. Wow, wow, wow," said Torres, one of the 8,000 students to participate in this year's 20th Annual Holocaust Art & Writing Contest at Chapman, which held its campus awards ceremony on Friday, March 8. "Most of the time I have words to say all of the time. I'm just left with nothing. I'm left in awe at the stories that the survivors have to tell."
Then Torres paused and said of course he would tell others what he had learned, starting with his family "as soon as I get home."
'Stand Up and Speak Out'
That, in a nutshell, is what the contest has always been all about. Since it began, it has invited students to watch videotaped first-hand testimonies from Holocaust survivors and rescuers and then challenged the students to respond to that experience through creative expression. The second part of that challenge is that the students go forward as "witnesses to the witnesses," an increasingly poignant call to action as that generation passes on, said Marilyn Harran, Ph.D., director of the Rodgers Center.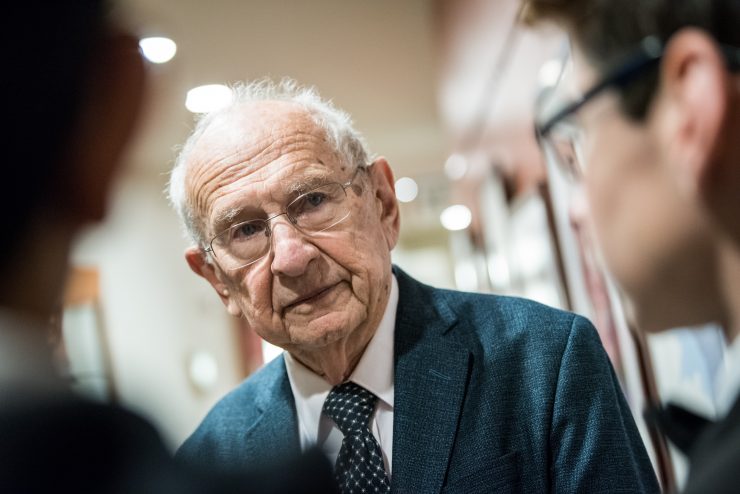 Although always relevant, this year the contest was particularly timely. The previous week a video of area high school students playing beer pong with plastic cups arranged in a swastika went viral online and drew national attention.
"In a time of increased acts of bigotry and anti-Semitism, including here in Orange County, and a decreasing knowledge of the Holocaust, you have learned that the Holocaust is not about numbers, but about people," Harran said, speaking to the audience that packed Memorial Hall. "You know what the ideology of the swastika did to people and what it meant to someone your age to have to wear a yellow star. You will be the ones who will stand up and speak out because of what you've learned. … The students who participated in this contest know that a swastika is never a joke."
That message was echoed by Brittany H. Urig, a practicing attorney who has taught at Chapman's Fowler School of Law and received first prize in the Fourth Annual Holocaust Art & Writing Contest. Urig returned to campus for the contest's 20th anniversary as one of the guest speakers during the award ceremony.
"I don't think there are any words for how important (the testimonies) are. It's history that gives us perspective of what we're capable of, both good and bad. We are always surprising ourselves in terms of both the good we can do and the bad we can do," Urig said.
What began as a contest for mostly local students has grown into an international competition with 8,000 participants. This year nearly 1,000 students, including finalists and first-place recipients were able to attend the award ceremony. The contest launched as a partnership between Chapman's Rodgers Center for Holocaust Education and The 1939 Society, an organization of Holocaust survivors, witnesses and their descendants. It now gives awards in the categories of prose, poetry art and film.
Students, teachers and families excitedly gather each year in Memorial Hall for the awards ceremony, where the first-place entries are read, displayed and screened.
Learning from the Stories
The lion's share of the day is actually spent connecting students to the survivors and their stories, furthering the mission of education. The morning begins with students touring the Sala and Aron Samueli Holocaust Memorial Library, led through the exhibits by Harran and a team of volunteers. Among the objects they see is the satchel carried by Curt Lowens, a Jew taken into hiding in Netherlands who joined the student resistance. In the satchel he secretly ferried false documents, helping to hide Jewish children.
"Every object in any museum, in a Holocaust museum, remember there's a life story behind that object. So challenge yourself to ask what might the story be," Harran told the students.
In the award ceremony that follows, students hear the first-hand account of a Holocaust survivor, this year Eva Nathanson. Finally, students, teachers, survivors who are mostly in their 90s and their family members pour out into a large tent for a reception that includes meaningful conversations. Such meetings grow more poignant each year.
"As we have fewer and fewer survivors who are physically able to join us, these occasions when witnesses meet their witnesses to the future become
ever more precious. They are both life-changing and life affirming—for both survivors and students," Harran said.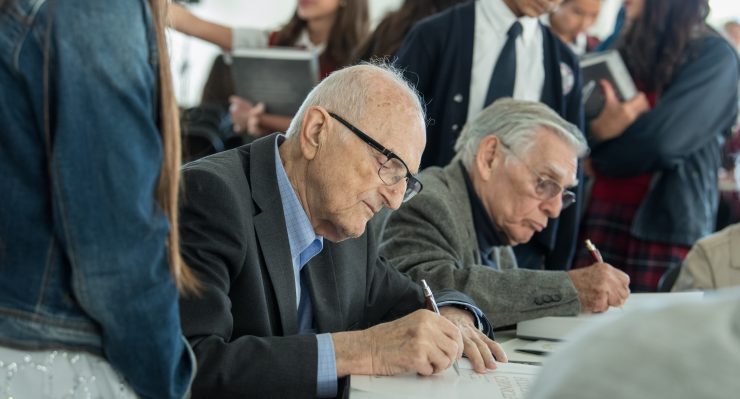 Indeed, there is no replacement for such an experience, says art teacher Maria Diaz from St. Mary's School in Aliso Viejo. One of Diaz's students is among the contest winners.
"Listening to their experiences first-hand is amazing," Diaz said. "This is what teaching and learning is to me — empowering our kids to be those who go out and tell the stories about what went on so we don't make the same mistakes again."
Support for the Contest
In addition to The 1939 Society, the annual contest is sponsored by: Samueli Foundation; Yossie and Dana Hollander with support from the USC Shoah Foundation – The Institute for Visual History and Education, and in partnership with the Anti-Defamation League; the Catholic Schools of the Diocese of Orange; Chapman University's Donna Ford Attallah College of Educational Studies and Wilkinson College of Arts, Humanities, and Social Sciences; Echoes and Reflections; Facing History and Ourselves National Foundation, Inc.; and the Orange County Department of Education.
Display image at top/Marilyn Harran, Ph.D., director of the Rodgers Center, leads a student tour of the Sala and Aron Samueli Holocaust Memorial Library before the Holocaust Art & Writing Awards Ceremony. Photo/Jeanine Hill