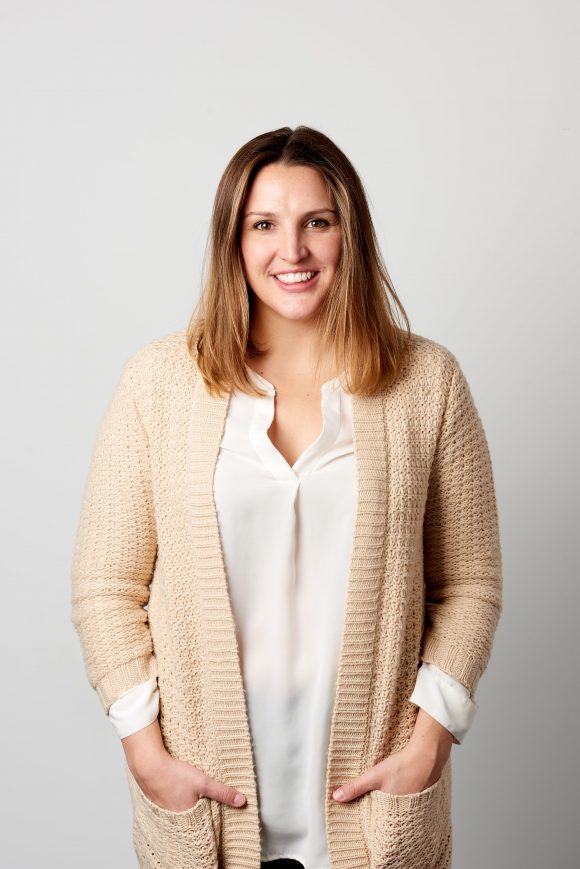 In March 2016, new mom Kate Westervelt '09 found herself trudging through Target with ice packs in her underwear, less than 72 hours after giving birth to her son. At home she had assembled the perfect nursery, and before delivery she had packed all she would need for her hospital stay. But she hadn't thought to prepare for her postpartum self-care.
"When I was pregnant, no one really talked about the nitty-gritty of postpartum recovery," Westervelt said."It wasn't until after I gave birth to my son and the nurses were coming in with recovery instructions that I realized I wasn't prepared for my own recovery. No one had told me about postpartum needs."
After her painful store run for recovery- care items, and her disappointment with the products she took home, Westervelt knew there had to be a better way.
It didn't take long for her market research to confirm a need for someone to curate, package and deliver postpartum care products. She accepted the challenge. After working her day job and spending the evening with her son and husband, Westervelt often worked until 2 a.m. searching online for the best products, focusing on safe, organic ingredients and products made by women for women. She spent the next year and a half developing a new startup company to fill the gap in the marketplace. The result is MOMBOX (mom-box.com), an e-commerce firm that markets kits of care products – from organic cotton overnight pads to herbal soaks and reusable cold compresses – designed to give new moms some comfort.
"In my research, I found that a lot of equipment for postpartum is designed and produced by men, and they missed the mark," Westervelt said. "My focus was on moms working for moms."
Westervelt even tested the products herself.
"For a whole year, I just wore maternity-sized pads, testing for size, fit and absorbency," she said.
Westervelt's intensive research paid off. The company is thriving, allowing her to quit her job as director of content at Purple Carrot, a meal-delivery service, to run MOMBOX full time.
Using skills Westervelt first honed as a student of public relations and advertising at Chapman, MOMBOX gained national coverage in outlets like Real Simple, Glam, What to Expect and Yahoo. Sales spiked.
"We almost ran out of inventory," Westervelt said. "We had to pivot our marketing strategy quickly. It was a good problem to have."
"My focus was on moms working for moms."
Westervelt's plans for the future include adding more care-product options, such as a kit for moms who are breastfeeding. She hopes that MOMBOX can help start a dialogue about the postpartum healing process and how best to meet mothers' needs.
"We want to send new moms into motherhood healthier, stronger and with a better sense of community to support them," she said.