Do you worry about corrupt government officials? Fret that the water you drink or the ocean, river or lake where you swim is polluted? If so, you have plenty of company. Americans are growing increasingly afraid of these and other threats, according to the fifth annual Chapman University Survey of American Fears.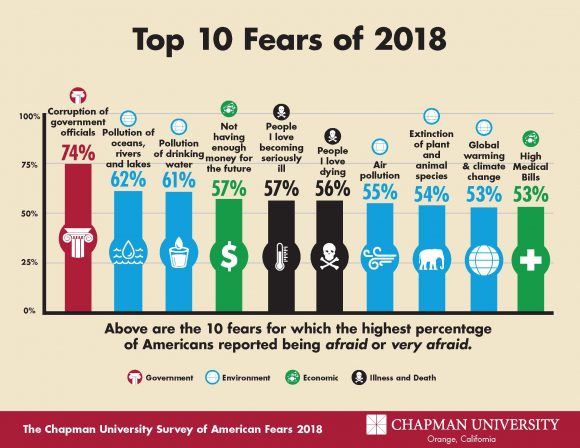 For the first time since the survey began in 2014, a majority of respondents are afraid of each of the top 10 items on the fear list. The findings reflect Americans' rising anxiety and changing views about perceived dangers, say the three principal investigators for the survey.
"It is worth noting that the fears regarding corruption and the environment have increased significantly following the election of President Trump in 2016, and all of the top 10 fears continue to reflect topics often discussed in the media," said Christopher Bader, Ph.D., professor of sociology.
Government corruption continues as Americans' top concern. But for the first time, environmental worries rose enough that they now represent half of the top 10 fears in the survey. Researchers point to extreme weather events, the Trump's administration's pullback on environmental protections and the economy as reasons for the greener attitudes.
"In good economic times you'll see fears like the environment popping up, whereas if we were having a dire economic situation, we would expect more economic fears to be on the list," said Ann Gordon, Ph.D., associate professor of political science.
Researchers also noted that most Americans don't consider immigrants more likely than U.S. citizens to commit crimes. In addition, Americans are less fearful of Muslims in American society than was indicated in previous surveys.
"Two years ago, one out of three Americans thought immigration from Muslim countries should be banned; now that's one out of five. The majority of Americans are not afraid of illegal immigration. Two out of three Americans do not want a border wall," said Ed Day, Ph.D., professor and chair of the Department of Sociology.
The findings were drawn from the responses of 1,190 adults in summer 2018. While they offered a snapshot of the nation's collective pre-election mindset, the findings also raise a set of unique and ongoing concerns for the researchers.
"What frightens Republicans the most doesn't even register for Democrats, and vice versa. We see that bifurcation increasing, and that frightens me," Bader said during an Oct. 12 talk at Chapman's Family Homecoming Celebration.