His supporters call him a freedom fighter and a political prisoner, while others refer to him as an extremist or terrorist. Puerto Rican nationalist Oscar Lopez Rivera addressed a crowd on Friday afternoon at Centro Comunitario de Educación, the community education center run by the Attallah College of Educational Studies at Chapman University.
It was standing room only in downtown Santa Ana as the audience listened to a man who has dedicated his life to seeing his homeland become an independent country. Lopez Rivera, now 75, addressed his childhood, time served in Vietnam, Puerto Rico's struggle for independence and the devastating aftermath of Hurricane Maria.
"I spent 35 years, 11 months and two weeks in federal prison," Lopez Rivera said. "That's a very long time. Twelve of those years were in solitary confinement, which is totally against everything that makes us human. For example, we don't have access to the sun, air, nature. I never saw change between day and night. Your sleeping patterns change, everything changes. It's a way of dehumanizing, really stripping a person of his humanity."
He said that he expected prison to be hard and he was prepared for it after his experiences fighting in Vietnam. He looked for ways to survive such as reading and writing letters. He ached to see different colors within his monochromatic space. He had prepared himself for the worst- serving his full life sentence of 70 years.
Everything changed on January 17, 2017, when he received an unexpected call one afternoon from his lawyer stating that President Barack Obama had commuted his sentence. Three weeks later, he was sent home to Puerto Rico and placed under house arrest at his daughter's home. On May 17, he was able to walk out, a free man.
"That was a glorious day!" he said grinning. "There was a big crowd outside waiting for me. Maybe 200 people? And the chorus from the university was singing. From there I went to have breakfast with my whole family and we celebrated all day."
He said he is "profoundly grateful" to President Obama.
At his trial in 1981, a 12-member jury found Lopez Rivera guilty on five counts involving seditious conspiracy, armed robbery, weapons violations and interstate transportation of stolen property. At this time, Lopez Rivera was believed to be a leader of the Fuerzas Armadas de Liberacion Nacional (FALN), which sought the independence of Puerto Rico. The nationalist group later claimed responsibility for more than 100 bombings across New York, Chicago and Washington in the 1970s and early 1980s. No evidence linked Lopez Rivera to these bombings.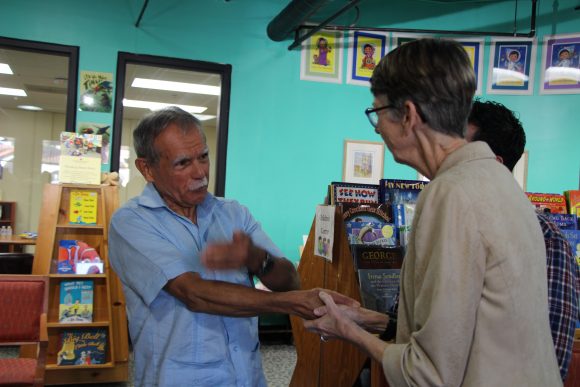 Now considered "the world's longest political prisoner," his supporters believe he was arrested and imprisoned for opposing the American government.
Attendee Hector Rivera of Santa Ana said he was too nervous to meet him and didn't know what to say, or expect.
"He's Buddha in the flesh!" Rivera said. "I was one of the millions who marched, signed petitions and wrote letters during the campaign to free him. I sent a letter to him in prison after an incident of police brutality that happened to me and he wrote back expressing compassion. He's an international hero."
In his own words, Lopez Rivera discussed his frustration and anger with the American government, detailing how Puerto Ricans have been treated since the Caribbean island became an unincorporated territory of the United States in 1898. He lamented that Puerto Ricans still cannot vote and have no representation in Washington.
"We are still a colonized people 120 years later," Lopez Rivera told the crowd. "Puerto Ricans didn't ask for citizenship; we didn't want it. Since being colonized, Puerto Ricans haven't been treated as humans; we have been marginalized, exploited and used by the United States who wanted our sugar cane and to create military bases."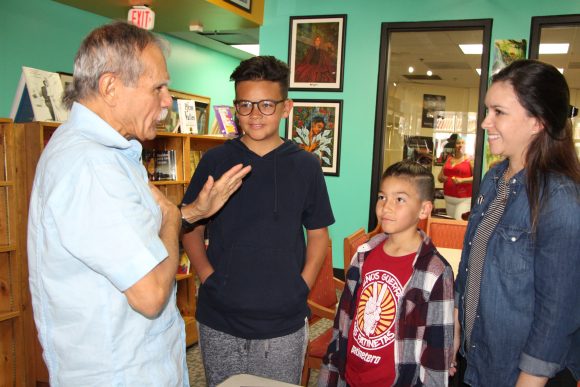 Lopez Rivera said there are two things he knows how to do best- struggle and work. He stated multiple times that he has never advocated any form of violence and this "fight for independence" must be an act of love. He drew a comparison between Puerto Ricans and the Palestinian people who desire to create, and live within their own independent nation.
"People who love freedom and justice should care about Puerto Rico," Lopez Rivera emphasized. "We have the potential to be a free nation, but it's up to us. We will struggle and do what needs to be done."
Lopez Rivera also spoke at length about Hurricane Maria and the humanitarian crisis taking place. Although it struck September 20, 2017, there are still more than 400,000 people without power. More than 550 residents were killed, and others are still missing. Maria is considered the worst natural disaster to ever strike the area.
Chapman University Associate Professor and Director of Centro Comunitario de Educación, Anaida Colon-Muniz , Ph.D., is Puerto Rican and has many family and friends still living on the island. She was instrumental in bringing Lopez Rivera to Chapman because she wanted him to share his story with the community.
"People like Oscar that are revolutionaries don't need to engage in violence, they're revolutionary in thought," Colon-Muniz said. "The media portrays him differently, but he's a veteran that returned from war, saw injustice, and decided to take action. He's never been found guilty of anything. Even Martin Luther King, Junior was considered a risk and threat, but now he's a hero."
This event was co-sponsored by Chapman University's Attallah College of Educational Studies Paulo Freire Democratic Project, Latinx & Latin American Studies and Puerto Ricans in Action.
Display Image at top: Oscar Lopez Rivera is shown with Attallah College Dean Margaret Grogan and Chapman University faculty at event.