January 2018 marks the 50th anniversary of Chapman University's Town & Gown. The group, which is committed to bringing campus and community together, marked their golden anniversary with an event on the sound stages of Dodge College of Film and Media Arts Marion Knott Studios on January 13. The event included a red carpet brunch and champagne toast.
In recognition of their golden anniversary, the Town & Gown board has set a goal of raising $50,000 to increase their scholarship fund, and have already exceeded that goal raising $67,000 to date!
The organization serves as a link between the university (gown) and the community (town) by sharing information about Chapman and offering academic presentations, including the popular annual Lunch at the Forum lecture series, which features Chapman faculty speakers. The luncheons are open to everyone, both on campus and off campus.
It also offers opportunities for its members to enjoy the campus, meet administrators and faculty and attend additional campus events, as well as participate in social and cultural functions.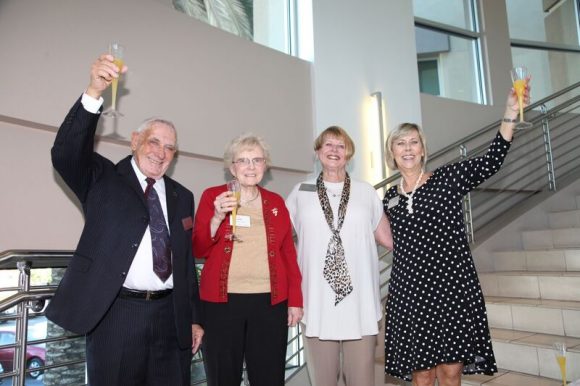 "Town & Gown is open to everyone – Town refers to members from the community and Gown refers to members from Chapman University," said Nancy Fleeman, current president of Town & Gown.  "It is an organization that is open to people who are interested in supporting Chapman University – no affiliation with Chapman University is required.  We present programs throughout the year that spotlight faculty members from various colleges and specialty areas.  Town & Gown is celebrating its 50th anniversary this year – we invite you to join this great organization.  When you become a member you will learn more about the university and be part of our scholarship program for deserving students as they reach their educational goal.  We look forward to meeting you this year!"
Town & Gown is one of Chapman University's most active and dedicated support groups, providing scholarships and making generous contributions to many other projects and initiatives. To date, Town & Gown has awarded 43 scholarships, which help students pay for books, reduce their need to work fulltime, and help ensure that students – some who may be the first in their family to attend college – are able to complete their coursework and graduate.
In addition, Town & Gown has established an endowed fund for Arts, Humanities and Sciences at the Leatherby Libraries, which provides books to support the liberal arts.
Town & Gown is a not-for-profit group founded at Chapman University in 1968 to help foster a collegial spirit that would integrate the campus into the surrounding community, as well as to provide scholarships for deserving students.  Town & Gown membership is open to and comprised of community residents, business leaders, alumni, parents and grandparents of current and past Chapman students, Chapman faculty and staff, as well as other friends of the university. There are currently 265 members.
More information can be found at www.chapman.edu/tg